ESPN Music:

Jacksonville Jaguars
October, 7, 2012
10/07/12
10:00
AM ET
By
Lynn Hoppes
| ESPN.com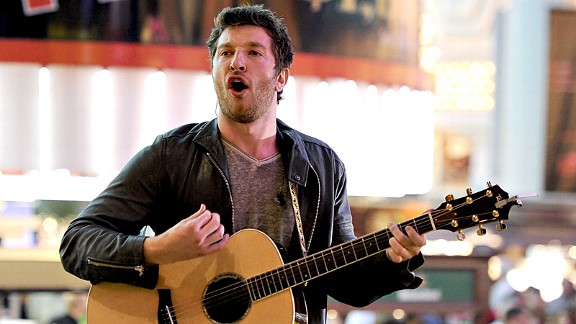 Frazer Harrison/Getty ImagesBrett Eldredge will sing the national anthem at the Bears-Jaguars game Sunday.
The first time country singer Brett Eldredge performed the national anthem for his favorite team, the Chicago Bears, was Jan. 2, 2011, against the Green Bay Packers at Lambeau Field.
"It was such a historic place, and I was there with my dad. It was so cool for him because he always wanted to go there," Eldredge said. "The only problem was it was absolutely freezing. It was 5 degrees. It's hard to sing in that kind of weather!"
Today, things will be much differently for Eldredge, who will sing the anthem in Jacksonville, Fla., as his Bears play the Jacksonville Jaguars. It's scheduled to be 88 degrees and sunny.
"There is a no better feeling than singing the anthem," Eldredge said. "That song and 'Take Me Out to the Ball Game' are probably the first two songs I learned."
June, 6, 2012
6/06/12
3:15
PM ET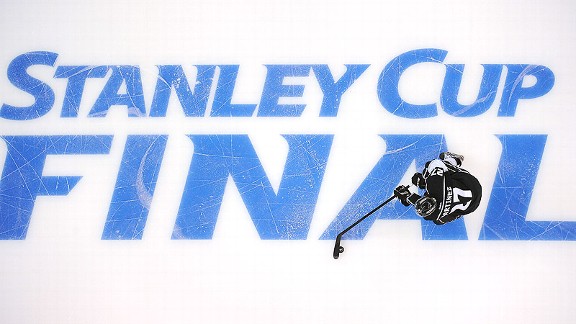 Noah Graham/NHLI/Getty ImagesThe Los Angeles Kings have made a historic run through the Stanley Cup playoffs.
Musician Duff McKagan's column runs every Wednesday on Playbook Sounds.
Around the time that Guns N' Roses was getting our thing going in mid-'80s Los Angeles, there was one other band that was the perfect angry counterpart to what we were doing: Jane's Addiction.
JA was weird, edgy, dark and wrote the most spectacular riffs of any band since. Bass player Eric Avery, I came to find out, was a huge part of the songwriting for Jane's, and perhaps singularly informed that band of which direction to go in those early formative years.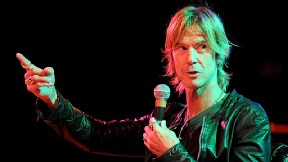 Robert Reiners/FilmMagicDuff McKagan
Eric Avery is also a long-suffering Los Angeles Kings fan. And perhaps today or this week, those years of pain will come to an end. The Kings just appear to be too dominant to do anything but win the Stanley Cup.
The L.A. Kings fan community is an odd bunch. From what I have observed being in L.A. so much myself, Kings fans aren't necessarily the typical three- or four-sport year-round spectator of all of the other L.A. teams. This is also true of Avery. He doesn't follow the Lakers, really. Nor the Dodgers or Angels.
I had noticed throughout the season that Eric was tweeting more and more about the Kings, as they just scraped by into the playoffs and as they became the first No. 8 seed in NHL history to beat the top three seeded teams. It's weird to see a guy like him being so animated about sports. He tends to come more from an art side, than the sport side of life. This speaks for the Kings and their fans. They are an odd bunch who have taken it on the nose for quite some time.
May, 29, 2012
5/29/12
4:00
PM ET
By
Theresa Manahan
| Special to ESPN.com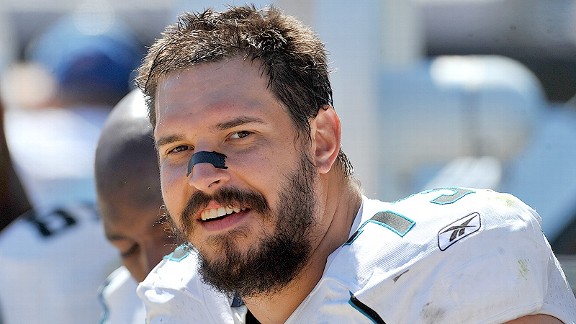 Al Messerschmidt/Getty ImagesJaguars offensive lineman Eben Britton creates themed playlists for his NPR show in Jacksonville.
In between the workouts and video-game sessions that make up the NFL offseason, Jacksonville Jaguars tackle Eben Britton has taken on a new challenge.
It's unlikely you'd hear an NFL offensive lineman on the local NPR affiliate, but in Jacksonville at 11 p.m. on a Wednesday night, you'll hear Britton calling the shots on his "73" radio show.
No, he's not talking Xs and Os, he's playing a collection of songs and poems based on a weekly theme. He has already recorded 11 60-minute shows and hopes to have 25 finished before the season starts.
How did you get into this?
A couple years ago, I happened to meet David Luckin from [the Jacksonville] NPR. At the time, I was growing a mustache for Movember, so he invited me to come on his show to promote the cause, and he suggested I bring some music to do a show with him. I had never listened to NPR before, but I started listening to his show after that and it inspired me, so I took him up on the offer. It was a lot of fun, and I realized it was something I'd love to learn more about. I've always loved making mixtapes and playlists, so I gave him a call asking if I could do it again and learn about producing a radio show.
Why not a sports show?
I have football, and I get to talk sports all day with the guys in the locker room. I want this to be a release from football, something that lets me get into my creative side and use the other side of my brain.