September, 2, 2013
9/02/13
1:42
PM ET
October, 8, 2012
10/08/12
10:00
AM ET
By
Lynn Hoppes
| ESPN.com
When Tyler Hubbard was walking around campus at Belmont University in Nashville, Tenn., a couple of years ago and saw Brian Kelley, he thought one thing:
"He was just
some
baseball guy. He was one of those cool kids wearing cleats and a baseball cap all the time."
But things changed when Hubbard showed up at church and heard Kelley -- who had played baseball for Belmont and previously Florida State -- leading a worship with his guitar.
"I really liked what he had going on at the time, so we decided to write songs together," Hubbard said. "We moved in with each other and we started playing music. We've been building our fan base and heading out on the road, giving it a shot."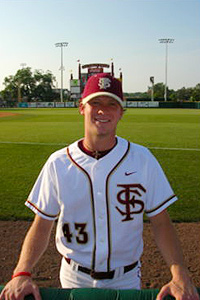 Courtesy of Brian KelleyBrian Kelley played for FSU before becoming a country singer.
On Wednesday, the 2-year-old duo called Florida Georgia Line (or FGL for short) is heading to New York to play a sold-out CMT show opening for Jake Owen at the Best Buy Theater. Their hit, "Cruise," climbed the country charts this year and was certified gold in Canada.
"It's been a crazy couple of years," Kelley said.
Kelley, who is from Ormond Beach, Fla., went to Tallahasee on a baseball scholarship but didn't get much playing time with the Seminoles. During his off time, he played guitar at the First Baptist Church in downtown Tallahassee.
"It was a fantastic experience living up there and I'd do it all over again," Kelley said. "I made a lot of friends and even though it was a hard time on the baseball field, it made me a stronger person."
Kelley moved back home to attend Daytona State College. He didn't want to give up baseball or music.
"I realized I had two years left of eligibility and I wanted to play baseball at the same time as playing my guitar," Kelley said. "So I went to Belmont. I didn't realize it was going to be a life-changing moment when I met Tyler."