June, 21, 2012
6/21/12
2:00
PM ET
By
Mike Trask
| Special to ESPN.com
The Tampa Bay Rays aren't exactly known for their celebrity fans.
But there's a huge one in Against Me!, the Florida-based band currently on tour with punk legends The Cult.
[+] Enlarge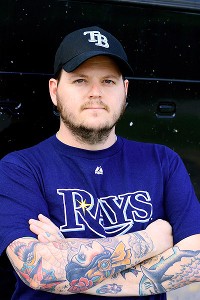 Courtesy of James BowmanAgainst Me! guitarist James Bowman has been a devoted Rays fan since the team's inception.
"I grew up in the Tampa-St. Pete area and I was living there when we got the news about getting a major league team," said Against Me! guitarist James Bowman. "A bunch of friends and I pooled our money. We bought season tickets to the inaugural season.
"There were some lean years. But we stuck it out."
Lean might be a generous word to describe a 106-loss season in 2002, or the 10 straight sub-.500 seasons to begin franchise history.
Yet, times have changed. The Rays are no longer the Devil Rays, nor are they laughingstocks. They are perennial contenders in the toughest division in baseball and Bowman now travels the world with Against Me!, jamming to hit songs like "I Was a Teenage Anarchist" and "Thrash Unreal."
The band's lead singer, Laura Jane Grace, recently made headlines with her decision to come out as transgender and undergo hormone replacement therapy. An outpouring of support for the band and for Grace, known formerly as Tom Gabel, came immediately. Athletes such as WWE Champion CM Punk, who wore an Against Me! shirt
during his snowangeling appearance
on Jimmy Fallon earlier this week, tweeted in support of the band.