ESPN Music:

Kelly Clarkson
October, 19, 2012
10/19/12
10:00
AM ET
By
Playbook Sounds
| ESPN.com
The NFL and Pepsi today announced the expansion of the Pepsi NFL Anthems program with two new songs.
Lenny Kravitz penned "Like a Jet" for the team he grew up cheering for in New York, and Aerosmith, staunch supporters of the New England Patriots, have released an anthem titled "Legendary Child -- Patriots Anthem."
The new tracks are available for
free download here
, and join originally created anthems by Kid Rock (Detroit Lions), Kelly Clarkson (Dallas Cowboys), Ice Cube (Oakland Raiders) Travie McCoy (New York Giants), as well as a Wiz Khalifa remix of "Black and Yellow" (Pittsburgh Steelers).
Take a listen to Lenny Kravitz:
And Aerosmith.
September, 5, 2012
9/05/12
10:00
AM ET
By
Lynn Hoppes
| ESPN.com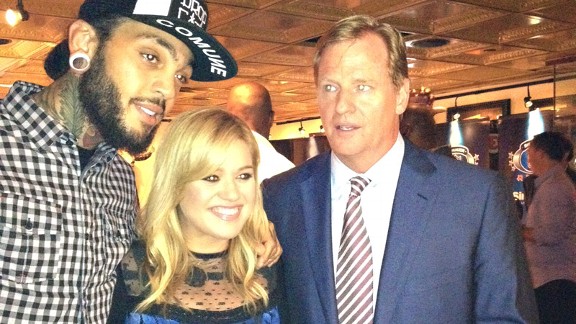 Lynn HoppesIt's Travie McCoy of Gym Class Heroes with Kelly Clarkson and NFL commissioner Roger Goodell.
Travie McCoy, lead singer of Gym Class Heroes and a huge New York Giants fan, said he'll be diplomatic about tonight's NFL opening game between his Giants and the Dallas Cowboys, the favorite team of singer Kelly Clarkson.
"I'm restraining myself by not saying the Giants are going to demolish the Cowboys in the season opener," said McCoy, who is performing at halftime. "I'm a nice guy."
Clarkson wasn't having it.
"I'm not diplomatic. I'm hoping we demolish them!" Clarkson said. "I hope the Cowboys make it more than just the playoffs. We're all hoping to make the Super Bowl! We're tired of choking right there at the end!"
Clarkson and McCoy have showed their love for their respective teams by working with Pepsi for the NFL Anthems program. Clarkson (Cowboys), McCoy (Giants), Kid Rock (Lions) and Ice Cube (Raiders) have created anthems, along with Wiz Khalifa remixing his hit "Black and Yellow" for the Pittsburgh Steelers.
Clarkson, who grew up in Fort Worth, Texas, said she "came out of the womb loving football." She released the anthem "Get Up," available for a
free download here
.
"This is the coolest thing my family has seen me do," Clarkson said. "I haven't quite made it yet, though -- until I sing before a Cowboys game."
August, 14, 2012
8/14/12
12:00
PM ET
By
Kelley L. Carter
| Special to ESPN.com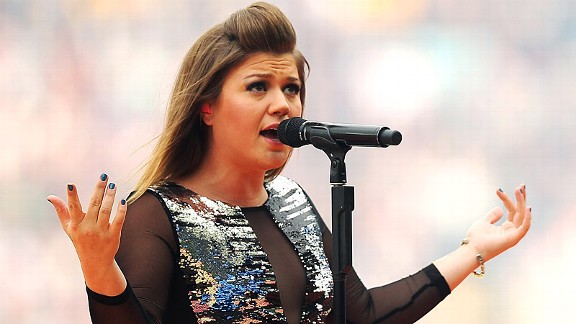 Mark Metcalfe/Getty ImagesDallas Cowboys fan Kelly Clarkson has teamed with Pepsi to launch the NFL Anthems project.
Kelly Clarkson, like everyone else, is ready for some football.
The "American Idol" winner has been making powerful, woman-power anthems for a decade now, and this week, she releases one for her hometown football team, the Dallas Cowboys.
Clarkson has teamed up with Pepsi to help launch the Pepsi NFL Anthems project, and she's one of a few contemporary artists -- Kid Rock (Detroit Lions), Ice Cube (Oakland Raiders) and Travie McCoy (New York Giants) -- who have created fresh, new anthems to celebrate their teams.
The idea was kind of inspired by Wiz Khalifa's big hit, "Black and Yellow," which celebrated the Pittsburgh Steelers. (In fact, he'll release a remixed version of that song soon.)
Starting today, Clarkson's song "Get Up" will be available for free download at PepsiAnthems.com. Other songs will be rolled out weekly.
Playbook talks with Clarkson about this project.
You're known for creating and recording these big anthems for women, but you're teaming up with Pepsi to do an anthem for the Dallas Cowboys. What goes into a great anthem?
"I think a great anthem is if you sing along. It's like a message that can translate to all different types of people. When my manager called me and he said 'Hey, I have this opportunity to write for the Cowboys and are you interested?' I flipped out! That night I literally wrote the song. Luckily they all liked it. I honestly can't wait. I'm a nerd and I can't wait to perform it at a game."