May, 7, 2013
5/07/13
9:00
AM ET
By
Lynn Hoppes
| ESPN.com
The
Professional Bull Riders
and legendary rock band
KISS
on Tuesday morning will announce a partnership to create an 8-Second KISS Kam, a twist on the tradition in which couples are shown on overhead video screens and encouraged to kiss.
This version is different, as the participants must kiss for 8 seconds -- the length of successful bull ride. Band members Paul Stanley, Tommy Thayer, Eric Singer and Gene Simmons cheer fans on during the video.
"Some see this as an unlikely pairing, but it's quite the opposite," Stanley said in a statement. "PBR fans have a passion that we relate to and want to be a part of. They span cultures, stereotypes and countries. They are our kind of people. The 8-Second KISS Kam is a great way for fans to show their passion for both."
April, 25, 2012
4/25/12
4:15
PM ET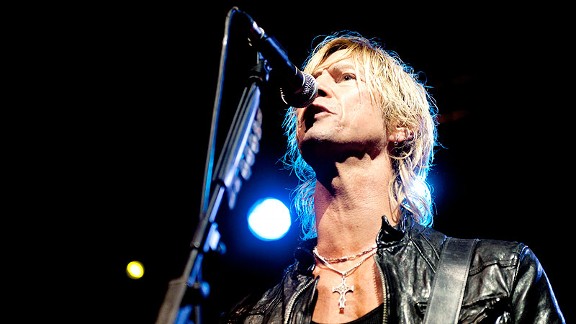 Ollie Millington/Getty ImagesDuff McKagan is touring with some huge names, such as Gene Simmons, in South America.
Musician Duff McKagan's column runs every Wednesday on Playbook Sounds.
To start off: You will read that I am far away and on the move, and it is tough for me to keep up on American sports, or really anything else for that matter. But I did see that elbow that Metta World Peace threw on James Harden. Dude should be thrown out of the league. If that elbow made contact with Harden's temple, he very well could have been a dead man. There is just no room, nor should there be temperance for this. Period.
And yes … I saw that the Mariners had a perfect game thrown against them. Here we go, Seattle baseball fans. Dig in. Ugh.
On to the current road trip:
About three months ago, I received a call from [Guns N' Roses/Velvet Revolver] drummer Matt Sorum, about me possibly doing some gigs with him and some "other dudes" down in South America in the spring. Matt seems to always have a few balls in the air, and I sort of chalked it up as something that only might happen.
Spring is here, and I am indeed in South America with Matt and those "other dudes."
In Los Angeles, there is a rock band called Camp Freddy. It is actually more of a collective, if you will, with a core band of Matt Sorum, Dave Navarro, Chris Chaney and Billy Morrison. Camp Freddy specializes in getting big-name guest singers -- from Ozzy to Lemmy to Elton John, Iggy Pop and Steven Tyler. It's always fun to see one of your rock heroes just kind of get up and jam with Camp Freddy. It's raw and refreshing, and some of you reading this have most likely been to a CF show somewhere or another.