April, 24, 2014
4/24/14
3:17
PM ET
By
Stefan Marolachakis
| ESPN.com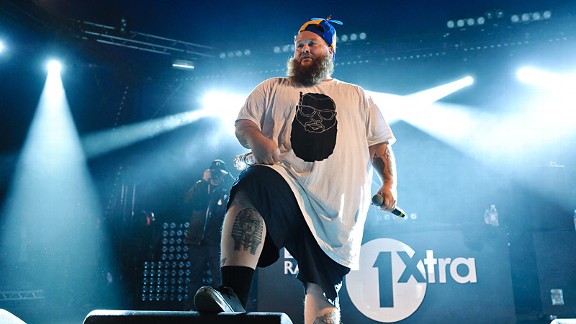 Joseph Okpako/Redferns/Getty ImagesAction Bronson is a "die-hard" Knicks fan.
The year is 1994. The MLB Players Association begins its season-long strike; O.J. Simpson takes a long ride in his buddy's white Ford Bronco; and "Blue Chips," the film about college basketball and its broken recruitment system starring Nick Nolte and Shaquille O'Neal, hits theaters and leaves an indelible mark on one 11-year-old boy in Queens, N.Y.
Twenty years later, that boy is known to rap fans as Action Bronson, who over the course of the last two years has put out two mixtapes -- "Blue Chips" and "Blue Chips 2" -- inspired by the film. While recording his new album in Santa Monica (slated for a late summer release), Bronson talked about the impact basketball has had on his music.
"I love 'Blue Chips,'" says Bronson. "It was one of my favorite movies growing up, and it's just one of my favorite movies period. It definitely influenced the projects, for sure -- nothing direct, just the whole feel. Nile Rodgers did the score, the guy from "The Exorcist" directed it -- I knew that "Chips" was going to be ahead of its time."
Bronson's mixtapes, produced by Party Supplies, have the crunchy swagger of "Blue Chips"-era New York rap, replete with vinyl pops, guitar tremors and shimmering ride cymbals. For Bronson, other similarities come to mind.
"I just feel like it's similar to the rap game. They give you the bag of money and you go out there and you do what you do. I don't know if there's any point-shaving going on, but I'm all about making a quick buck on gambling -- dice games, horse racing, cockroach racing, chicken fights. That could sum up my entire being."
A self-described die-hard Knicks fan with the word "Knickerbocker" tattooed on the back of his leg, Bronson hasn't been taking the team's recent woes well. "They disappoint me a lot. I don't think we'll win anything with Melo on that team. The man has never dunked the ball hard in his life! He doesn't have the killer instinct."
But even a true die-hard must be thrilled on the recent hiring of Phil Jackson. "The Knicks have made a lot of moves lately that are too little, too late," he says. "Why did we get Baron Davis at the end of his career? B-Diddy is one of my favorite players of all time. If we'd had him at a younger age, what could've been? It's upsetting."
Despite the emotional ringer the organization has put Bronson through, he still goes to games whenever he can. "Last time I went to a Knicks game was when Kevin Love hit me up and got me his tickets. So I sat right behind Spike Lee." Love is apparently a fan of Bronson's music and, in the words of Bronson, "a great dude." As any great fan would, Bronson has attempted to recruit Love to the Knicks in 2015. "You already know I did! I pretty much begged." The result? "I can't disclose that."
You can catch Bronson at the home of one of his other favorite teams, the N.Y. Jets, when he hits MetLife Stadium for Hot 97's Summer Jam on June 1.
May, 24, 2013
5/24/13
8:00
AM ET
By
Stefan Marolachakis
| ESPN The Magazine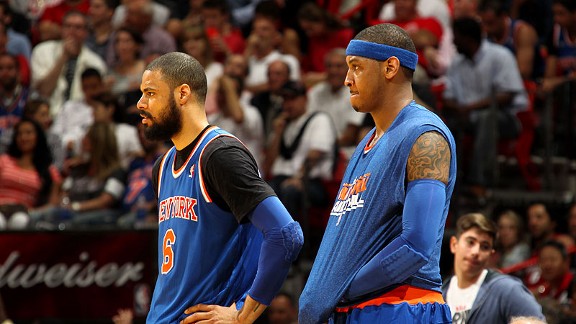 Issac Baldizon/NBAE/Getty ImagesStill mourning the end of the Knicks' playoff run? Read on for some help coping.
Editor's note: Drummer Stefan Marolachakis is traveling the country in a black van with tinted windows, touring for his band Caveman's eponymous second album. Every week, Marolachakis will hunt the nation to gather musicians and athletes to discuss the link between the two clans. This week, our caveman reflects on his grief for his beloved Knicks and offers some tracks for respite.
Sometimes it feels like being a
Knicks
fan is simply the most painful thing a sports fan could be asked to endure, unless you live on the wrong side of Chicago or anywhere in Cleveland.
This Knicks season was, at many points, glorious to behold: they beat the Heat three out of four times; the defense was mugging;
Carmelo
was an offensive genius, and
J.R. Smith
was his wild-eyed wing man in the clutch. But the run is over, and I'm left to sit in shock, parsing out what exactly happened.
Sadly appropriate, when the Knicks ultimately fell to the
Pacers
in the second round, I was in a hotel room in Mississippi, mere miles away from the Delta, the cradle of the blues. And since all know that when the going gets tough, the tough turn to their record collection, I have been using music to cure my NBA-PTSD and creating a soundtrack of new music (and one very old song) as I climb through the classic Five Stages of Grief.
1. Denial
During this stage I blamed the refs, almost exclusively. My dad pointed out to me after the Game 6 that in the final six minutes of play, there were a total of nine fouls called, eight of which were called on the Knicks. Eight! Yes, I realize that the Pacers were too big, they killed the Knicks under the boards, etc. But eight fouls to one? And 46 free throw attempts versus 18 for the Knicks on the game? For shame! It felt like the Knicks had no chance of moving forward in the playoffs with a crew of whistle-happy refs.
Soundtrack: Tame Impala, "
Feels Like We Only Go Backwards
."