June, 20, 2013
6/20/13
3:50
PM ET
LeBron James and Imagine Dragons' Dan Reynolds have a mutual appreciation of each other's work, as seen in this behind-the-scenes clip set to "
Radioactive.
"
For James, who says he acts as the Heat's team DJ -- when they call you "King James," you get to pick the tunes -- says music in general and "Radioactive" in particular help get him in the mood to take the court. Reynolds, who says he's been following James' career from the start, says he takes inspiration from anyone who pushes the limits.
Says Reynolds: "I've always found inspiration of people who were pushing the boundaries ... of human capabilities." He says it's "pretty incredible" that James and the Heat have taken an interest in the song.
April, 18, 2013
4/18/13
10:00
AM ET
By
Lynn Hoppes
| ESPN.com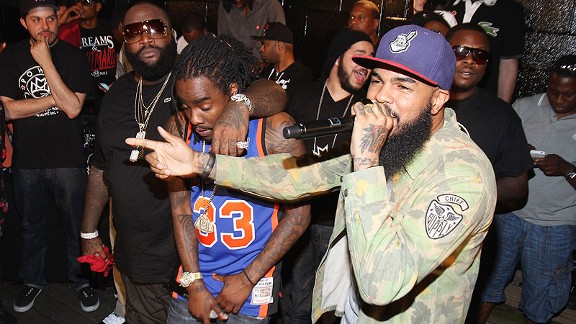 Jerritt Clark/Getty ImagesRick Ross, Wale and Stalley performed in New York, all part of Maybach Music Group.
With the NBA playoffs set to begin this weekend, Ohio native and Maybach Music Group member Stalley will be rooting on hometown friend LeBron James closely.
See, Stalley knows that James is an Ohio guy and will someday return to resurrect the franchise -- Cleveland Cavaliers -- he left.
"I think soon he'll honestly go back and give them a ring and do as he promised," said Stalley, who was quite critical of James during the "Decision" of 2010. "When that happens, everyone will erase the past, and he'll be king again here. He'll enjoy his life back home."
Ohio is and will always be home for Stalley, born Kyle Myricks. He started out making mixtapes and started working with big-time producers and he signed with Rick Ross' Maybach Music Group and will release his debut album this summer.
In fact, growing up in Massillon, Ohio, Stalley played James in high school basketball. Stalley was a 6-2 player also with NBA aspirations.
"I tip my hat to LeBron. I knew he was going to be something special. I saw him up close a lot. He was an animal," Stalley said. "I'm still such a big fan of his. He is my motivation. Seeing him do what he does, why can't I get Grammys? Why can't I sell platinum records? It makes me work harder."
Playbook had a few minutes with Stalley to talk LeBron, music and his love of cars.
You played basketball as a teen. Think you could have gone pro?
"I don't see why I couldn't. I always had that dream. I could see myself playing overseas or even the NBA. I'm not a person who lives out of my means so I know the road wouldn't have been easy. I think music is very similar. You have to put in the work."
March, 22, 2013
3/22/13
9:00
AM ET
By
Jared Zwerling
| ESPN.com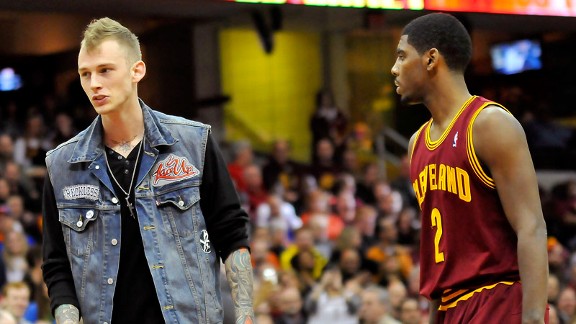 David Dermer/Diamond Images/ Getty ImagesMachine Gun Kelly, left, and Kyrie Irving are part of Cleveland's post-LeBron movement.
July 8, 2010, wasn't very kind to Cleveland Cavaliers fans. Their local hero, LeBron James, not only announced that he would "take my talents to South Beach," but he said those words live on a heavy-hitting scale -- national television.
It was a huge punch in the gut that moved some fans to burn his jersey, which was captured on local TV, and even motivated Cavs owner Dan Gilbert to write an open letter calling out LeBron's disloyalty, among other faults he saw.
The city was reeling, but an underrated hero emerged: One of Cleveland's own, rapper Machine Gun Kelly (MGK), who's a basketball fanatic on and off the court.
The season following LeBron's departure, the Cavs' team DJ, Steph Floss, started playing more of MGK's music during games, which led the rapper to become a staple at the Quicken Loans Arena and a favorite at games, with fans holding up signs in his honor. They appreciated his rags-to-riches story, which mostly unfolded in Cleveland, the city he settled in at 14 years old after living in Egypt, Germany, Chicago, Los Angeles and Denver.
That story initially involved MGK, 22, growing up in a broken home with an absent father and addict mother, and ending up homeless in his teens and raising a daughter, Casie, at 17. Then, a few years later, his musical talents were discovered by rap mogul Diddy, who signed him to his record label, Bad Boy Records. In 2012, MGK churned out a top-five debut album on the Billboard charts, and this NBA season, his song "Invincible" is featured as part of the Cavaliers' pregame introduction video shown on the arena's Jumbotron.
Gilbert has witnessed firsthand how Cavs fans have embraced MGK, who, along with All-Star point guard Kyrie Irving, is putting the city back on the entertainment map. In fact, Gilbert has befriended MGK and he already has a bigger plan in store for his new buddy related to the ownership side of the team.
Speaking with ESPN Playbook recently, MGK talked about his Cleveland upbringing, connection to the Cavaliers, friendship with the owner, his musical and sports background, and much more.
How's the new year treating you?
I'm really just excited to tour the states with my album, because last year the only time we got to tour with the album was in Canada. And that was insane because it was all sold-out. But I'm just excited to go out and play in front of the states, and kind of give the album the shine that it didn't really get. It's really just like eye-opening because every city we're going to is selling out, which I think surprised a lot of people.
February, 5, 2013
2/05/13
11:36
AM ET
By
ESPN The Magazine
| ESPN.com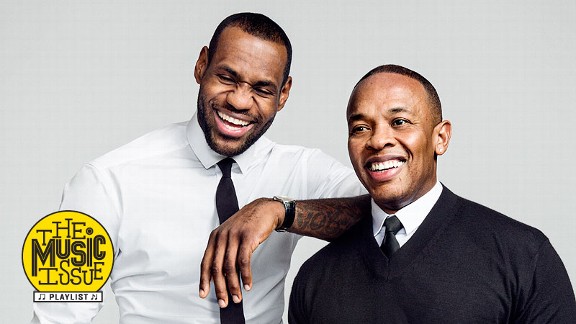 Peter Yang for ESPN The MagazineLeBron James and Dr. Dre of the Beats empire offer their personal music playlists for ESPN The Magazine.
For ESPN The Magazine's Feb. 18 Music Issue, we gathered music playlists from the subjects of each of the feature stories. As part of our supplemental coverage on Playbook Sounds, we will be posting all of the Music Issue playlists over the next two weeks.
In ESPN The Magazine's Music Issue, J. Freedom Du Lac writes how Beats by Dre headphones have changed the way athletes listen to music. Read the
story
, then check out the
behind-the-scenes video
and the
photo gallery
.
October, 18, 2012
10/18/12
2:52
PM ET
By
Jared Zwerling
| ESPN.com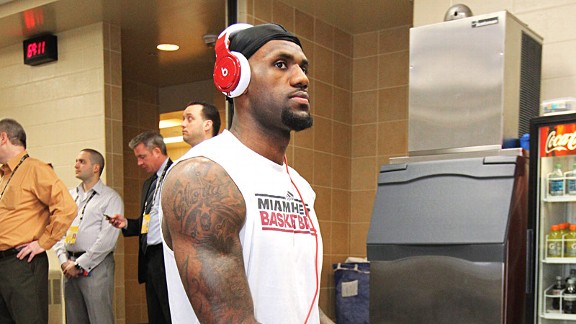 Nathaniel S. Butler /NBAE/Getty ImagesKing James is currently the NBA's only official endorser of Beats By Dre headphones.
In the past few years, NBA broadcasts have extended the airtime of players walking into arenas and hanging out in locker rooms before games -- even using freeze-frames so the commentators can analyze what they're doing and wearing.
Any why not? The pros are playing more and more of a colorful gadgetry game, from designer shades to high-end watches to man purses, which LeBron James and Dwyane Wade blew up during last season's Finals.
So what's next? Some players around the league believe the trend of sleek and colorful rapper-inspired headphones will continue to grow. Expensive handheld devices now have expensive headphones to match, because that's how rappers do it -- big.
And that's who many ballers want to be -- rappers. A relationship that first developed in the inner cities and expanded through different cultural trends is now being forged through the headphone game.
Here are four of the latest headphones (and one accessory) you'll see in those pregame images this season.
July, 20, 2012
7/20/12
2:00
PM ET
Miami Heat forward LeBron James says he respects Frank Ocean's personal choices to open up about his sexuality, and he expects more great music from him. MTV2's Sucker Free Countdown airs Sundays at 11 p.m. ET.


June, 22, 2012
6/22/12
4:25
PM ET
By
Playbook Sounds
| ESPN.com
LeBron James and his teammates took to the stage of the LIV nightclub in Miami hours after the Heat won the title, where James rapped along to one of his favorites, the 2 Chainz verse From Young Jeezy's "SupaFreak."
Playbook
spoke to 2 Chainz
recently about the rapper's reaction the three-time MVP being such a vocal fan.
June, 22, 2012
6/22/12
10:57
AM ET
By
Playbook Sounds
| ESPN.com
DJ Steve Porter takes Stephen A. Smith's rebuttal of criticism of LeBron James by Skip Bayless and turns it into a monster jam, with appearances by LL Cool J, Wale, Fabolous and even Smith impersonator Jay Pharoah of "Saturday Night Live."


June, 7, 2012
6/07/12
1:17
PM ET
Atlanta rapper 2 Chainz is everywhere.
He signed with Def Jam this year, and will release his debut studio album, "Based on a T.R.U. Story," on Aug. 14. The
first single off the album
, "No Lie," featuring Drake, has already been released.
He's just recently been featured on collaborations with Kanye West, Ciara and even on a Justin Bieber remix.
"I'm just enjoying life right now," he said during a recent visit to ESPN. "I don't want to come down."
Known for his "2 Chaaaainz!" announcement on tracks, the rapper has been getting a few shout-outs of late from one very famous fan: LeBron James. He's done it
during his introduction at the NBA All-Star Game
and during other games
.
This is heady stuff for the 35-year-old 2 Chainz, a former basketball player at Alabama State whose real name is Tauheed Epps. For a guy who raps for a living, whose trademark is shouting his name, he speaks quietly and in reverential tones when talking about James.
"This is LeBron James we're talking about. And he listens to my music sometime before he goes into the game," 2 Chainz said. "He's aware of songs when they come out. And he's like a super-icon. It just makes me feel good that I'm actually tapping into that. Just makes me feel like I'm winning right now."
2 Chainz spoke to Playbook about his sudden stardom, the ties between athletes and musicians, and the Atlanta home-court advantage.
April, 16, 2012
4/16/12
3:20
PM ET