August, 14, 2014
Aug 14
10:53
AM ET
By
Daniel Dodd
| ESPN.com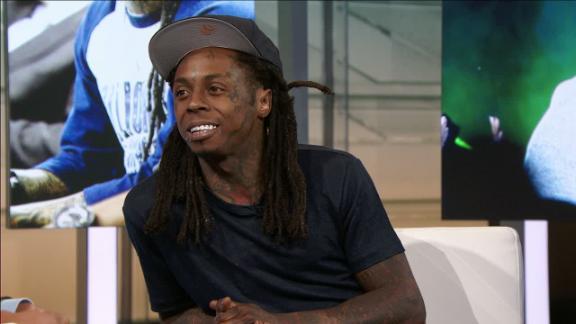 No, that wasn't the cover art for Lil Wayne's new album "Tha Carter V" that Kobe Bryant leaked back in April. Turns out it was just a promotional poster.
The real thing, an image of Wayne as a child with his mother, was unveiled Thursday morning on "SportsCenter" by Weezy himself after a threshold of fans re-tweeted a call to action to reveal the cover. It was news to his mother.
"I didn't tell her about the picture I was using for the album," said Wayne. "I know personally she doesn't really like that picture of herself."
But Wayne, who regularly uses a baby picture of himself on his albums, said this release is special to him and including his mother was "more than an accomplishment, it was an achievement."
Wayne has said that "Tha Carter V," which will be released on Oct. 28 and feature guest appearances from Drake and Nicki Minaj, will be his final album.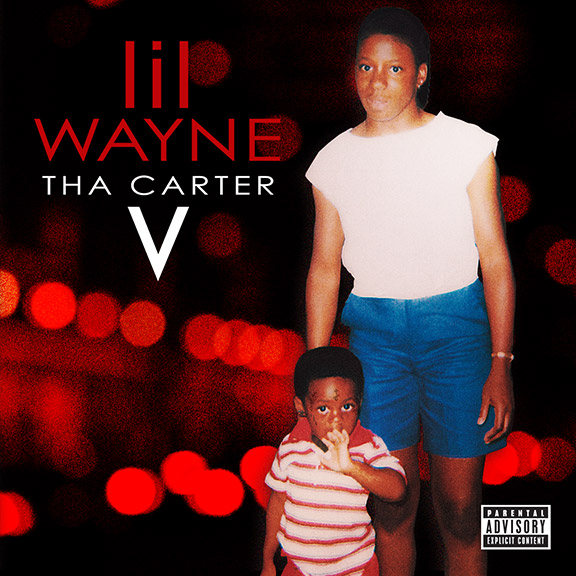 Courtesy Lil Wayne
October, 1, 2012
10/01/12
4:00
PM ET
By
Robin Fleming
| ESPN.com
Last week, Lil' Wayne, Grammy award winning rapper and recently declared skateboarder celebrated by opening Trukstop Skatepark in his hometown of New Orleans.
Located in the Lower Ninth Ward, Lil' Wayne's Trukstop Skatepark is intended to be a beacon of hope and a rebirth for the community in an area that's seen little growth or rejuvenation since 2005, when it was virtually destroyed by Hurricane Katrina.
In an interview Thursday at the park's opening, Lil' Wayne told The Associated Press, "I just wanted to help out my city, help out the people and the kids and give them something to do, something they haven't done before. It's always good to learn something new."
Professional skateboarder and this year's X Games gold medalist Paul Rodriguez was on hand, along with fellow Mountain Dew teammate Theotis Beasley to help commemorate the park's opening and to wow local kids with their bag of tricks, skating the park alongside novice skater Lil' Wayne for the crowd of spectators.
To read the rest,
check it out here on Action Sports.
August, 7, 2012
8/07/12
12:00
PM ET
By
Robin Fleming
| ESPN.com
Apparently his broken clavicle and numerous stitches haven't put a damper on iconic rapper Lil Wayne's enthusiasm for skateboarding. Although the rapper's latest mixture, "Dedication 4," drops on Aug. 15, last week in an interview with Atlanta, Ga., radio station HOT107.9, Wayne confessed that he's going to be taking a hiatus from his music career to focus his full attention of skateboarding.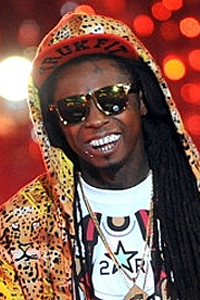 Courtesy of GettyLil Wayne
"I picked up the skateboard and I thought it'd be a hobby and what happened is it's a lifestyle. In order to be fully committed you have to live that lifestyle. With these young kids now, you have to be about that life. It's kind of putting rap on the back burner. Rap is taking a backseat to skating. I believe my fans deserve some peace from me. I'll be on my skateboard in the meantime."
In his latest interview Wayne went on to describe a flat-bar and a quarter pipe he has installed in his recording booth, "so as soon as I get off the mike, I just drop the board down and skate." The prolific rapper, who's released nine albums, 17 mix tapes and appeared as a guest on hundreds of tracks, has been performing since he was eight years old, when most kids would be asking their parents for their first skateboard.
With his long history behind a microphone, and in front of an audience of millions, perhaps it's not surprising that he's stepping back.
"I'm always looking for the next thing to do. It does get pretty boring when it comes to just the rapping and all that type of stuff," he said.
In the past year, rumors of Wayne's skateboarding have heated up, as footage of him skating parks began to circulate on the Internet. The multi-platinum, Grammy winner debuted his line of skate apparel,
TRUKFIT
, during the Agenda Tradeshow this past January, and is currently developing a line of Lil Wayne skate footwear to be manufactured by
Supra
.
Also, last week it was announced that through a partnership with Mountain Dew, the non-profit youth mentoring program
STOKED
and the building expertise of
California Skateparks
, Lil Wayne will be bringing a skatepark to New Orleans' Lower 9th Ward. A New Orleans native and its' proudest export, besides The Saints and gumbo, the skatepark will celebrate the community's revitalization after being devastated by Hurricane Katrina almost seven years ago.
May, 7, 2012
5/07/12
2:05
PM ET
Canadian legend Justin Bieber has made a habit of basking in the spotlight of some of the biggest names in sports. Just two weeks ago he was
phonin' it up with Bubba Watson
the night of his Masters win. On Saturday he spent his night with Floyd Mayweather,
carrying two of the champ's belts
down to the ring before his unanimous decision victory over Miguel Cotto.
Hair slicked back with adolescent grease, Bieber looked vaguely terrified walking with Mayweather's entourage, in the same way that a piglet might while walking with a pack of hyenas. But he was a very big helper to the Money Team, holding the heavy belts all the way to the ring without complaining or putting them down to play math games on his LeapFrog.
In addition to Biebs, two other members of Mayweather's crew have won or been nominated for Teen Choice Awards, including 50 Cent, who is a coin, and Lil Wayne, who is the offspring of celebrities Whoopi Goldberg and
Stripe from "Gremlins."