August, 15, 2012
8/15/12
4:57
PM ET
By
Dan Friedell
| ESPN The Magazine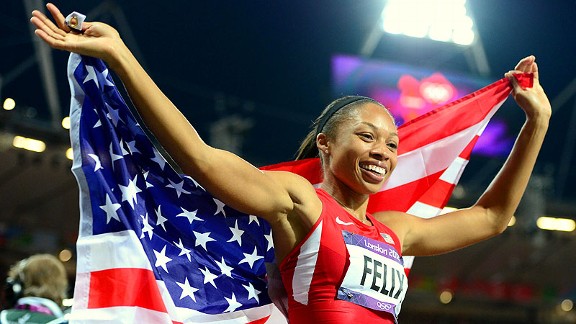 Kyle Terada/USA TODAY SportsAllyson Felix will never forget hearing the Star-Spangled Banner with Olympic gold around her neck.
The 2012 Summer Olympics, from its avant-garde opening ceremony to the fireworks-filled closing, was packed with sights we'll remember for the next four years. But what about the sounds that come with winning a gold medal? We caught up with five of London's champions to hear about everything from their introductions to the Star Spangled Banner.
As the gold-medal match or race was about to begin...
Katie Ledecky, 800-meter freestyle
: Rebecca Adlington of Great Britain was the favorite, so there were a lot of cheers for her. It was really loud. I was worried I wouldn't hear "take your mark" and the starting beep, so when they called us onto the blocks, I got right into position.
Aries Merritt, 110-meter hurdles:
The British athletes got the loudest response during introductions. The crowd just roared, and you heard the clicking of cameras. Then you heard the command "on your marks" and all your competitors doing their pre-race rituals. Some let out a grunt or a scream or something in their language. I take a deep breath and say to myself, "just like practice." But after you hear "set," it's all still. There's no sound -- complete, dead silence.
Misty May-Treanor, beach volleyball:
I definitely heard more this time [than in 2008 and 2004 finals] because it was an all-USA final. In Beijing, we were playing against a great Chinese team, so everyone was cheering, but the crowd in London was more into the game. I want to say we had the louder cheer when we ran out, but it's tough to judge when everyone's cheering for the same country. But 15,000 people chanting "U-S-A"? I bet they heard it back in the Olympic Village.