January, 14, 2013
1/14/13
12:00
PM ET
By
Lynn Hoppes
| ESPN.com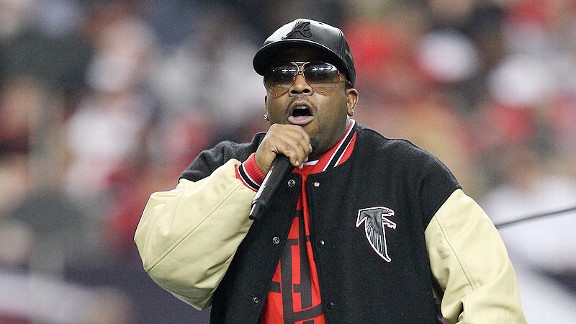 Scott Cunningham/Getty ImagesRapper Big Boi showed love for his Atlanta Falcons Sunday by posting his video "In the A."
Rapper Big Boi calls life in his hometown of Atlanta the "Brotherhood."
It's his Atlanta Falcons with Matt Ryan, Tony Gonzalez, Michael Turner, Matt Bryant, Roddy White, Julio Jones and others.
It's his Atlanta music scene with T.I., Ludacris, Cee Lo, Gucci Mane, Jermaine Dupri, Waka Flocka Flame and others.
Big Boi, one half of the multiplatinum duo Outkast, said the "ATL" is on top of the world right now, in sports and in music.
The Falcons beat Seattle on Sunday, are set to face the San Francisco 49ers this weekend in the NFC Championship Game, and Big Boi is stoked.
"There is no such thing as lose to me," Big Boi said. "I wasn't going to be sad if they lost, though. Well, unless I bet a lot of money."
On Sunday evening, Big Boi posted his video "In the A" from his new CD "Vicious Lies and Dangerous Rumors" to show his love for the city.
only right I post this... In The A - @bigboi ft Ludacris, T.I. youtube.com/watch?v=9sZkrp…

— Big Boi (@BigBoi) January 13, 2013
Playbook had a few minutes with Big Boi to talk about his new CD, today's music scene and working with Andre 3000 again.
You've gotten a lot of positive reviews on your second CD. What did you think when you finished the product?
"I was relieved. I had been working on it for 13 months. I was on a promotional tour and I wasn't there when it was taken to master. I had to leave my baby at the last minute. But I'm really proud of the music."
November, 12, 2012
11/12/12
10:00
AM ET
By
Lynn Hoppes
| ESPN.com
It was a no-brainer for rapper Ludacris to ask Los Angeles Clippers guard Chris Paul to be part of his "Rest of My Life" video, released Sunday night.
"Chris a good friend of mine and it's always good when you do business with family," said Ludacris, who was in London filming "Fast and Furious 6," the latest installment of the street-car racing franchise.
Ludacris, who has released seven multiplatinum studio albums and has won three Grammy Awards, thought Paul would be perfect for a cameo role. Usher and David Guetta are also featured.
"The song and video is about living your life to the fullest, even after you fall," said the 35-year-old Ludacris, who was born Chris Bridges. "Chris, like me, is one of those individuals who works hard and plays hard. He is a prime example of getting back up and coming back stronger."
Ludacris, who was born in Illinois and moved to Atlanta when he was 9, loves playing basketball and has a court at his Atlanta home. He has made 17 films, and is spending the next few months finishing up "Fast and Furious 6" before returning to the United States for the release of his album "Ludaversal" in 2013.
"I think my whole life is about progression. I continue to stay hungry and I'm competitive," Ludacris said. "I love what I do. I'm passionate and I'm still creative. I call myself a 'Multifaceted Entreprenegro.'"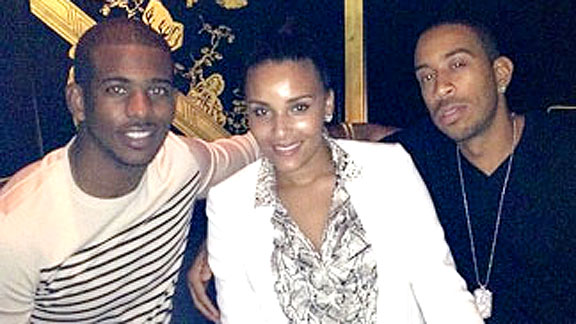 Courtesy of LudacrisIn London, Chris Paul is having dinner with Ludacris and Ludacris' girl friend Eudoxie Agna.
October, 18, 2012
10/18/12
2:52
PM ET
By
Jared Zwerling
| ESPN.com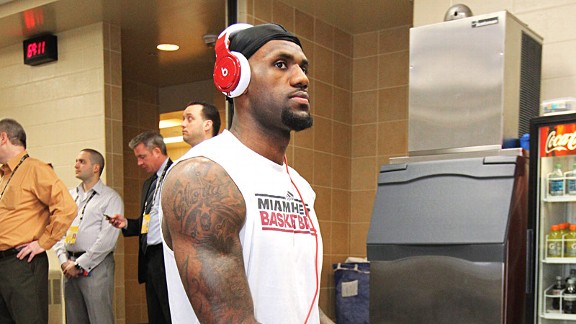 Nathaniel S. Butler /NBAE/Getty ImagesKing James is currently the NBA's only official endorser of Beats By Dre headphones.
In the past few years, NBA broadcasts have extended the airtime of players walking into arenas and hanging out in locker rooms before games -- even using freeze-frames so the commentators can analyze what they're doing and wearing.
Any why not? The pros are playing more and more of a colorful gadgetry game, from designer shades to high-end watches to man purses, which LeBron James and Dwyane Wade blew up during last season's Finals.
So what's next? Some players around the league believe the trend of sleek and colorful rapper-inspired headphones will continue to grow. Expensive handheld devices now have expensive headphones to match, because that's how rappers do it -- big.
And that's who many ballers want to be -- rappers. A relationship that first developed in the inner cities and expanded through different cultural trends is now being forged through the headphone game.
Here are four of the latest headphones (and one accessory) you'll see in those pregame images this season.