ESPN Music:

Manchester United
January, 8, 2013
1/08/13
6:54
AM ET
By
Andy Frye
| Special to ESPN.com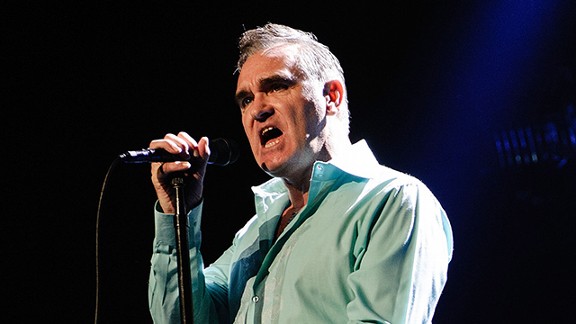 Matthew Eisman/WireImageMorrissey, seen here at Radio City Music Hall in 2012, hits the road once again starting Jan. 9.
Steven Patrick Morrissey has always been a little of an international man of mystery. And whether it is the meaning of his lyrics or hints about his favorite sport, fans seem all the more curious to dig deeper into his music.
The singer -- who has gone solely by his surname since his days with The Smiths -- recently released "The Very Best of Morrissey," an 18-song retrospective with a DVD that includes hits such as "Tomorrow," "The Last of the International Playboys" and "November Spawned a Monster," along with lesser known gems such as "Boxers."
Restarting his tour on Jan. 9 with U.S. stops in New York, Atlanta, Chicago and elsewhere, Morrissey recently spoke about where he's at as an artist. His songwriting process, he says, hasn't really changed thirtysome years into his career, but what weighs in on Morrissey's mind might be different.
"My concerns have shifted, and the last 30 years read as one dramatic head storm." Morrissey said. "I've always been a confessional writer, a witness, with an internal switch in the head that doesn't turn off. It's exhilarating, in fact."
And while the changing world has Morrissey's creative efforts grinding forward, he nevertheless remains quite the social critic.
"I continue to rally against social injustice and I despise the dumbo generation of reality TV, celebrity noise, showbiz bile and the British royal family," he said.
May, 16, 2012
5/16/12
11:53
AM ET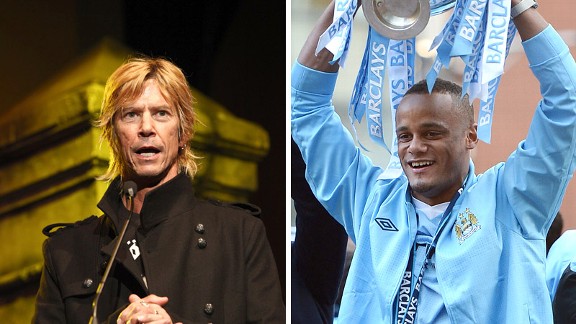 Getty ImagesDuff McKagan relates to Manchester City's triumphant season after years of suffering for City fans.
Musician Duff McKagan's column runs every Wednesday on Playbook Sounds.
In August 1987, I was headed out to play my first-ever arena tour. The Cult gave GN'R the opening slot for a tour that would cross Canada, come down the West Coast, and then shoot across to the Southwest and finally end in New Orleans.
I met Cult guitarist
especial
Billy Duffy on that first night in Halifax, Nova Scotia -- that was nearly 25 years ago now -- and even way back then, his soccer team Manchester City was on an epic losing streak of 20 or so years.
I could empathize. I am, after all, from Seattle.
You can't mess around when talking or writing about English football. If you are an American, and don't know much about that whole scene over there, be careful about saying such throwaway things as "I think I'll pull for Liverpool this year." I did that once in an interview with some UK magazine. I mean, why not? The Beatles are from Liverpool, and I thought it was a fairly innocuous and tame thing to state. No. I caught a whole rash of crap from each city I went to in England after that.
Manchester, England, is a city about the same size as Seattle or, say, Cleveland. Imagine if Cleveland had the Browns
and
the Steelers both hailing from the same city? Or if Seattle had the Seahawks
and
the Raiders? And both teams had originated from different sides of town, and had somehow split the fandom somewhere right down the middle of town.