April, 15, 2014
Apr 15
3:07
PM ET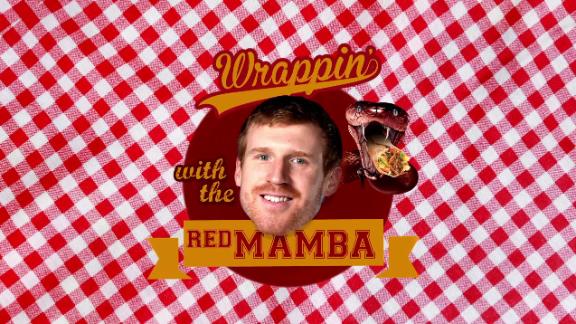 San Antonio Spurs reserve player Matt Bonner recently found himself in Austin, TX with tacos and no one to share them with after being stood up by rapper Riff Raff. No worries. Bushwick Bill to the rescue! The Geto Boys MC joined the 3-point ringer and amateur beatboxing Bonner in the first edition of the web series "Wrappin' With The Red Mamba."
February, 2, 2013
2/02/13
10:00
AM ET
By
Zach McCann
| ESPN.com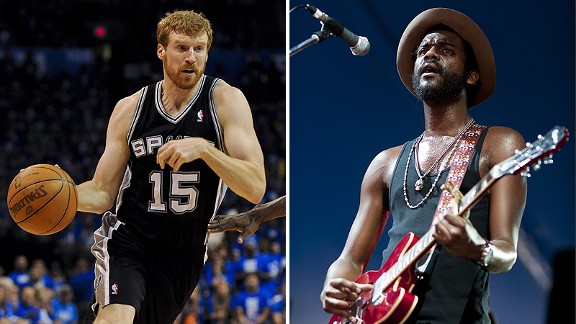 Getty ImagesMatt Bonner and Gary Clark Jr. are the first celebs on Track Wars, the Bonner brothers' new site.
San Antonio Spurs forward Matt Bonner was recently in the market for a personal jukebox, and to fill his catalog of music, he sent out a mass email to his friends and family asking for their favorite 15 songs. Bonner wanted to make a personal playlist on the jukebox for everyone close to him.
But as the emails were exchanged and people began debating each other's playlists, Matt's younger brother, Luke Bonner, noticed that people were getting pretty heated in their arguments because "everyone wants to be a DJ."
And that gave Luke an idea: Put famous people's playlists up on a website for others to vote on to see whose playlist really is the best.
Thus was the beginning of
Track Wars
, a Tumblr site created by the Bonner brothers that will feature a one-on-one vote between the custom playlists of two athletes, musicians or celebrities every week. Each celebrity's playlist will consist of five to 10 of their favorite songs ever, not necessarily the
best
songs ever.
"The whole idea of viewership and fandom has changed in this day and age; we want to know more about the people we're watching," said Luke, who played college basketball at UMass from 2006 to 2009 and then a couple of years overseas. "Like, I'm watching WWF and I wonder what the Undertaker is going to listen to on the way home."
January, 22, 2013
1/22/13
3:49
PM ET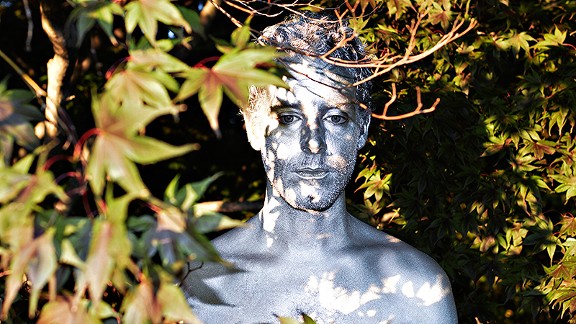 Catharine Maloney Dave Hartley of Nightlands also shares an affinity for silver with Matt Bonner.
Dave Hartley, front man for Nightlands, has a couple of big projects going on right now.
First, Nightlands'
new album, "Oak Island,"
was released Tuesday on Secretly Canadian. The album is a labor of love for Hartley, also the bass player in Philadelphia band The War on Drugs.
Hartley
cites influences
such as the Beach Boys, E.L.O. and Cormac McCarthy in his musical upbringing. But he has another passion: basketball.
Which leads to his other pet project: Lobbying for San Antonio Spurs sharpshooter Matt Bonner to get a spot in the 3-point contest on Feb. 16 during NBA All-Star Weekend in Houston.
Bonner is a huge indie rock fan, even
interviewing Win Butler
from Arcade Fire for the Spurs' website, and
playing against Butler
in a charity game in Toronto. To complete the circle,
Hartley interviewed Bonner
for Paste Magazine.
Hartley's campaign, using the #LetBonnerShoot hashtag, has drawn support from some of Bonner's favorite bands, such as the aforementioned
Arcade Fire
and
Okkervil River
, along with
Eva Longoria
and former Florida teammate
Joakim Noah
.
The #LetBonnerShoot campaign has its own
Facebook page
and Hartley encourages everyone to sign the
online petition
.
Playbook asked Hartley (who has
grown a protest beard
to support the cause) why Bonner deserves the honor. Hartley lays it out in his own words below:
December, 12, 2012
12/12/12
6:41
AM ET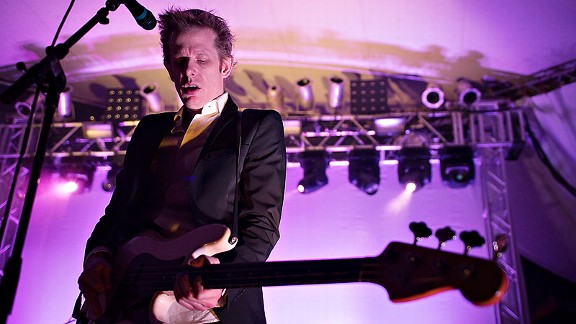 Rick Kern/Getty ImagesBritt Daniel, a longtime Dallas Mavericks fan, is now on tour with his new outfit, The Divine Fits.
On Wednesday, The Divine Fits -- a super group composed of Britt Daniel (Spoon), Dan Boeckner (Wolf Parade and Handsome Furs), Sam Brown (New Bomb Turks) and keyboardist Alex Fischel -- resumes its touring schedule in Aspen, Colo., in support of their new album, "A Thing Called the Divine Fits."
The best part, singer Britt Daniel said of this new project, "is that we've become real good friends." Daniel also had a lot to say about what is for him a totally new routine to making music.
"The major difference is that there's another songwriter doing half the work and singing half the songs," he said. "That's different for me because when I am putting together a Spoon record, that's a lot of songs to fill out an album."
Daniel indicated that the new process of working with other accomplished musicians is not only refreshing but exhilarating, and the tunes show it. Their songs, such as "Would That Not Be Nice" and "Baby Get Worse" encompass a renewed cool vibe, still bearing familiarity to each artist's earlier works. Brown's strong, calm patter of drums sets a pace that lets the guitars and vocal talents of both Boeckner and Daniel cruise to newfangled heights. Meanwhile, the Divine Fits' first take also features an eclectic mix, combining elements of the 1970s hard rock of T. Rex and David Bowie with hues of 1980s new wave music.
When it comes to conjuring up new songs that feel and sound good, the longtime Spoon frontman and songwriter talked about the control that most driven musicians possess.