ESPN Music:

Metta World Peace
April, 24, 2012
4/24/12
10:49
AM ET
April, 17, 2012
4/17/12
3:35
PM ET
By
Andrew A. McNeill
| Special to ESPN.com
While the San Antonio Spurs are often thought of in the mainstream as one of the most boring franchises in professional sports, that designation is a bit of a misnomer.
The boring old Spurs have no fewer than three players who have made rap music videos in Tony Parker, DeJuan Blair and Stephen Jackson -- a scene that distant observers don't associate with the silver and black.
[+] Enlarge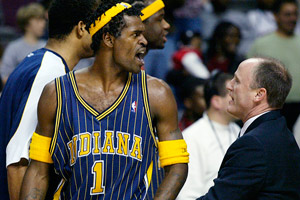 AP Photo/Duane BurlesonIn a new song, Stephen Jackson addresses the 2004 brawl in which he followed Ron Artest into the stands.
In February, Parker, Tim Duncan and Matt Bonner (!) were photographed
hanging out at a club with Fat Joe and Bun B
. Bun B was half of the legendary southern rap duo UGK, which hails from Port Arthur, Texas, hometown of Jackson.
Of the Spurs' hip-hop artists, recent addition Jackson may be the most talented. Jack, who goes by the rap name Stak5,
released a mixtape called "Trill Mixes"
this month along with DJ Scream.
The final full song on the 13-track release, called "Where I'm From," dedicates a verse to addressing one of the events Jackson is most known for in his career, the 2004 brawl between his Indiana Pacers and the Detroit Pistons, known as the "Malice at the Palace." Jackson looks at the events through the prism of growing up in Port Arthur and learning about loyalty.
Grantland's Jonathan Abrams went on Bill Simmons' podcast, the B.S. Report, in late March and talked about interviewing Jackson for
an oral history of the brawl in Detroit
.
"I heard [Jackson] coming around the corner before I actually saw him and I heard him saying, 'I love talking about the brawl! I love talking about the brawl!'" Abrams said. "I thought he was being kind of condescending and that he'd give me one or two quotes and then be on with his day, but he was telling the truth. He had been waiting to talk about that story for a long time."
Jackson begins "Where I'm From" essentially saying exactly that, opening with, "You know, I never got a chance to speak my mind talking about the brawl situation." As he says this, a background voice chimes in with "What up, Ron?"
Stak5 goes on to talk about some of his reasons for going into the crowd that night in defense of his teammate. Some of his words give illumination as to why several years ago Duncan called Jackson one of the most loyal teammates he's ever had:
"Last thing I came to do is fight. But that's my brother, man. And on the other hand we teammates. Ride or die, you'll never understand."
"If you fighting, then I'm fighting too, without saying. Chuck a beer, I chuck a beer at you. I'm not playing."
"All I know is loyalty, so in the stands I go for my bro, there's just no more to me."
The fallout from the incident led to strained relationships. Ron Artest (now Metta World Peace), who initiated the melee at the Palace of Auburn Hills, burned some bridges with his teammates when he requested a trade the next season. However, Jackson and World Peace are on decent terms these days, recently embracing and speaking at midcourt after the Lakers beat the Spurs in San Antonio last Wednesday.
Jack, who was suspended 30 games for his role in the fight in Detroit, rhymes that he didn't once consider the consequences of going into the stands. He says in the song that his "heart was in the right place."
While the NBA is full of ultra-talented basketball players, its musical talent -- especially in the hip-hop game -- is mediocre at best. Jackson surprises in that he seems comfortable and talented on the mic. In "Where I'm From," Jack avoids the luxury rap that plagues the scene these days and instead speaks from the heart and experience, where the best usually come from.
Andrew A. McNeill is a staff writer at 48 Minutes of Hell, a San Antonio Spurs blog that's part of the TrueHoop Network.
April, 15, 2012
4/15/12
11:53
AM ET
Cypress Hill has shared the stage with many performers over the years.
But this was different, for a couple of reasons.
First, frontmen B-Real and Sen Dog were joined by Rusko, a 27-year-old English dubstep DJ and Cypress Hill collaborator. Second, they were being interviewed by Lakers forward Metta World Peace at the Lakers practice gym.
B-Real, a Los Angeles fixture and a Lakers season-ticket holder since the team moved into Staples Center in 1999, has sold millions of albums and traveled all over the world. He's counted former Lakers Shaquille O'Neal and Lamar Odom as friends. But this was a new experience.
"It's the first time I've been at the practice facility," B-Real said. "It was a cool experience to see these guys warm it up and shoot it around."
World Peace and B-Real have worked together in the past, on World Peace's song, "
Go Loco
." So when the time came for Cypress Hill to discuss the new project, an EP called "
Cypress X Rusko
," World Peace suggested he do the interview.
B-Real said experimenting with dubstep follows the path the band has blazed (pun intended) for the past 20 years.
"During the course of our career, we've always managed to go outside of even our own box," he said. "We started experimenting with the heavier sound, with live instruments and rock. We like to challenge ourselves."
The Rusko pairing came almost as a direct result of Cypress' fans.