June, 20, 2013
6/20/13
3:50
PM ET
LeBron James and Imagine Dragons' Dan Reynolds have a mutual appreciation of each other's work, as seen in this behind-the-scenes clip set to "
Radioactive.
"
For James, who says he acts as the Heat's team DJ -- when they call you "King James," you get to pick the tunes -- says music in general and "Radioactive" in particular help get him in the mood to take the court. Reynolds, who says he's been following James' career from the start, says he takes inspiration from anyone who pushes the limits.
Says Reynolds: "I've always found inspiration of people who were pushing the boundaries ... of human capabilities." He says it's "pretty incredible" that James and the Heat have taken an interest in the song.
March, 21, 2013
3/21/13
1:39
PM ET
By
Zach McCann
| ESPN.com

NEW YORK -- Few people are enjoying basketball right now more than hip-hop artist Flo Rida.

The South Florida resident, who owns Miami Heat courtside season tickets and grew up a few miles from the University of Miami, has been in attendance for much of the Miami Heat's historic 24-game (and counting) winning streak. And he's vocal about his support for "The U," a No. 2 seed in the NCAA tournament.

Flo Rida spoke with ESPN Playbook about his Heat theme song, his custom-made Heat championship ring, and more on Wednesday afternoon as he helped announce Samsung's new line of TVs.

Is there a better time to be a Miami Heat fan?

It's super exciting. That dunk the other day, LeBron over Jason Terry, that was crazy. I wish I was in Boston watching it. I'm definitely courtside every game I can make. I have season tickets, so I'm just excited about the Heat. We need to get another championship. I actually bought a championship ring last year.


February, 19, 2013
2/19/13
11:15
AM ET
By
Jared Zwerling
| ESPN.com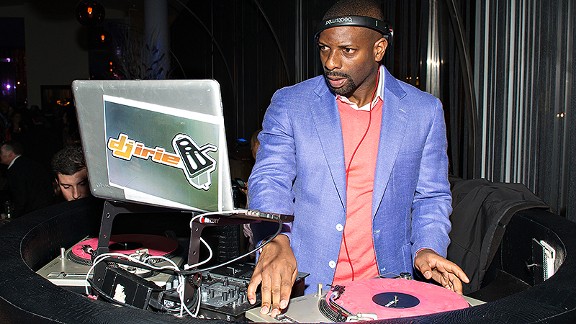 Michael Stewart/Getty ImagesThe Miami Heat's official DJ since 1999, DJ Irie was the first in-house DJ hired by an NBA team.
Catch him if you can. Miami-based DJ Irie doesn't miss a beat during All-Star Weekend -- literally.
The NBA's first DJ, who was hired by the Miami Heat for the 1999-2000 season, may have been the busiest man you've never heard of during All-Star Weekend. He just wrapped up his 10th straight All-Star appearance as the league's headline turntablist in Houston.
Not only did Irie spin at Jam Session every day for a couple of hours, he also worked the celebrity game and then the Club NBA party with reggaeton artist Daddy Yankee on Friday; the East-West All-Star teams' practice; TNT's official All-Star party at the House of Blues on Saturday; and then the Sprint Pregame Concert on Sunday. In addition, he made an appearance, along with rapper Flo Rida, at the Hennessy V.S All-Star Takeover event on Thursday night.
The All-Star schedule for Irie, who became Miami's No. 1 radio DJ in the late 1990s before the Heat wanted him to revolutionize their in-game entertainment, actually started off much crazier. During his first experience in Atlanta in 2003, he was the only NBA DJ on-site and worked Jam Session for about 12 hours a day -- after which, he still went on to spin night parties every evening. Even though he enjoyed being at All-Star Weekend and making some new connections, he called the experience "horrible."
But since then, more NBA team DJs have gotten involved with All-Star Weekend, which has allowed Irie to commit to parties he's in demand for, hosted by A-list entertainers and the ballers themselves. He's become the go-to DJ for current Heat players such as
LeBron James
,
Dwyane Wade
and
Chris Bosh
, and former ones, such as Shaquille O'Neal and Alonzo Mourning. Irie calls the Heat "a family," and he even has both of the Heat's championships rings from 2006 and 2012.
Speaking with ESPN Playbook on Saturday in his hotel room at the Embassy Suites in downtown Houston, Irie reflected on his All-Star commitments, his game-changing start with the Heat 14 years ago, consulting with LeBron on tunes, what's next in the world of in-game music and much more.
June, 22, 2012
6/22/12
4:25
PM ET
By
Playbook Sounds
| ESPN.com
LeBron James and his teammates took to the stage of the LIV nightclub in Miami hours after the Heat won the title, where James rapped along to one of his favorites, the 2 Chainz verse From Young Jeezy's "SupaFreak."
Playbook
spoke to 2 Chainz
recently about the rapper's reaction the three-time MVP being such a vocal fan.
June, 15, 2012
6/15/12
10:50
AM ET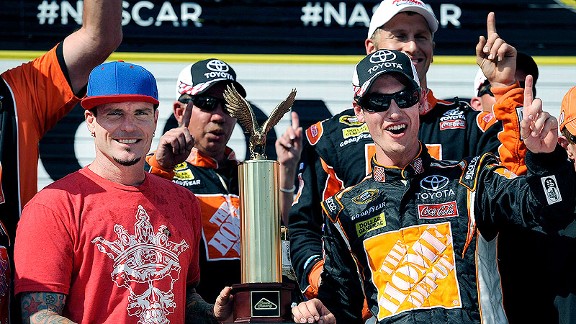 Jerome Miron-US PresswireSuddenly, Vanilla Ice is everywhere again, including the Pocono winner's circle with Joey Logano.
Vanilla Ice had a meteoric rise, selling more than 13 million copies of his debut album, "To The Extreme."
He faced an equally potent backlash, falling out of favor and recasting himself as a rap-metal artist and a reality TV star alongside other fallen idols on "The Surreal Life."
With a starring role in the new Adam Sandler movie "That's My Boy," Ice has come full circle as "Uncle Vanny," who cruises around in an old-school Mustang 5.0 convertible.
And Rob Van Winkle, as he now prefers to be called, has emerged from the shadow of the Iceman. The post-hype anger has subsided, and instead a friendly, cheerfully corny entertainer is grinding out interviews for the movie and his home-renovation show
"The Vanilla Ice Project"
on DIY Network.
"I'm a random guy. I shake a hand and make a friend. I don't do egotistical things," Van Winkle says. "I meet everybody. If somebody invites me to their house and they got a drum set close, I'm going to play, man. Let's jam. I don't care. Get in where you fit in and enjoy the experience."
Decidedly low-maintenance, the man who once cooked MCs like a pound of bacon left ESPN and headed over to the nearby Chili's for some veggie fajitas.
April, 16, 2012
4/16/12
3:20
PM ET