ESPN Music:

Mike McCready
May, 23, 2012
5/23/12
9:23
AM ET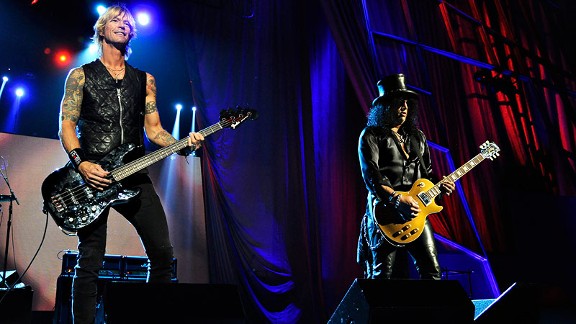 Kevin Mazur/WireImageDuff and Slash performed together at the Rock and Roll Hall of Fame induction in April.
Musician Duff McKagan's column runs every Wednesday on Playbook Sounds.
There seem to be so dang many sports topics over the last week that it is now too difficult for me to choose only one to write about. I will just shoot from the hip here:
• The Oklahoma City Thunder trounced the Lakers in five games. It didn't ever seem close, as far as knowing who really had the energy to win it. Being a lifetime Sonics fan, it was a strange thing trying to take a side in those five games. The Lakers are longtime rivals -- that just goes with being in the Pacific Division (even though the Sonics are gone; old habits die hard, I guess). But it seems I despise the owner of the Thunder even more ... and I found myself rooting for the Lakers on Monday in Game 5. Weird, for sure.
• The Bayern Munich stadium is ridiculous. I went to my pal Steve Jones' house Saturday to watch his Chelsea team upset the favored Munich team, whose home stadium is one of the most grandiose-looking arenas out there. State-of-the-art on steroids.
• The old Dallas Cowboys stadium, Texas Stadium: Yes, I know it had a hole in the roof so "God could watch his favorite team," but GN'R had its worst-ever gig there in 1988. We sucked it up pretty good. Thank god for Iggy Pop that night. He saved it all.
• It may be an obvious point to make now, but the L.A. Kings' story is kind of ridiculous. They are dominant and completely self-assured. All of this out of an eighth seed?