January, 23, 2013
1/23/13
8:00
AM ET
By
Scott Neumyer
| ESPN The Magazine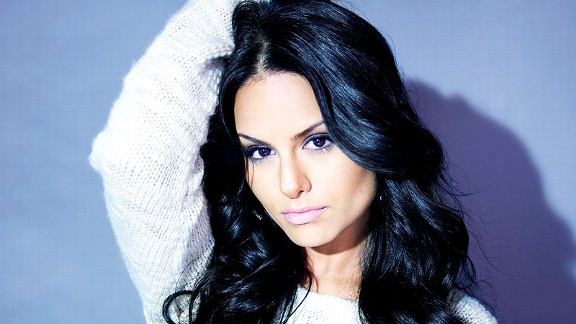 Courtesy of Pia ToscanoThe "American Idol" alum sang the anthem at every L.A. Kings' home game en route to the Stanley Cup.
Pia Toscano probably never imagined that she'd have so many hockey fans chanting her name, but after becoming the Los Angeles Kings' good-luck charm at the end of their championship run last season, the former "American Idol" contestant has become a fan favorite at the Staples Center.
It started innocently, with her singing the national anthem at a Dallas Stars-L.A. Kings game at Staples last January. Then she sang again at the start of the team's 2012 playoff run in April -- and the Kings just kept winning. Not wanting to mess with a streak, they kept bringing Toscano back to center ice to sing and, before long, they were hoisting Lord Stanley's silver and nickel-alloy cup above their victorious heads. How's that for good luck?
This past Saturday, Toscano was at Staples Center to sing the anthem at the Kings' lockout-delayed season opener against the Chicago Blackhawks.
She recently chatted with ESPN Playbook about becoming a Stanley Cup champ's talisman, loving Mike Piazza and dreaming of singing at the Super Bowl.
June, 29, 2012
6/29/12
11:34
AM ET
By
Mike Trask
| Special to ESPN.com
Russ Rankin dreams of one day being at the NHL draft. But not as a player being selected.

Rankin, lead singer of the punk band Good Riddance, wants to be dressed in a suit and tie, having chosen the players at an NHL champion's table.

Perhaps the world's only hockey scout with neck tattoos, the 44-year-old may be on his way to making it to the show. Since 2007, he's been the California/U.S. Regional Scout for the Kootenay Ice of the Western Hockey League, a Canadian junior league that regularly produces NHL stars.

The gig started when Rankin asked a good friend -- and a fan of his band -- about getting some kind of job in hockey.

Who is that friend? Ice owner and four-time Stanley Cup champion Scott Niedermayer.


June, 19, 2012
6/19/12
10:00
AM ET
By
Lynn Hoppes
| ESPN.com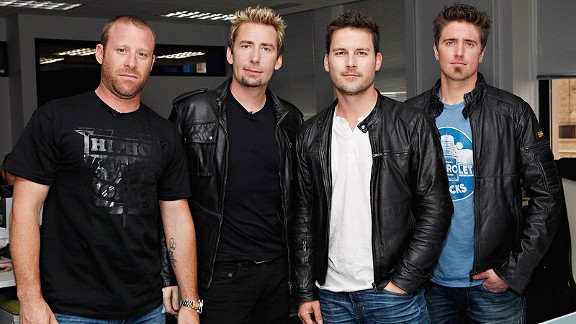 Cindy Ord/Getty ImagesMike Kroeger, Chad Kroeger, Ryan Peake and Daniel Adair aren't afraid to poke fun at themselves.
Canadian rock band Nickelback isn't shying away from returning to a major sports event, performing at the 2012 NHL Awards on Wednesday with two live performances at the Wynn Las Vegas.
It's been seven months since 55,000 fans signed a petition asking the NFL to keep Vancouver's Nickelback, which has sold more than 50 million albums, from perform at the annual U.S. Thanksgiving football game, between the Detroit Lions and Green Bay Packers.
Nickelback, formed in 1995 in Hanna, Alberta, got the last laugh. There was only a smattering of boos at the game, while the CD the band was promoting -- "Here and Now" -- was propelled to No. 2 on the Billboard charts.
The 2012 NHL Awards will honor the best regular-season players in a wide range of categories, including most valuable player (Hart Trophy), outstanding goaltender (Vezina Trophy), outstanding defenseman (Norris Trophy) and outstanding rookie (Calder Trophy). Actors Ray Liotta, Kevin Connolly, Matthew Perry and Vince Vaughn are among the celebrities scheduled to attend.
Playbook had a chance to spend a few minutes with Nickelback's lead singer, Chad Kroeger, to talk about hockey and fans.
Being from Canada, I can assume you're hockey fans?
"Growing up in Alberta during the dynasty days, it was tough not to be an Edmonton Oilers fan. Not to say that there weren't a couple of Calgary Flames fans, too. It was just a great time to be growing up there. It was a great time for hockey in Alberta."
April, 27, 2012
4/27/12
4:23
PM ET
Every athlete needs a good pump-up jam to get them into battle mode, especially in a sport as adrenaline-heavy as hockey. So when the Los Angeles Kings enter their first conference semifinal in over a decade against the Blues on Saturday, you better believe they'll be bumpin' some monster tunes. Tunes like … uh … Celine Dion. And, um, whatever's spinning at the local NPR affiliate.
Check out this video of Kings forward Colin Fraser grilling his teammates on what they listen to before games. While some prefer country and "techno junk," Davis Drewiske and Kevin Westgarth gotta get their listener-supported public radio fix. This is no surprise coming from Drewiske, who earlier this month did a guest DJ set for KCRW, throwing down the same playlist they use in the fitting rooms at The Gap.
April, 25, 2012
4/25/12
7:30
AM ET
By
Deanna Kay
| Special to ESPN.com
Country music superstar and proud hockey wife Carrie Underwood might very well be the busiest woman in music. Her new album, "Blown Away," is out May 1. And when she's not promoting the first single off that record, "Good Girl," Underwood is cheering on her husband, Nashville Predators center Mike Fisher, in the NHL playoffs. Somehow she found time in that busy schedule to "fill in the blanks" with Playbook Sounds:
[+] Enlarge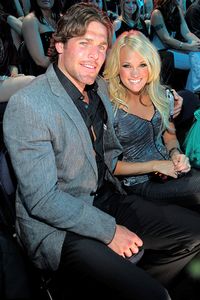 Kevin Mazur/WireImageCarrie Underwood is married to Nashville center Mike Fisher.
1. I think playoff beards are
awesome
because
my husband makes one look sooooo sexy!
2. If I had the Stanley Cup for a day, I would take it to
Peterborough
[Fisher's hometown in Ontario] and
celebrate with Mike's family.
3. Three things I love about playoff hockey are
winning, winning
and
Mike winning.
4. I
have nightmares about
the Zamboni.
5.
Seeing Mike win a Stanley Cup
is on my sports bucket List.
6. My favorite athlete of all time (besides Mike Fisher) is
Troy Aikman (Oklahoma boy)
.
7.
Screaming at the refs
is my guilty pleasure during games.
8.
I scream like a banshee
during games when
a goal (for the Preds)
happens!
9. Besides hockey, I love the game of
football
and my favorite team is the
Tennessee Titans
because
I've gotta support the hometown team!
10. If I could play any professional sport I would love to play
football (I was a pretty mean quarterback for the Tri Sigmas during Greek Week).
April, 23, 2012
4/23/12
12:04
PM ET
On Friday, the NHL announced that Canadian rock band Nickelback will headline the 2012 NHL Awards, "
part of a strategic promotional alliance
between the League and the band." Here's how fans dealt with the announcement, and the resulting use of Nickelback songs during playoff games this weekend: