August, 24, 2012
8/24/12
11:00
AM ET
By
Nick Swisher
| As told to Louise K. Cornetta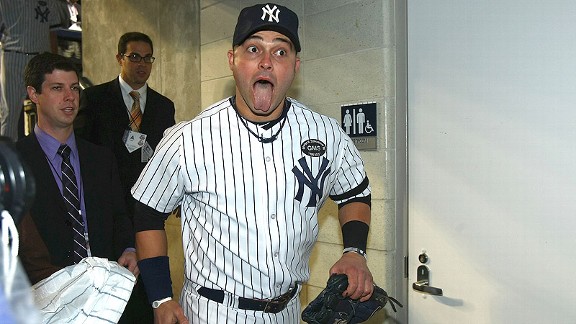 Jim McIsaac/Getty ImagesNick Swisher provides insight on his team's clubhouse music, including "Throwback Thursdays."
Nick Swisher dishes on the music played inside the New York Yankees clubhouse to ESPN.com's Louise K. Cornetta.
"In this locker room, everyone can play his own music. Everyone has speakers in his locker. But we don't have multiple songs going at once. We let one person play a few jams, and then someone else plays a few of his songs. No one has control; we just expect people to keep rolling out new stuff. On this team, we have some country guys, some salsa guys, some top-40 guys, so we hear a bit of everything.
"Then we have Throwback Thursdays, when we play old-school music like Otis Redding and stuff like that. Throwback Thursdays came about because of a time that Brett Weber, one of our coaches, and I were in the dugout tunnel taking batting practice and listening to some relaxing jams. We coined it Throwback Thursday, and ever since the team has been doing it for pregame music.