ESPN Music:

Notre Dame Fighting Irish
January, 5, 2013
1/05/13
3:07
PM ET
By
J. Patrick Coolican
| ESPN.com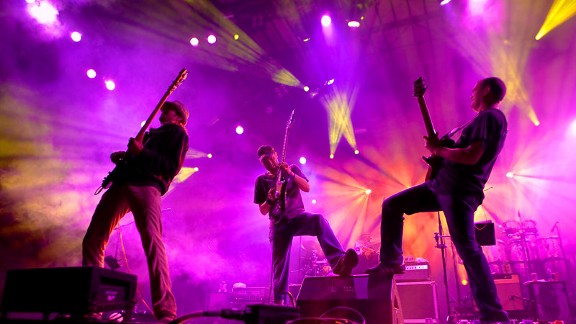 Courtesy Chad Smith After forming at Notre Dame in 1997, Umphrey's McGee became known for their marathon concerts.
When you think of jam bands and sports, you probably think of Hacky Sacks or maybe some newly invented sport involving glow sticks.
Not so when it comes to Umphrey's McGee, the hard-to-define but mostly prog rock jam band originally out of South Bend, Ind.
Umphrey's is a band full of sports junkies, especially this weekend. Two of the several Notre Dame graduates in the band community -- Kevin Browning, who manages strategy and development, and bassist Ryan Stasik -- will be on hand in Miami for the Discover BCS National Championship.
But the Umphrey's sporting scene goes well beyond merely rooting for the Irish.
Keyboardist Joel Cummins says Umphrey's fields a so-far-unstoppable touch football team, unbeaten against the band crew as well as fellow jam bands Disco Biscuits, moe., and Perpetual Groove.
"We just run because no other band is in as good a shape, so after 20 minutes they're gassed," Cummins says with a laugh. He's a runner, and Stasik and percussionist Andy Farag are triathletes.
The band and crew have their own fantasy football league, and always try to take Sundays off while on the road so they can spend the day doing what much of America does on Sundays -- boozy trash talking about their fantasy teams.
As local favorites in Chicago, they've sung the national anthem at a bunch of Cubs and White Sox games, and this year performed "Take Me Out To The Ball Game" for the first time at Wrigley Field, an honor shared with the likes of Bill Murray and Eddie Vedder.
January, 4, 2013
1/04/13
8:04
AM ET


You may not know hip-hop duo Santiago x The Natural by name, but you've probably heard their anthem, "Warriors," if you've been watching football closely this season.

The song, which combines the vocal talents of Lawrence Santiago and the hard rhymes of Chicago-based rapper Jeff "The Natural" Stephens, was released last year on iTunes. Since then "Warriors" has played numerous times this season during NFL games and has become the de facto fight song for the No. 1 Fighting Irish in their undefeated season en route to the BCS title game on Monday against No. 2 Alabama.

The lyrics within call back to Notre Dame's days, even long before Lou Holtz:

Now total request live now you've got me / The flow is one of a kind, not too sloppy Wanna have my memory high like Knute Rockne's / Throw them hands up in the sky if you copy

Stephens and Lawrence met as students at a Notre Dame dining hall almost a decade ago as underclassmen during the Tyrone Willingham era, when there was a renewed feeling of excitement about Fighting Irish football -- but when Notre Dame wins were tougher to come by.