ESPN Music:

Philadelphia Phillies
August, 9, 2012
8/09/12
10:00
AM ET
By
Andrew Pentis
| ESPN The Magazine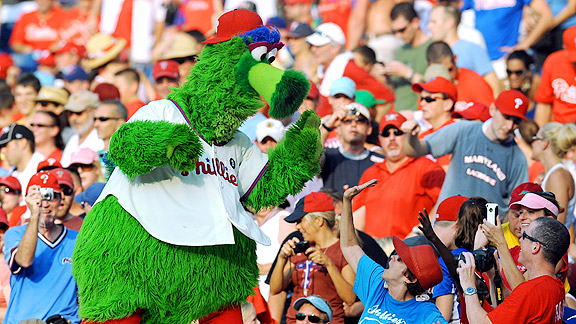 Miles Kennedy/Getty ImagesThe Philadelphia Phillies' victory song now pays tribute to their longtime broadcaster.
In seventh innings around the country every day of the season, fans stand and sing lyrics that were written way back in 1908. The shelf life of "Take Me Out to the Ball Game" proves that America's pastime has long been intertwined with its tunes. But for a more unique connection between city and club, teams rely on their own traditions -- some newer, some older.
We decided to find out the one song that each team relies on to get fans on their feet.
We're featuring the music from one team per day here on ESPN Playbook. To see past entries,
click here
.

Philadelphia Phillies
Song
: "
High Hopes,
" by late Hall of Fame broadcaster Harry Kalas
Tradition
: Played after wins
Fun facts
:
• Since 2009, the team has played a video of Kalas singing the Frank Sinatra song during his 2002 Hall of Fame acceptance speech.
• Kalas made the song famous among Phillies fans after he sang it in Pittsburgh's visitors clubhouse during the 1993 NL East Division Championship celebration -- and the Phillies' videographer caught it on tape. Kalas then performed the song on the field at Citizens Bank Park after the team clinched the 2007 and 2008 division titles.
June, 5, 2012
6/05/12
12:04
PM ET
After more than a decade together, leading up to the release of their seventh studio album, "Heaven," on May 29, The Walkmen found a little time to reflect.
The band recently celebrated the 10th anniversary of its first album, "Everyone Who Pretended to Like Me is Gone," by playing the older material during a series of shows.
"We ended up playing these Bruce Springsteen-length shows -- three-hour things -- which was very different for us," said Pete Bauer, a multi-instrumentalist who plays bass and organ.
"Heaven" continues that theme of longevity for the band, Bauer said.
"We've just gone around the bend so many times. We're very aware that not a lot of rock 'n' roll bands end up making that many records that end up being what they want them to be," Bauer said. "I think that we're very proud that we've kind of figured out a new way to do it every time. This one just feels a lot grander and bigger than the previous ones."
Critics, such as Stereogum, have agreed, calling "Heaven" the band's best album yet and naming it No. 2 on its running list of the
best albums of the year
.
April, 16, 2012
4/16/12
11:40
AM ET
The early days of the baseball season are a crucial time here at Sounds. That's when we find out the
really
important stuff, such as what music players will use when they enter the game or step up to the plate. Or if our fantasy draft was a bust. But mainly the music stuff.
Jonathan Papelbon's entrance music
was a hot topic this offseason
. The new Phillies closer ditched the Dropkick Murphys' "Shipping Up To Boston" (which was a rather obvious decision).
But
we've eagerly awaited
his entrance to see what the speakers delivered.
The result: We're still not positive. Last week, Papelbon entered Wednesday's game to Alice in Chains'
"Man in the Box"
but took the mound on Thursday for his first save situation to Marilyn Manson's
"Antichrist Superstar."
In a wide-ranging interview
that includes a discussion of showering with Hunter Pence and kicking a man's prosthetic leg (not at the same time), Papelbon said that he's "tinkering," and hinted at using a P.O.D. song.
In San Diego, The Nuge has nailed down the job for San Diego Padres closer Huston Street.
Street told Don Norcross of UT-San Diego
that he was rushed as a rookie,
picking a Nas instrumental because he had five minutes to decide on game day.
This time around, with the pressure of being in the same city where
Trevor Hoffman famously entered to AC/DC's "Hell's Bells,"
Street took his time.
Street decided on Ted Nugent's "Stranglehold" at the urging of Padres strength and conditioning coach Jim Malone, who told Norcross:
"Ted Nugent, he's out of his mind. That's the kind of controlled craziness, if I were a closer, I'd want to come out to."
With that, Jim Malone leads the league in understatements this season.
Got a favorite song a player is using, or a suggestion for one? Let us know in the comments.