September, 25, 2012
9/25/12
9:15
AM ET
By
Zach McCann
| ESPN.com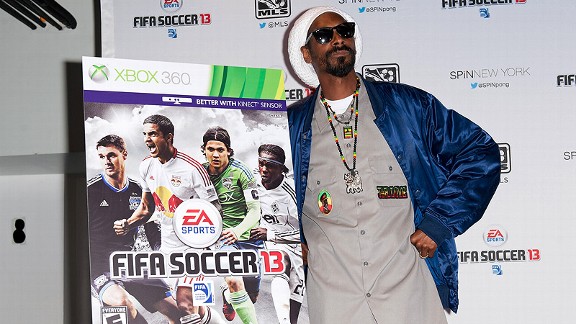 Dipasupil/Getty ImagesIn New York on Monday, Snoop Dogg promoted the launch of "FIFA Soccer 13."
NEW YORK -- For most of his life, Snoop Dogg (aka Snoop Lion) didn't know a thing about soccer. Didn't play it. Didn't know any teams or players. Didn't think about it.
Then about a decade ago, while touring in Europe, his PlayStation 2 "Madden" disc got scratched and stopped working.
When his handlers went to the closest store to buy another copy, "Madden" wasn't available -- the American football game wasn't widely sold in Europe at the time. So Snoop's boys grabbed "FIFA" off the video game rack to tide them over until they could find a copy of "Madden."
But Snoop didn't end up needing it on that trip.
"We ended up falling in love with it," Snoop said before playing "FIFA Soccer 13" Monday at the launch party at SPiN New York. "While we were playing the game, we were also learning about the game and started watching some games on TV. And it was the biggest sport in the part of the world we were in, so I just loved it."
June, 1, 2012
6/01/12
10:54
AM ET
By
Bill Speros
| Special to ESPN.com
With the Stanley Cup final underway, questions sometimes get a little more personal. Here, the Los Angeles Kings tell Fuse TV that they are a little bit country and a little bit rock and roll:
Jimmy Fallon could have been sending a subtle message to Dodgers fans by sporting this San Francisco Giants hat and Mets orange and blue on his sneakers while walking through Los Angeles International Airport:
This.Is.Awesone RT @the_whitney: @sfgiants Look at @jimmyfallon rocking a #SFGiants hat in Dodger land (LAX). twitter.com/the_whitney/st…

— Bryan Srabian (@srabe) June 1, 2012
Texans defensive defensive end J.J. Watt picked up some pointers and no doubt heard a few tall tales from this Houston football legend:
Glad I got the chance to spend a few moments with Coach Bum Phillips today. Great wisdom. Houston Legend. twitter.com/JJWatt/status/…

— JJ Watt (@JJWatt) June 1, 2012