ESPN Music:

Staff Sgt. Mark Zambon
May, 30, 2012
5/30/12
10:57
AM ET
Musician Duff McKagan's column runs every Wednesday on Playbook Sounds.
This past Monday was Memorial Day, of course, and most of us got to see or experience a moment or two that commemorated our Armed Forces veterans.
From the Indianapolis 500 prerace spectacle to the Minnesota Twins' epic effort of
bringing a soldier home
from Afghanistan to surprise his two daughters at the game on Sunday, sports helped us remember to appreciate our servicemen and women.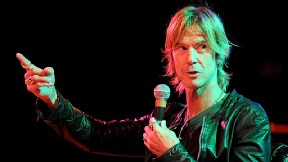 Robert Reiners/FilmMagicDuff McKagan
I've written before of my mountain climber buddy Tim Medvetz and his Heroes Project. Tim has made it a personal mission to meet and train wounded veterans for big mountains. Big mountains like Kilimanjaro, Denali, Erebus and up. Big mountains personify life's obstacles to Tim, and getting wounded vets to face these obstacles is a service that he can single-handedly help them tackle, one veteran at a time.
U.S. Marine Corps Staff Sgt. Mark Zambon has six deployments under his belt -- three in Iraq and three in Afghanistan. When Mark had seen all that he could see as a foot soldier, he chose to challenge himself in explosive ordinance disposal. In plain English? "The Hurt Locker."
On Mark's fifth deployment, he lost three fingers of his left hand when a bomb he was trying to clear went off. He got himself healed up from that and opted to go back for a sixth deployment. Mark knew that he could help save lives, and he saw no personal heroics in going back in after losing half of his left hand.
On that last deployment in Afghanistan, Mark got a call to clear a bomb found in the field. On his way in, a secondary and unseen bomb went off when he stepped on it. Mark lost both of his legs above the knee.