April, 18, 2013
4/18/13
10:00
AM ET
By
Lynn Hoppes
| ESPN.com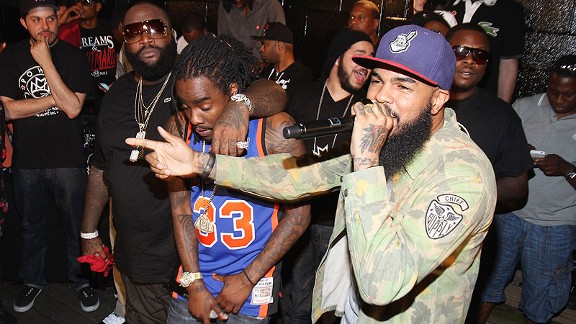 Jerritt Clark/Getty ImagesRick Ross, Wale and Stalley performed in New York, all part of Maybach Music Group.
With the NBA playoffs set to begin this weekend, Ohio native and Maybach Music Group member Stalley will be rooting on hometown friend LeBron James closely.
See, Stalley knows that James is an Ohio guy and will someday return to resurrect the franchise -- Cleveland Cavaliers -- he left.
"I think soon he'll honestly go back and give them a ring and do as he promised," said Stalley, who was quite critical of James during the "Decision" of 2010. "When that happens, everyone will erase the past, and he'll be king again here. He'll enjoy his life back home."
Ohio is and will always be home for Stalley, born Kyle Myricks. He started out making mixtapes and started working with big-time producers and he signed with Rick Ross' Maybach Music Group and will release his debut album this summer.
In fact, growing up in Massillon, Ohio, Stalley played James in high school basketball. Stalley was a 6-2 player also with NBA aspirations.
"I tip my hat to LeBron. I knew he was going to be something special. I saw him up close a lot. He was an animal," Stalley said. "I'm still such a big fan of his. He is my motivation. Seeing him do what he does, why can't I get Grammys? Why can't I sell platinum records? It makes me work harder."
Playbook had a few minutes with Stalley to talk LeBron, music and his love of cars.
You played basketball as a teen. Think you could have gone pro?
"I don't see why I couldn't. I always had that dream. I could see myself playing overseas or even the NBA. I'm not a person who lives out of my means so I know the road wouldn't have been easy. I think music is very similar. You have to put in the work."
October, 3, 2012
10/03/12
11:00
AM ET
By
Lynn Hoppes
| ESPN.com
If you listen to "First Take" on ESPN2 this week, you'll hear a new song by Wale & Stalley called "Every Word Great." The track was produced by one of the hottest in the game: Amadeus.
Playbook had a few minutes with Amadeus to talk about the collaboration.

What was it like working with Wale and Stalley and this song?
"It was an amazing experience working with both Wale and Stalley, who are both very relevant in the music business and signed to one of the most success record labels of our time, Rick Ross' Maybach Music Group. It was my first time meeting them, but it felt like we worked together already. When we got in the studio, the chemistry was great, and we were able to create a great theme song."
How was it meeting hosts Skip Bayless and Stephen A. Smith?
"It was the best. I'm a true sports fan, and I'm also a fan of ESPN and the ESPN 'First Take' show, so to meet those two guys was a great experience. The moment we met we began to argue immediately about football teams and who was going to take the victory that Sunday and, of course, my team, the champions New York Giants, beat Tampa Bay. It was also really exciting to see both Stephen A. and Skip Bayless dancing and loving the track that I created for their show."
[+] Enlarge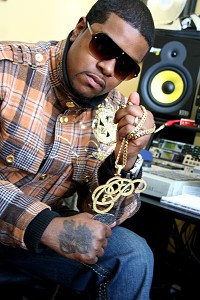 AmadeusAmadeus produced the theme song to "First Take" by Wale and Stalley.
How big of a sports fan are you and what do you think of the show?
"I'm a big supporter of the following teams: New York Giants, New York Yankees, New York Knicks and New York Rangers! Of course I love the show, to see two guys passionate about sports debate for two hours Monday through Friday is classic. But not only do I enjoy the debates, I also appreciate their knowledge of sports, so I learn a lot watching 'First Take.'"

Your first name is Antwan. Where did "Amadeus" come from?
"Yes, my government name is Antwan J. Thompson Sr., but my producer stage name is Amadeus. It means 'Loves God,' which I do, and we all know that Amadeus was a famous classical composer who created hundreds of masterpieces at a young age and went on to make history. While being inspired by him as a musician, I wanted to continue the legacy and use the name Amadeus and become one of the best music producers of my time! FYI, I've produced for more than 50 artists, and now I can add ESPN 'First Take' theme song to my résumé."
What do you think of the hip-hop game today, and why do you think it flows so well with sports?
"The hip-hop game has definitely changed drastically since I entered 16 years ago, but the love and appreciation I have for hip-hop pushes me to stay in it and keep going. I've always believed that music is expression, and we all have the right to express ourselves in anyway possible, and that relates to sports and ESPN's 'First Take' show. Most athletes as they're preparing for a game, they listen to music to get them hyped and pumped, and a lot of them listen to hip-hop music. We as the hip-hop community support them and enjoy sports as entertainment. We're like one big family! God bless."