ESPN Music:

Stefan Marolachakis
May, 24, 2013
5/24/13
8:00
AM ET
By
Stefan Marolachakis
| ESPN The Magazine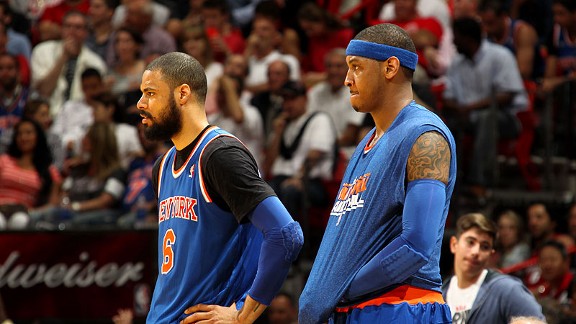 Issac Baldizon/NBAE/Getty ImagesStill mourning the end of the Knicks' playoff run? Read on for some help coping.
Editor's note: Drummer Stefan Marolachakis is traveling the country in a black van with tinted windows, touring for his band Caveman's eponymous second album. Every week, Marolachakis will hunt the nation to gather musicians and athletes to discuss the link between the two clans. This week, our caveman reflects on his grief for his beloved Knicks and offers some tracks for respite.
Sometimes it feels like being a
Knicks
fan is simply the most painful thing a sports fan could be asked to endure, unless you live on the wrong side of Chicago or anywhere in Cleveland.
This Knicks season was, at many points, glorious to behold: they beat the Heat three out of four times; the defense was mugging;
Carmelo
was an offensive genius, and
J.R. Smith
was his wild-eyed wing man in the clutch. But the run is over, and I'm left to sit in shock, parsing out what exactly happened.
Sadly appropriate, when the Knicks ultimately fell to the
Pacers
in the second round, I was in a hotel room in Mississippi, mere miles away from the Delta, the cradle of the blues. And since all know that when the going gets tough, the tough turn to their record collection, I have been using music to cure my NBA-PTSD and creating a soundtrack of new music (and one very old song) as I climb through the classic Five Stages of Grief.
1. Denial
During this stage I blamed the refs, almost exclusively. My dad pointed out to me after the Game 6 that in the final six minutes of play, there were a total of nine fouls called, eight of which were called on the Knicks. Eight! Yes, I realize that the Pacers were too big, they killed the Knicks under the boards, etc. But eight fouls to one? And 46 free throw attempts versus 18 for the Knicks on the game? For shame! It felt like the Knicks had no chance of moving forward in the playoffs with a crew of whistle-happy refs.
Soundtrack: Tame Impala, "
Feels Like We Only Go Backwards
."