ESPN Music:

Steve Etheridge
July, 12, 2012
7/12/12
12:46
PM ET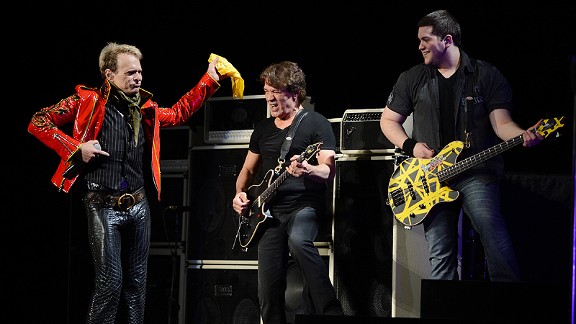 Larry Marano/Getty ImagesDavid Lee Roth says Van Halen wants to play the Super Bowl, but will they still be a band by then?
Remember that
massive campaign
to get Weird Al to perform in next year's Super Bowl halftime show? Well it looks like he's got some competition.
The walking hairspray cans of Van Halen have thrown their name into the hat,
responding to "rampant" rumors
that they'd already been chosen for the gig.
"That honor has not been bestowed upon us at this time though it is one we would accept in a NY minute," said David Lee Roth, who once wrote a screenplay about evil scientists trying to steal his rhythm to sell it to white people.
I like Van Halen, don't get me wrong -- they're the first band I go to for
pedagogical prurience
-- but aren't they … a little less than reliable these days? Forgetting about the constant musical chairs between Diamond Dave and Hagar, didn't they just cancel their tour because
"they hate each other?"
July, 6, 2012
7/06/12
10:45
AM ET
Well, geez, it took long enough.
For those who have been giddily anticipating the inevitable marriage of indie dance punk and street hoops, the wait is finally over.
In the video for their new song, "Let's Go," synth duo Matt and Kim have teamed up with venerated street baller Pat The Roc to showcase four minutes of hypnotic ball-handling, along with one of the most infectious melodies of 2012.
Matt Johnson, who represents an undetermined half of the Matt and Kim equation, explains that they first met up with Pat at a charity event called
Band of Ballers
, where celebrities and musicians are pitted against each other in a 3-on-3 basketball tournament.
"It ended up being all ringers, real ballplayers, essentially," says Johnson. "Wiz Khalifa and Jim Jones had all these college players, but we also got some incredible players, and one of them was Pat."
After writing "Let's Go" for their new album, "Lightning," which comes out later this year, Johnson and his bandmate realized that Pat's distinct style of ball-handling synced up perfectly with the song's bouncing energy. So they gave him a call.
"It was crazy, we did four takes overall, but Pat nailed it every single take. The only reason we did it a few times was to mess with lighting and stuff," says Johnson.
July, 2, 2012
7/02/12
1:05
PM ET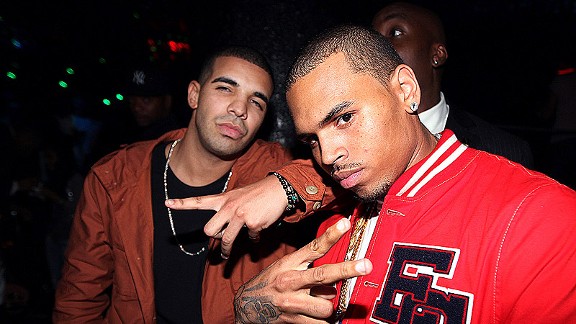 Shareif Ziyadat/FilmMagic/Getty ImagesDrake and Chris Brown, back when they could be in the same spot without fisticuffs ensuing.
Aubrey Drake Graham and Christopher Maurice Brown, otherwise known as pop superstars Drake and Just The Worst Human Possible, have been really steamed at one another since their notorious kerfuffle at a NYC social lounge last month.
Lots of ornery words exchanged
, etc.
To capitalize on all of the hissy fitting, celebrity boxing promoter David Feldman and rich guy Alki David offered the two a million bucks a piece to
slap it out in the ring
—an offer to which neither Drake nor Brown responded. Undeterred by their silence, Feldman and David have now come back offering
a $10 million purse
, with $9 million going to the victor and a meager million going to the loser.
With Pacquiao and Mayweather earning between $20 million and $40 million a bout, you'd have to expect that egomaniacs like Drake and Brown wouldn't step in the ring unless they were offered something similar. But just for poops and giggles, let's take a look at a hypothetical tale of the tape and see who might come out on top.
Seems like a pretty even matchup. But if I had to pick, I'd say the winner would be…Tony Parker. He'd sneak up from behind, bash 'em over the head with a cartoon mallet. Dude nearly lost his eye, and now he
might miss the Olympics
. It's time for a little street justice.
June, 14, 2012
6/14/12
6:40
PM ET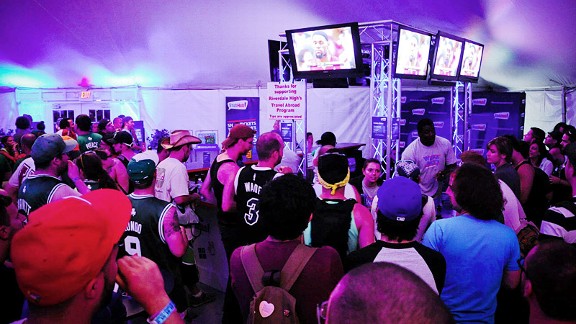 Jeff Tanhueco/StubHubFor some at Bonnaroo, Heat-Celtics Game 7 took precedence over a formidable music lineup outside.
Have you ever been to Bonnaroo? If you're a 20-something who enjoys outdoor recreation, mild bacchanalia and stacked lineups of very accessible rock bands, then of course you have. Around this time each year, 80,000 people trudge cattle-like into a radar blip called Manchester, Tenn., forming a pop-up refugee camp for underemployed bachelors of arts and myriad subspecies of hippies and bros. There is music and camping and food and body paint -- upsetting, ill-advised, NSFanywhere body paint, used liberally by many, on all sorts of horrible folds. Let's not talk about it.
This year's fest featured acts like Radiohead, Bon Iver, Phish,
Muppet collaborator Kenny Rogers
and something called a Skrillex. Also:
this
. It was hot and sunny for most of the weekend, and while not as hot as previous years, it was still hot enough that a Popsicle left unattended in an armpit would be reduced to its stick within 20 seconds.
I suppose this should come as little surprise, but the sporting scene at 'Roo was pretty meager. No Randy Johnson
working the flashbulb
. No Bronson Arroyo channeling his
inner Goo Goo
. Just the constant nuisance of hacky sacks and Frisbees narrowly missing your face, the occasional
Straight Cash Homey
candidate and all the balletic footwork required to maneuver a heavily used portable potty at the end of a day.
June, 1, 2012
6/01/12
2:17
PM ET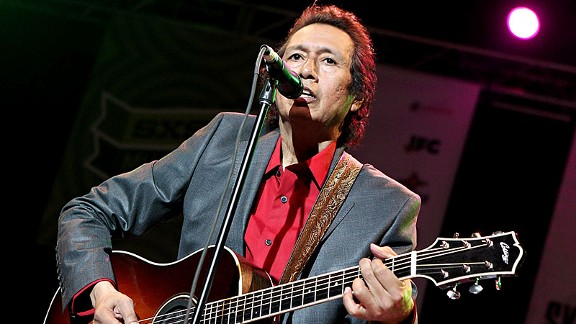 Gary Miller/Getty ImagesAustin, Texas, musician Alejandro Escovedo sees many connections between rock 'n' roll and baseball.
Alejandro Escovedo commands the stage with an air of impenetrable coolness, conjuring the spirits of dozens of musical traditions through his exquisite melodies and transcendent storytelling. It's masterful stuff, delivered in his cask-aged tenor on wave after wave of bright guitar, and it has earned the esteem of folks such as Bruce Springsteen, Steve Earle, Lucinda Williams, Ryan Adams et al.
Escovedo, who was born in San Antonio, Texas, but now lives in Austin, comes from a family of 12 kids, eight of whom became professional musicians, but his musical aspirations were preceded by his fervor for baseball.
"Baseball came simply to me. I was always good at throwing a ball. I could hit anything with a rock," he says.
His dad was quite the ballplayer himself, and the appreciation for the game he passed onto his son has blossomed into a self-described "hard-core" fandom for the San Francisco Giants, one that surfaces from time to time in his music (his 2008 album "Real Animal" features a song about Giants legend Juan Marichal).
Escovedo muses that there's some sort of kindred identity found in baseball and rock 'n' roll that tends to attract many of the musicians he knows.
"There's a similar attitude you take in baseball as a pitcher that you take in music as a singer or guitarist," he says. "There's that element of intense focus that I love so much. I know so many rock 'n' roll guys who love baseball. It just comes natural."
A man who draws influence from so many musical territories, Escovedo is slow and discerning when asked to name the walk-up song he would use if given a day in the big leagues. After hesitating, he ultimately settles on
"Shake Appeal" by The Stooges
, an appropriately raucous tune to rattle a pitcher's psyche.
Of course, Escovedo won't be facing major league pitchers anytime soon, but he wants baseball to continue to be a part of his work and he says he would one day like to make a documentary on Mexican ballplayers.
That'll have to wait, though, as he's out on the road touring his new record, "Big Station," until November. In the meantime, he asks that we send a shoutout to Tim Lincecum for him.
Yo, Tim. Alejandro says hi.
May, 31, 2012
5/31/12
11:28
AM ET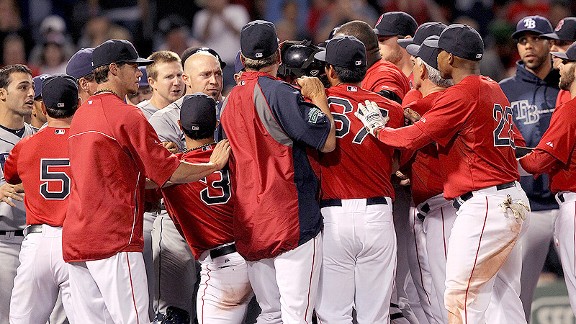 Barry Chin/The Boston Globe/Getty ImagesWho knew the Rays-Red Sox rivalry could get so chippy so soon in the teams' relative history?
I think it's fair to say that everyone's pretty satisfied with the rivalry between the Rays and the Red Sox right now. How it's grown since 2008! This weekend's series brought us a bench-clearing almost-brawl, Bobby Valentine taking salty jabs at Maddon & Co and a deliciously catty bit of drama involving the pregame warm-up music that largely went under the radar.
Here's what happened.
B.J. Upton, annoyed with Fenway's custom of cutting off music during batting practice,
ran an extension cord from the dugout
and bumped his own jams from a boombox before Saturday's game. The folks in the booth didn't take kindly to the insubordination, so they started blaring organ music to spoil the fun. Then, before Sunday's game, the Fenway PA system played "Fur Elise" and other
classical tunes during BP
-- the kind of stuff that could deplete the Rays of energy or lull Don Zimmer's giant baby head into a deep sleep.
The two teams don't face again until July, when the Sox make the trip down to Florida. In the meantime, I'd expect the Tampa sound guys to devise some sort of retaliation to up the ante a bit.
May, 10, 2012
5/10/12
11:20
AM ET
"Those are people that I'm attracted to: people who don't think they're bigger than anybody."
Unexpected words from a guy who is decidedly larger than 99.9 percent of humans he encounters, but for Joakim Noah they're words of truth.
In an interview with okayafrica
, the Bulls center riffs on his love for Afrobeat visionary Fela Kuti, whose music taught him bold-faced lessons in fearlessness as he was growing up.
Noah asserts that the only other artist in recent generations to speak truth through music in such a way was Tupac. He also talks about the connection he and President Obama share over Kuti, which is a bragging right to which very few French-American NBA centers can stake a claim.
Word's still out as to whether Noah will be able to overcome an ankle injury and play in Thursday's do-or-die showdown with Philadelphia, but if he does happen to make it off the bench, hindsight suggests he'll leave his heart on the hardwood. Good things happen when you channel Kuti on the court.