ESPN Music:

The Divine Fits
December, 12, 2012
12/12/12
6:41
AM ET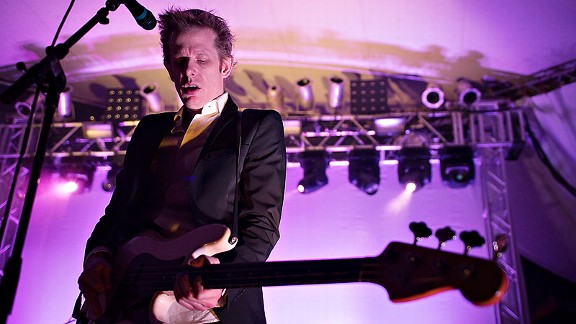 Rick Kern/Getty ImagesBritt Daniel, a longtime Dallas Mavericks fan, is now on tour with his new outfit, The Divine Fits.
On Wednesday, The Divine Fits -- a super group composed of Britt Daniel (Spoon), Dan Boeckner (Wolf Parade and Handsome Furs), Sam Brown (New Bomb Turks) and keyboardist Alex Fischel -- resumes its touring schedule in Aspen, Colo., in support of their new album, "A Thing Called the Divine Fits."
The best part, singer Britt Daniel said of this new project, "is that we've become real good friends." Daniel also had a lot to say about what is for him a totally new routine to making music.
"The major difference is that there's another songwriter doing half the work and singing half the songs," he said. "That's different for me because when I am putting together a Spoon record, that's a lot of songs to fill out an album."
Daniel indicated that the new process of working with other accomplished musicians is not only refreshing but exhilarating, and the tunes show it. Their songs, such as "Would That Not Be Nice" and "Baby Get Worse" encompass a renewed cool vibe, still bearing familiarity to each artist's earlier works. Brown's strong, calm patter of drums sets a pace that lets the guitars and vocal talents of both Boeckner and Daniel cruise to newfangled heights. Meanwhile, the Divine Fits' first take also features an eclectic mix, combining elements of the 1970s hard rock of T. Rex and David Bowie with hues of 1980s new wave music.
When it comes to conjuring up new songs that feel and sound good, the longtime Spoon frontman and songwriter talked about the control that most driven musicians possess.