ESPN Music:

University of Georgia
September, 14, 2012
9/14/12
10:00
AM ET
By
Lynn Hoppes
| ESPN.com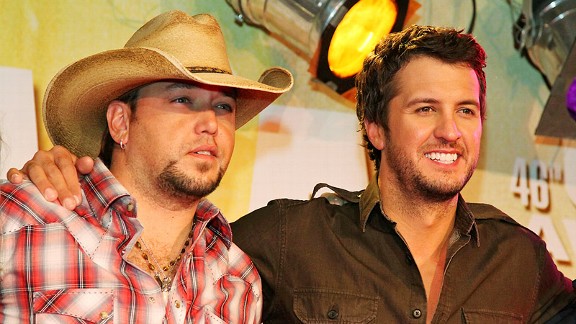 Rob Kim/Getty ImagesJason Aldean and Luke Bryan are huge University of Georgia fans and love tailgating.
Southern Living magazine,
in this month's issue
, is asking its readers who has the best college football tailgating in the South.
Georgia, which has about 100,000 tailgaters for every home game, is joined by Alabama, Texas, Oklahoma and Tennessee in the "Powerhouse" category.
Country stars Jason Aldean and Luke Bryan said there is no debate: It's all Georgia Bulldogs.
"Tailgating
is
college football. It's Saturdays grilling, drinking beer, chips and friends," said Aldean, who was born in Georgia and tries to attend as many games as he can. "In the Southeast, football is religion. It's an excitement unlike anything else."
Bryan graduated from Georgia Southern University but still considers himself a University of Georgia fan.
"There is nothing better than sitting in a parking lot drinking beer," the country singer said. "The leaves start changing colors. You know that fall is here. That's why I love tailgating."
August, 17, 2012
8/17/12
10:00
AM ET
By
Lynn Hoppes
| ESPN.com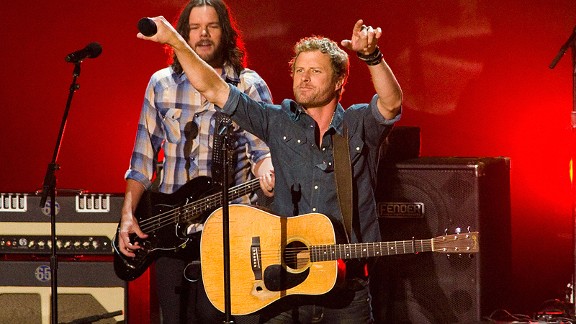 Jerod Harris/WireImageDierks Bentley is part of ESPN's college football coverage.
Country singer Dierks Bentley on Tuesday is releasing a four-song EP titled "Country & Cold Cans" on iTunes to celebrate the end of summer.
And to kick off the promotion, Bentley will perform concerts on three Southeastern Conference campuses next week: University of Georgia (Monday), University of South Carolina (Tuesday) and University of Mississippi (Wednesday). You can buy tickets on
his website here
.
The four songs in the EP are "Country & Cold Cans," "Grab A Beer," "Back Porch" and "Summer on Fire." Playbook is exclusively streaming "Summer on Fire," which is also playing on ESPN programming this month.
Playbook had a chance to talk with Bentley before he hit the road.
Are you crazy? You just released your seventh album, "Home," in February. Now you have this one. Isn't it going to be competing against the other?
"It's definitely not normal. People are asking me, 'What's the angle?' There is no angle. We had this collection of songs. We wanted to record some new songs and see how it turns out. What did they want me to do, sit on it for the next year? By the time we're working on the next record, the songs would be old to me. So why not give it to the fans? It's all about having a good time and having fun going into the fall, especially when it comes to college football. It's going to be a fun album for that."