ESPN Music:

walk-up music
May, 21, 2012
5/21/12
2:16
PM ET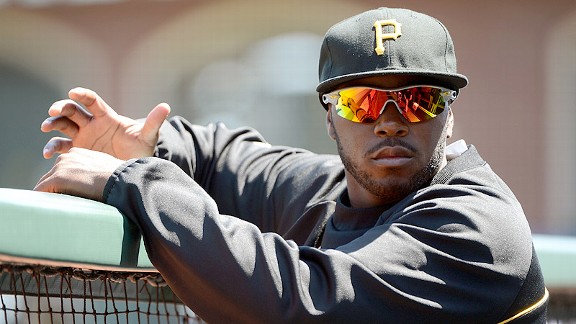 Thearon W. Henderson/Getty ImagesPirates utility player Josh Harrison uses walk-up music that his brother Shaun created for him.
When Pittsburgh Pirates infielder Josh Harrison marches to the plate at PNC Park, it's always to his own beat.
No other player in the majors uses the same walk-up music as Harrison.
Since his days at the University of Cincinnati, Harrison -- now in his second season with the Pirates -- has been accompanied to his at-bats by the songs of his older brother, Shaun.
"I get a lot of requests asking me what I come out to and everything, and who makes it," Harrison says. "I always tell them my brother. But it's one of those things where I like my brother's music and I don't have to worry about anybody else having my walk-up song.
"That's a big thing with walk-up songs. Guys are like, 'I'm gonna come out to this,' and another guy's like, '
I'm
gonna come out to that.'"
Through most of his minor league career, from 2008 until he was called up to the big leagues last May, Harrison's primary
walk-up song was "I'm the Man."
But since coming to Pittsburgh, he's alternated between three other songs written and performed by his brother: "Shock Da Globe," "Gotta See Me" and "Focused on the Grind" (on which a cousin also helped).
April, 26, 2012
4/26/12
2:25
PM ET
By
Jayme Lamm
| Special to ESPN.com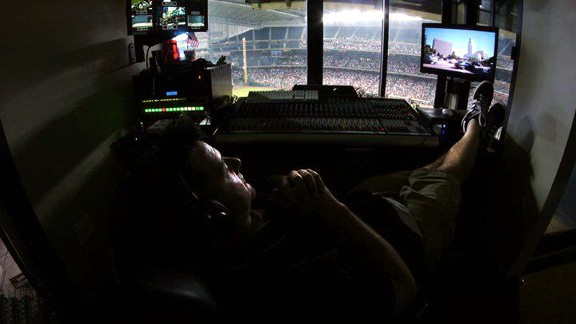 Jayme LammNunee Oakes mans his post above left field at the Astros' Minute Maid Park.
Let's be clear: Minute Maid Park is
not
a good place to catch a first-class baseball game and hasn't been for some time, dating back to '05 when the Astros won the National League championship. Coming off one of the worst seasons in Major League Baseball in which the Astros posted a franchise-worst 56-106 record, they aren't providing much enjoyment.
But that doesn't mean you won't find a different form of entertainment under that retractable roof, thanks to a guy whose job it is to provide entertainment, even when the Stros are striking out left and right.
For the past 14 seasons, that job has belonged to Nunee Oakes, audio engineer (fancy words for a DJ, he says) for the Houston Astros. After logging 14 championship-less seasons, the music man has lasted almost a decade longer than any of the 18 managers in the team's history. But Oakes does a lot more than play variations of Jay-Z between innings. He's the guy who controls every bit of sound you hear inside the 1,263,240-square foot ballpark -- from the video board (the first 1080i HD scoreboard in MLB) to the PA system to longtime broadcaster Milo Hamilton's radio show. He does it all.
While the team sporting the uniforms hasn't been above .500 since 2008, the team "behind the glass" above left field (which is comprised of three other full-time employees and 50 game-day employees) has been honored numerous times, including winning the
Best Overall Display Award
(known as the "Best Show in Baseball") for five straight years.