June, 27, 2012
6/27/12
9:00
AM ET
By
Andy Frye
| Special to ESPN.com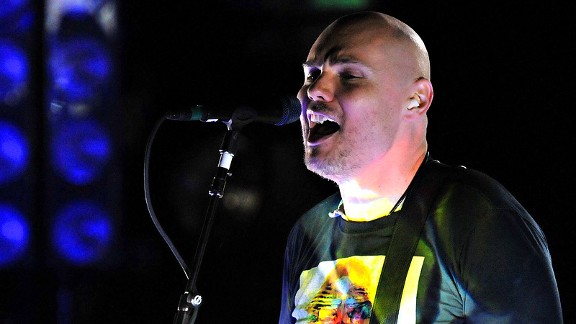 Jim Dyson/Getty ImagesBilly Corgan and The Smashing Pumpkins released their ninth studio album, Oceania, on June 19.
After 20-some years in music, Billy Corgan is in a different space. And it's all good.
"I'm in a really happy place with my band at the moment," said Corgan, who's also finding happiness and influence in professional wrestling -- more on that later. "I think I just went back to playing the way I felt."
The Smashing Pumpkins released "Oceania," their ninth studio album, to positive reviews last week, coupled with a surprise show a few days earlier at a small venue in Chicago.
What Pumpkins fans will find in "Oceania" is a combination of the hard-hitting, sobering rock sounds of the first Pumpkins album, "Gish," along with the dreamy and emotional songwriting found in "Mellon Collie and the Infinite Sadness." But Corgan, along with his new band members -- Mike Byrne on drums, Nicole Fiorentino on bass guitar and Jeff Schroeder on rhythm guitar-- considers the new album not simply a throwback to the multi-platinum sounds of the 1990s. There's more to the sound than that.
"We used to get this back in the '90s about the Pumpkins were supposedly playing around in the classic-rock sandbox," Corgan said. "But I think that sells the whole thing short."
May, 9, 2012
5/09/12
7:48
AM ET
By
Matt Lindner
| Special to ESPN.com
CHICAGO – For a guy who has won seven world championships as a professional wrestler and has performed in front of millions, CM Punk appeared ... well, slightly jittery in the press box on Monday night at Wrigley Field.
"To me, I don't really get nervous as often wrestling anymore," he said.
And as he warmed up for his big moment with organist Gary Pressy in a tiny booth high above Wrigley Field, tattooed tough-guy CM Punk melted away and was replaced by Phillip Jack Brooks (Punk's real name), a wide-eyed kid who just stole the keys to the candy store.
"Take me out to the ball game…"
"This is huge, uncharted waters so this is a little bit more nerve-racking," Punk said, a grin creasing his face.
That is, of course, because the lifelong Cubs fan was living out a dream of leading the home crowd in a rendition of the seventh-inning stretch, an honor bestowed upon him in large part due to a concerted social media effort by his fans.
Kevin Saghy, the man behind the Cubs' official Twitter account (
@Cubs
), says the team noticed a growing trend among the people who were replying to them in 140 characters or less.
"We started getting an influx of tweets from our followers saying 'You should have CM Punk sing the Stretch,'" Saghy said. "He's thrown out a first pitch here before so we're familiar with who he is. That's our goal is to bring seventh-inning stretch conductors and first-pitch throwers who are popular with our fans."
The team decided to reach out to Mr. Punk.
Via Twitter
, of course.
"I think when that @Cubs pops up on your feed, it stands out among the rest," Saghy said. "We know he follows us pretty closely."
Saghy's hunch proved correct.
"I literally started showing people next to me, complete strangers or whatever, so it was a pretty cool way to get to sing the stretch," Punk said. "I got invited."
Punk's
response came in 15 minutes, enthusiastically
: "@Cubs uh. Let me check my scheduleYESIWILLDOIT."
Punk, a Chicago native who says he tries to make it out to at least one Cubs game per homestand when he's in town, is currently training for his next bout against old nemesis Daniel Bryan in WWE's "Over the Limit" on May 20.
So what can his longtime fans expect to see when the two go toe-to-toe?
"I'm just training really, really hard, not so much for size but kind of for speed," Punk said. "I'm expecting this one to go the distance."
Before his turn on the microphone, he was signing autographs in the press box cafeteria when a Cubs staffer handed him a laminated white piece of paper, the contents of which made him roar with laughter.
It was the lyrics to "Take Me Out to the Ball Game." Just in case the guy who grew up worshipping at the altar of Harry Caray should forget his patron saint's most sacred tune.
"That is hilarious to me," he said. "I can see where that would come in handy for out-of-towners and the occasional celebrity who doesn't watch baseball. I could sing this thing backwards and forwards and in my sleep."