Drew Brees, Rob Dyrdek invest in gaming
September, 28, 2012
9/28/12
12:30
PM ET
By
Jon Robinson
| ESPN.com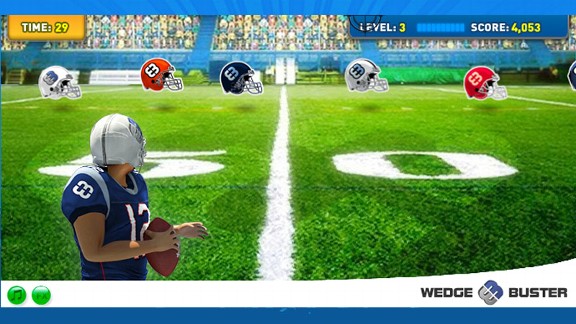 Courtesy of Wedge BusterDrew Brees and Rob Dyrdek are part of a company trying to take charge of mobile sports gaming.
Eager to tap into Facebook's casual gaming market, a new social and mobile gaming company called Wedge Buster has received $2.2 million in venture funding from the likes of Drew Brees, Rob Dyrdek and other investors in hopes of becoming the Zynga of sports gaming.
"We're going after sports gaming in a big way," says Wedge Buster's co-founder and CEO, Scott Philip, who was also one of the driving forces behind "Quick Hit Football," the free-to-play game that even managed to snag the elusive NFL license. "When I left 'Quick Hit' I looked at sports in social gaming and thought that nobody was doing it right. The market is just wide open. So what we decided to do is acquire all of the top sports games on the market in order to build a robust social gaming platform."
Games in the Wedge Buster catalog include "Around the World Darts," "Wedge Buster Baseball," and even "Ball-Jeweled," a puzzle game where you try to line up three of the same types of balls.
But that's just the beginning, as according to Philip, they're in talks with Dyrdek about offering a variety of games based on what fans love from the "Rob and Big" and "Fantasy Factory" television shows, including a game based on Dyrdek's singing alter-ego, Bobby Light.
That's right, "Dirty Girl" is coming to Facebook.
"We approached Rob and told him that his demographic is exactly what we're after," Philip said. "Rob's not a huge gamer, but he understands that if we have a skateboarding game, we can push it out to his audience as well. Rob is a hands-on, in-the-mix, brilliant guy, and we're excited to work with his brand.
"Our goal is to be the ultimate destination in social where guys come to play sports games. We've built a real robust challenge engine, and we've really figured out a way to up the ante. In a game like 'Darts,' I put up 100 tokens, you put up 100 tokens, and the winner walks away with 200 tokens. 'Darts' is also going to be our first game on mobile, and when I go in and throw my darts, I play, then I send it out to one of my friends, and after he throws his first dart, he then sees what I did in real time. Essentially what we're doing is recording nuggets, then letting you see what I did after you throw your first dart. Games like this are lightweight, they're fast, they're fun, addictive and challenging, and that's what Wedge Buster is all about. We're in the early stage, we're about to go off, and we're hoping to become the ultimate player in this space."
ESPN ARCADE
The sequel to our most popular game is here. How's your return?

Run timed routes, beat DB's to the end zone and score.

Hit your receivers, dodge defenders and rack up TDs.