Google releases top sports searches of 2012
December, 12, 2012
12/12/12
8:00
AM ET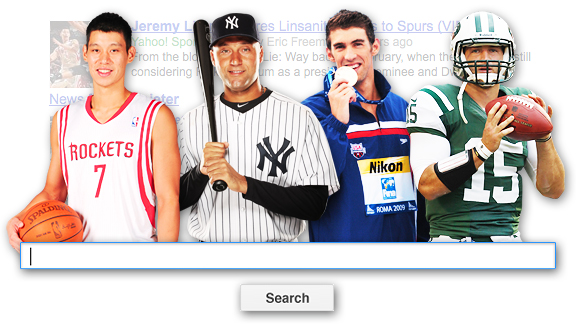 ESPN.com IllustrationAn Asian-American point guard, a Yankee captain, an Olympic swimmer and Tim Tebow walk into a search bar ...
Ready to find out what names fans were typing into their search bars the most?
Google has released the top-searched sports results of the past year.
Here's a hint, not that you need one: The most searched player in the NFL spent most of his 2012 season sitting on the bench.
The top 10 list of searched players contains seven quarterbacks, while the remaining three others may actually surprise you.
In baseball, despite winning the Triple Crown, Miguel Cabrera didn't even crack the top 10 most searched players of his sport.
Those who did make the list include two New York Yankees, two Los Angeles Angels of Anaheim and two Washington Nationals. Although, surprisingly absent was the young phenom Stephen Strasburg, who was shut down late in the season.
Kobe Bryant is also absent from the NBA's top 10, and the second most searched basketball player was a complete mystery until halfway through last season, when he became a global sensation.
Top-ranked ballers also include a new version of Miami's Big 3, as Chris Bosh was replaced with another Heat player.
But before we get into the details, let's look at the data collection behind it all.
According to Daniel Sieberg, Google trends expert, this was no small project. "To compile Zeitgeist, we study an aggregation of over 1 trillion searches that people typed into Google Search this year around the globe," Sieberg says. He adds that the data comes from a number of sources, including Google Trends and internal data tools.
Without further ado, here are the most searched terms in sports for 2012:
•
U.S. Most Searched American Olympians of 2012
1. LeBron James
2. Kobe Bryant
3. Michael Phelps
4. Ryan Lochte
5. Lolo Jones
6. Alex Morgan
7. McKayla Maroney
8. Kevin Durant
9. Gabby Douglas
10. Serena Williams
•
U.S. Most Searched Sports in 2012
1. Football
2. Golf
3. Basketball
4. Baseball
5. Soccer
6. Running
7. Fishing
8. Tennis
9. Hockey
10. Swimming
•
U.S. Trending Athletes in 2012
1. Jeremy Lin
2. Peyton Manning
3. Michael Phelps
4. Ryan Lochte
5. Tim Tebow
6. McKayla Maroney
7. Gabby Douglas
8. Lolo Jones
9. Dwight Howard
10. Sarah Burke
•
U.S. Most Searched MLB Players in 2012
1. Derek Jeter
2. Bryce Harper
3. Josh Hamilton
4. Alex Rodriguez
5. Albert Pujols
6. Brian Wilson
7. Prince Fielder
8. Mike Trout
9. Tyler Moore
10. Chris Johnson
•
U.S. Most Searched NFL Players in 2012
1. Tim Tebow
2. Peyton Manning
3. Tom Brady
4. Eli Manning
5. Drew Brees
6. Ray Lewis
7. Aaron Rodgers
8. Cam Newton
9. Victor Cruz
10. Mike Wallace
•
U.S. Most Searched NFL Teams in 2012
1. Dallas Cowboys
2. Chicago Bears
3. Denver Broncos
4. Green Bay Packers
5. Miami Dolphins
6. New England Patriots
7. Detroit Lions
8. New York Giants
9. Pittsburgh Steelers
10. Oakland Raiders
•
U.S. Most Searched NBA Players in 2012
1. LeBron James
2. Jeremy Lin
3. Dwight Howard
4. Derrick Rose
5. Kevin Durant
6. Lamar Odom
7. Ray Allen
8. Steve Nash
9. Anthony Davis
10. Dwayne Wade
ESPN ARCADE
The sequel to our most popular game is here. How's your return?

Run timed routes, beat DB's to the end zone and score.

Hit your receivers, dodge defenders and rack up TDs.