Rookies envision their 'Madden' characters
May, 3, 2012
5/03/12
9:00
AM ET
By
Jon Robinson
| ESPN.com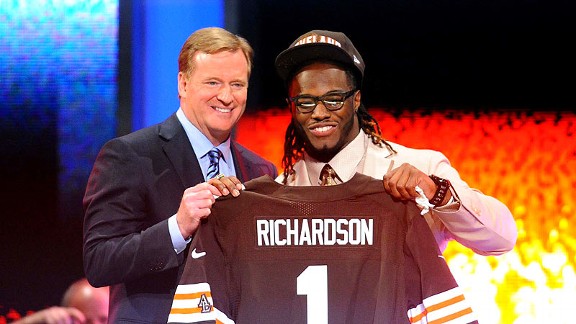 James Lang/US PresswireTrent Richardson hopes his speed rating in "Madden NFL 13" is at least 92 -- it was 88 in last year's "NCAA" -- and he expects to have a devastating stiff arm.
The NFL Draft is a time for dreams. Fans dream and debate who will be the next Peyton Manning or Adrian Peterson. Coaches dream up new scenarios to best suit ballers with electrifying new skill sets like Robert Griffin III. And players dream of not only making an impact on the field, but of finally seeing their images captured for millions of gamers to play as in "Madden NFL 13."
In a game where rookies are historically rated low (you have to earn those numbers on the field), what are the league's newest crop of players hoping to see in their characters?
I went straight to the source to find out.
Trent Richardson (RB, Browns):
"I was always a big 'NCAA' gamer, but now that I'm going to be in 'Madden,' I'm switching favorite games. They only had me at like 88 speed in 'NCAA,' and I'd be playing and defensive ends would be able to catch me from behind. I was like, 'What!?' I just ran a 4.3 at my pro day, so I hope I'm at least 92 speed in the game. You never saw me get run down from behind in college, so it shouldn't be like that in the video game, either. Besides adding some speed, they need to make my stiff arm stronger. Everybody knows my stiff arm is strong. I need some better hands in the game, too. I was always dropping passes in 'NCAA' and it drove me crazy.
"Fans used to tell me all the time how I was good at running defenders over in the game, and I love to hear stuff like that. I just hope I can keep running over people in 'Madden,' too."
Robert Griffin III (QB, Redskins):
"With the way I played last year and with the way I performed at the combine, that should shoot my ratings straight through the roof. I'm excited to see my guy in the game. I know I have a strong arm, I'm accurate, and my awareness is pretty high out there. My speed will probably be 95 or above and that's pretty sweet. Not many guys can do that, so that's really exciting. From there, I just want to work on getting my speed up to 97 or 98 in 'Madden.'"
Shea McClellin (DE/LB, Bears):
"One year in 'NCAA' my speed was around 70. I was like, no way I'm that slow. I have to be faster than that. So for 'Madden,' they just need to get my speed up. That's all. It's all about speed in the video game. They didn't really respect Boise State's speed in the college game. We were a lot better than the game gave us credit for. They did add the trick plays in the game because of us, though, and I actually used the hook and ladder in the game the other day and it worked, so it was a great moment in video games for me. I don't like to talk when I play online, but it always cracks me up when you make a great play and all you hear is cussing on the other end. I just hope my 'Madden' character will be fun to play as. I can't wait to Hit Stick someone as myself for the first time."
[+] Enlarge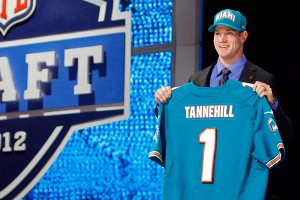 Jerry Lai/US PresswireRyan Tannehill just hopes he isn't rated in the 50s in "Madden NFL 13."
Ryan Tannehill (QB, Dolphins):
"I think the biggest fear a player has is to see himself in 'Madden' and then find out you're rated in the 50s. That would be devastating. You want to be rated as high as you can, and for me, I just hope it's accurate. I like to think that I'm an athletic guy who has some arm strength and can make all the throws. Hopefully that makes me a good 'Madden' quarterback. Playing video games is a great way to relax, and it's a fun way to get to know your teammates off the field and see each other in a different way. The funny thing about playing video games online is, everyone always thinks they're the best, and that's just not the case. I won't lie, though, I'm not that great in video games. My brother kills me all the time. I just hope when we play 'Madden' together, I can at least beat him one time playing as myself."
Mark Barron (S, Buccaneers):
"When I was in the college game, it didn't have my name or anything like that, but it was still exciting. But to be in 'Madden,' now it's official. Now I can be like, 'That's me in the game.' I just hope he has that speed, that Hit Stick power, and those instincts to be able to make plays. I feel like I'm a versatile player and I can do everything, so that's what I'm hoping to see in the game. I grew up playing running back, receiver, and quarterback, so if you want to add me in on the offense for some trick plays, I can even do that. But I think the way the NFL and 'Madden' are seeing these tight ends come in and dominate, gamers are going to need me to step up and cover. I look forward to the experience of covering guys like Jimmy Graham and Gronkowski, I really am. Just give me like 95 Hit Stick power and we're straight."
Coby Fleener (TE, Colts):
"It's pretty crazy to think that somebody's job is to create me in a video game. I just wish I knew who that person was so I could slip him a little note. Growing up, I played some 'Madden' and I can't even put it into perspective that now some kid is going to be playing as me in the game. As a tight end, I'm very thankful to guys like Gronkowski and Jimmy Graham for what they've done for their position, and for the tight ends coming out this year specifically. I just hope it translates into some big ratings for 'Madden' as well."
Michael Floyd (WR, Cardinals):
"When you play 'Madden' you just want to make sure you're not the lowest rated player in the game. I don't even care what my stats are, as long as I don't go on there and see myself at the bottom. You never know how they'll rate you. Some guys might be underrated, some guys might be overrated, but I'm pretty excited to be in the game. Still nervous about seeing the numbers, but excited at the same time."
[+] Enlarge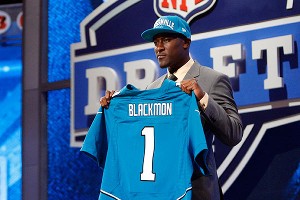 Jerry Lai/US PresswireJustin Blackmon is still upset about being labeled with a 66 speed rating in "NCAA" as a freshman in college.
Justin Blackmon (WR, Jaguars):
"Just don't make me slow. I'm not that slow. No more of that 68 speed, man. In 'NCAA Football' I started off with 68 speed. That was the year before I did good, but 68 speed? I was slower than most of the linemen. I would catch the ball and some lineman would run me down from behind. I was like, man, I'm not even playing the game anymore. I took it back."
Fletcher Cox (DT, Eagles):
"It means a lot to me to be in 'Madden' because my goal is to inspire young kids, both young ladies and young men. When they see me in the game, it might inspire them to try and do great things one day. If you see somebody who made it, it might inspire you to do something big yourself, and do it the right way. It's not about a rating, it's about showing kids that even a country boy like me can make it if you just dream big enough. That's what 'Madden' means to me."
ESPN ARCADE
The sequel to our most popular game is here. How's your return?

Run timed routes, beat DB's to the end zone and score.

Hit your receivers, dodge defenders and rack up TDs.