Five legends left out of 'Madden' cover vote
March, 13, 2013
3/13/13
12:10
PM ET
By
Jon Robinson
| ESPN.com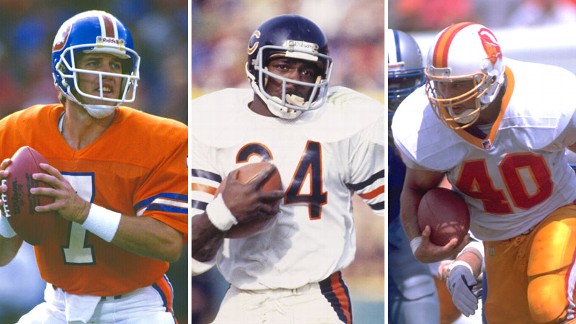 Getty ImagesJohn Elway, Walter Payton, Mike Alstott -- all deemed not worthy of the "Madden 25" cover vote.
When I first heard about the "Madden 25" fan vote pitting 32 legends (the old school) against 32 current stars (the new school) for the right to appear on the game's historically cursed cover, I couldn't wait to read the list of Hall of Famers selected.
Then I saw the names Jake Delhomme, Deuce McAllister and Ron Rivera, and I realized how loosely the word "legend" gets tossed around these days.
This is a competition to represent the 25th anniversary of a gaming franchise that has sold 99 million units (that's approximately $3.7 billion in net revenue). The only way Delhomme should be on the cover is if he's throwing an interception to the real cover athlete, Deion Sanders.
Anyway, here are five real legends (either in "Madden" or real life) who I think deserve to be included in the vote.
Michael Vick, Falcons
(replacing Deion Sanders, who then replaces Troy Aikman for Cowboys)
My first move is a double switch, as there is no greater legend in "Madden" gaming lore than Michael Vick, but we want to keep Deion in the competition at the same time. So I say put Vick as the Falcons' representative, and change Sanders to rep the Cowboys. More money has been won or lost on the virtual arm and legs of Vick than any cyberathlete in sports gaming history, and with other current stars already listed as legends in the bracket, you have to include the biggest cyberstar of them all.
Walter Payton, Bears
(replacing Ron Rivera)
If you're talking about signing a legend to represent the league, it doesn't get any bigger than "Sweetness." It would be great if EA improved the "Madden" goal-line dive in honor of Payton as well (whether he's on the cover or not, it's something that still needs tweaking). Speaking of Bears in the cover vote -- Ron Rivera? Seriously? If not Payton, how about Singletary, Sayers, Butkus, Dent, Ditka … the Bears have more options than most. Surprised the option we're left with will get bounced in the first round.
John Elway, Broncos
(replacing Terrell Davis)
Elway's rocket arm and scrambling ability make him an ideal virtual quarterback if you're adding the cover athlete into the game. Plus, with the addition of the Infinity physics engine, you can finally see cyber-Elway helicopter-spin his way for those extra yards.
Mike Alstott, Buccaneers
(replacing Derrick Brooks)
The Bucs have two of the top 25 "Madden" characters of all time with Alstott and Warren Sapp, so why is neither of them in the cover vote?
Bo Jackson, Raiders
(replacing Tim Brown)
Seriously, how much would it cost EA Sports to buy the rights to "Tecmo Bowl" and include the old 8-bit game as a feature in "Madden 25," where you could use either current teams or all-time greats in the side-scrolling classic? Throw Jackson on the cover to highlight this new feature, and it would be like printing money.
ESPN ARCADE
The sequel to our most popular game is here. How's your return?

Run timed routes, beat DB's to the end zone and score.

Hit your receivers, dodge defenders and rack up TDs.