'Madden' cover vote finalists speak on game
April, 11, 2013
4/11/13
5:00
PM ET
By
Jon Robinson
| ESPN.com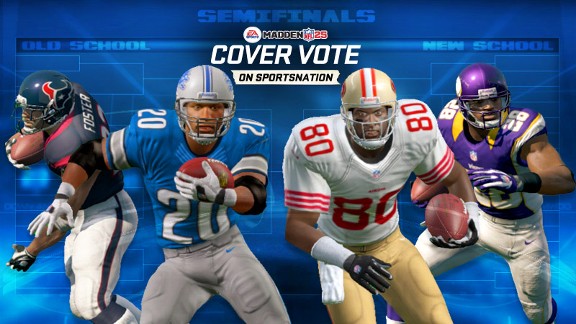 ESPN.com IllustrationArian Foster, Barry Sanders, Jerry Rice or Adrian Peterson -- who will grace the "Madden 25" cover?
The "Madden NFL 25" cover vote is down to the final four, and I've had the chance to talk to each of them about video games.
So before you cast your vote and curse one of these poor players, check out what they had to say about the "Madden" series.
Adrian Peterson on the Madden Curse:
"I don't think it's real. The only thing I think is real about it is that the world makes it out to be a curse. You get so many people talking about it and thinking about it and throwing it out there that I feel like whoever is on the cover already has it on their mind that they're going to get cursed. I feel like if you think about it too much, that opens up the window for something bad to happen. Me, personally, I don't believe in the curse. If I was on the cover of 'Madden,' the curse would be broken, I'll tell you that."
Arian Foster on what he wants fixed in "Madden 25":
"My character's not good-looking enough. He doesn't look like me at all. But they just took a digital scan of my face, so hopefully in the next game, it looks more like me. My speed and all my ratings, I'm good with those, it's my face they need to fix.
Foster on his favorite "Madden" feature:
"I was always a big fan of the quarterback vision cone. I know it was too hard for a lot of people, but it was pretty cool. … The virtual game of football is just as exciting for the kids to play as the real thing. And to see how the game evolves every year, and to see what features they come up with next, it always blows me away."
Jerry Rice on his legacy living on in "Madden":
"I think it's fantastic. I played the game at a very high level and I really enjoyed what I was doing out on the football field, so to hear fans come up to me and say, 'Hey, I played as you today and you were unstoppable,' I'm always like, 'Oh my God, really?' [Laughs] It's really cool, and it's a testament to my hard work and my dedication to the game. I never took anything for granted. I always wanted to go out there and entertain the fans."
Barry Sanders on his "Madden" character:
"It's cool because kids who never got to see me play can play as me in the game. They can experience to a certain degree the type of player I was, and from what I hear from fans, these kids are giving me respect for what I did based on 'Madden.' It's a way for me to live on long after I'm done playing. You always run into people who want to talk about some of the things you've done in 'Madden,' and they talk about it like it meant as much as something I did for real, so it's pretty funny."
ESPN ARCADE
The sequel to our most popular game is here. How's your return?

Run timed routes, beat DB's to the end zone and score.

Hit your receivers, dodge defenders and rack up TDs.