March, 22, 2013
Mar 22
4:00
PM ET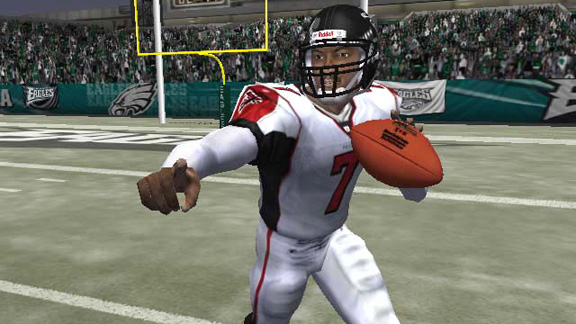 EA SportsWhen it comes to the greatest player in "Madden" history, Michael Vick is the clear No. 1.
Note: This article originally published on March 12, 2012. To vote for the "Madden NFL 25" cover, please click here.
Michael Vick is to "Madden" what Bo Jackson is to "Tecmo Bowl."
A level of domination so extreme, so in-your-face, that you can't think of the game without the virtual athlete attached.
Same goes for Tom Chambers dunking from the 3-point line in "Lakers vs. Celtics" and Jeremy Roenick's absurd ability to make little Wayne's head bleed in "NHL."
So it got me thinking: If I had to put together an all-time team of "Madden" athletes, a team of the greatest virtual ballers this side of Bo and LT from "Tecmo Bowl," who would make the cut?
To help me out with this squad of superstars (and seriously overrated not-so-superstars who played like Hall of Famers for at least one year in the video game), I went straight to the source, enlisting the help of some of the brains behind the "Madden" franchise throughout the years.
So I flew out to the "Madden" game factory in Maitland, Fla., for the day, and picked the brains of Donny Moore ("Madden" ratings guru), Anthony Stevenson (marketing director), Larry Richart (central gameplay designer) and Michael Young (creative director), to get their thoughts on the greatest virtual athletes of our time.
Here's the team we came up with:
ESPN ARCADE
The sequel to our most popular game is here. How's your return?

Run timed routes, beat DB's to the end zone and score.

Hit your receivers, dodge defenders and rack up TDs.