Billy Baldwin trying to save wrestling
May, 15, 2013
May 15
10:00
AM ET
By
Lynn Hoppes
| ESPN.com
Actor Billy Baldwin, who grew up wrestling in Massapequa, N.Y., will be in New York City Wednesday to rally support in the battle to save Olympic wrestling.
Baldwin, who starred in "Backdraft" and "Sliver," wrestled on his high school team and then for two years at Binghamton University in upstate New York. He is the Hollywood head of the Committee to Preserve Olympic Wrestling and has been organizing activities on behalf of USA Wrestling.
[+] Enlarge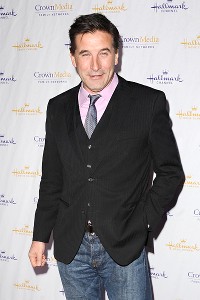 Jason LaVeris/FilmMagic/Getty ImagesBilly Baldwin is in New York Wednesday rallying support to save Olympic wrestling.
On Wednesday, the United States, Russia and Iran will compete in a unique wrestling event -- "The Rumble on the Rails" -- at Grand Central Terminal. On Sunday, there will be a similar event in Los Angeles.
"We're doing what every sitting president hasn't been able to do: Get the United States, Russia and Iran together for the greater good and help an important cause," Baldwin said. "We all want to see the dream go on for young wrestlers with stars in their eyes -- or maybe 'gold' in their eyes."
In February, the International Olympic Committee executive board recommended that wrestling be eliminated starting with the 2020 Olympic Games. A final decision on the program of the 2020 Olympics, which has not been awarded to a host city yet, will be made by the entire IOC in September.
"I think this was the wake-up [call] the sport of wrestling needed," Baldwin said. "Everyone now is on the same page and we're going to show how important wrestling is."
Playbook talked with Baldwin for a few minutes about his passion for the sport.
You're not just putting your name toward this project. It's important to you.
"I've been around the sport for decades. I've been to the NCAA tournament since 1979. I've been 12 out of the past 15 years. It's not something that required media attention. Until now. There are many of us former wrestlers trying to save the sport. Mario Lopez. Tom Cruise. Steve Buscemi. Ashton Kutcher. Randy Couture. Mike Golic. We all believe wrestling should be in the Olympics."
What was your reaction when you heard the IOC was thinking of eliminating wrestling?
"The first thing you think is to criticize the IOC and take a big swing at them. Then you realize that behind the scenes, there were a lot of ego and politics and dysfunction with the wrestling group that was talking with the IOC. The IOC wanted to see change and reform and growth. And I think we now have demonstrated we're in the process of implementing those changes. They want more women's categories, more weight classes and scoring easier to make it more exciting for the TV viewing audience."
How did wrestling help you?
"It instilled values and tools as a young man. It taught toughness, work ethic and discipline. You can take the kid out of wrestling but you can never take the wrestling out of the kid. It can help you later in life also as a husband and father and in your career. It definitely has helped me."
And this is not just about wrestling in America.
"The sport is important to Romania, Bulgaria, Iran, Turkey, Greece and many other countries. You don't need to be a member of a country club. You just need shoes and a patch of grass or some sand. You can live on a farm in Iran or a remote village in Russia and you can participate in this life-changing event. It crosses social, demographic and political lines. We must keep this dream alive."
How do you think this will play out?
"Our singular goal is to take away the recommendation. Three out of eight sports will pass through, and we want wrestling in the Olympics forever. This was the slap in the face we needed for us to show how great this sport is."