Power of the Vote: It's ESPYS time!
July, 7, 2012
7/07/12
4:00
PM ET
By
Lynn Hoppes
| ESPN.com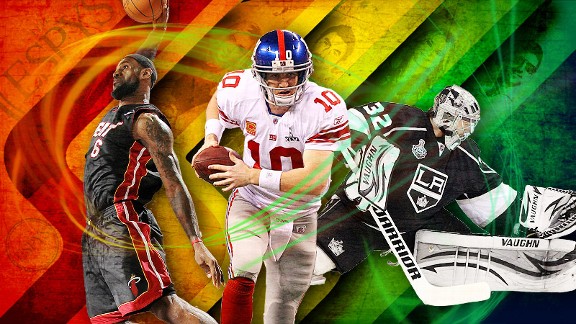 ESPN.com Illustration
It's an election year, but this type of voting crosses party lines. Cast your vote in all 33 categories for the 2012 ESPYS, including best team and best play. Winners will be announced on July 11 at 9 p.m. ET on ESPN from the Nokia Theatre at L.A. LIVE in Los Angeles.

Vote now!
Best team
BLOG ARCHIVE:
CATEGORIES:
dawnstaley

dawnstaley


Disappointed but still proud of our team & what we have and will accomplish. Onto the next chapter. Thank you gamecock nation!
6 minutes ago

ramosvi12

Idameth Ramos


@carlosdelgado21 Gracias por tu amabilidad, tambien tu esposa, hoy en Panadería Maná, Dorado. Por que ser humilde, no cuesta nada!
7 minutes ago

ochocinco

Chad Johnson


My past would hinder me working w/ a network of that magnitude... RT @PahkThaCah617: @ochocinco what about Fashion Police gig kind sir?
10 minutes ago

ochocinco

Chad Johnson


I start working out at @fitspeedAP tomorrow as I prepare for the summer, 10 visible ab muscles, 225 pounds while eating McDonald's each day.
14 minutes ago

GabbyS_chilling

Gabby Schilling


@gehrig38 don't know what i would do without you, i love you so much!!
17 minutes ago

IanJamesPoulter

Ian Poulter


Playing some great golf. Have to laugh though, what a beauty of a shank on 5. Nice to finish with a lovely swing and birdie on the 7th.
18 minutes ago

ochocinco

Chad Johnson


This fantasy basketball on #FanDuel has become extra revenue for shoes...
20 minutes ago

ochocinco

Chad Johnson


$100k in cash prizes in the FanDuel fantasy basketball league tonight, I've only won $350 so far. JOIN HERE: http://t.co/GIck0xLeVH
27 minutes ago

GeorgeFoster72

As The Word Turns Up


... (Vine by @taibernacle) https://t.co/M32rcSjtUs
35 minutes ago

MarkWohlers

Mark Wohlers


Who is on @cyberdust ?
36 minutes ago

Montel_Williams

Montel Williams


Add me on @cyberdustapp. My username is (+montelwilliams). #DustMe http://t.co/wkQO4ZIUGT http://t.co/kN8jfOLo4T
37 minutes ago

AlanStein

Alan Stein


Want some exclusive hoops insight/content? Add me on @cyberdustapp. My username is: +alanstein http://t.co/yMKAiTNaW2 http://t.co/Pim2I0UuzJ
37 minutes ago

kylepetty

Kyle Petty


After traveling thousands for @VictoryJunction, nothing compares to arriving at camp on the @KPCharityRide... http://t.co/eT5itSR0N9
46 minutes ago

KevinWeekes

Kevin Weekes


Finland...5.5 Million People.Love their Hockey.The new Goalie Frontier.And 1 Brand,born in… https://t.co/OwV58NY1Fg
51 minutes ago

ochocinco

Chad Johnson


How was your Sunday?
53 minutes ago

mcuban

Mark Cuban


If Netflix went out of business tomorrow wouldn't there be more than enough bandwidth for everyone ? #NetNeutrality
about an hour ago

KevinWeekes

Kevin Weekes


We have you @NHL Fans covered talking Trades,Highlights & breakdowns w NHL On The Fly now on the @NHLNetwork ! @MikeKellyNHL & I.
about an hour ago

LarryFitzgerald

Larry Fitzgerald


.@Brian_Selman The world is small, man you have to get out and explore.
about 2 hours ago

LarryFitzgerald

Larry Fitzgerald


"@GoPittFootball: The (blue and) gold standard for WR play. #Pitt http://t.co/qOsTHPzE1C" Have a lot of work to do but appreciate the love.
about 2 hours ago

gehrig38

Curt Schilling


https://t.co/6V4Ql8gd0e There are repercussions to your actions in the real world
about 2 hours ago