Besides Pesky, other ballplayers in military
August, 14, 2012
8/14/12
11:30
AM ET
By
Bill Speros
| Special to ESPN.com
RIP Johnny Pesky. You will be missed in the clubhouse and by #RedSoxNation.

— Jacoby Ellsbury (@JacobyEllsbury) August 13, 2012
Red Sox resident legend Johnny Pesky -- like millions of other Americans -- put his life on hold to serve in the military during World War II. Pesky, who died Monday at age 92, missed three seasons while serving in the Navy. Pesky, along with Ted Williams, Bobby Doerr and Dom DiMaggio, all left the Red Sox during the war. Their friendship was chronicled in David Halberstam's fantastic 2003 book
"The Teammates."
They are also immortalized with this bronze statue outside Fenway Park:
Another fallen Teammate. Johnny Pesky twitter.com/THE_MAC32/stat…

— Jim McNamara (@THE_MAC32) August 13, 2012
To honor Pesky, Playbook takes a look at some of the notable major leaguers who left the diamond to serve the United States during World War II with these photos of the stars in uniform. More than 500 major leaguers served in the military during World War II, according to
"Baseball in Wartime."
Elmer Gedeon and Harry O'Neill were killed in action. Among the notable Negro Leaguers who served were Buck O'Neil and Hall of Famer Willard "Home Run" Brown. Jackie Robinson, who broke baseball's color barrier in 1947, entered the Army in 1942 and -- as an officer in 1943 -- was court-martialed but later acquitted for not sitting at the back of a military bus in Texas.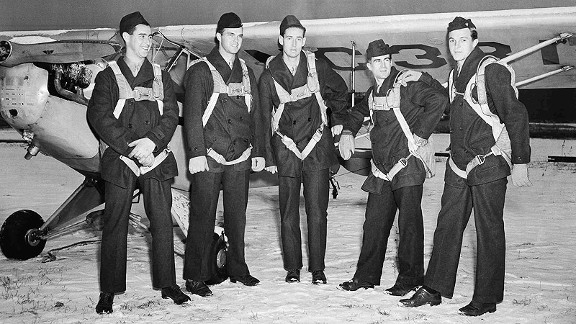 AP Photo
Off to war.
Johnny Pesky
, second from the right, joined four other major leaguers in flight training at Amherst (Mass.) College in December 1942, including Williams (center). The other pictured are
Joe Coleman
of the Philadelphia Athletics,
Johnny Sain
of the Boston Braves and
Louis Gremp
of the Boston Braves. Williams and Pesky finished the 1942 season ranked 1-2 in AL batting average.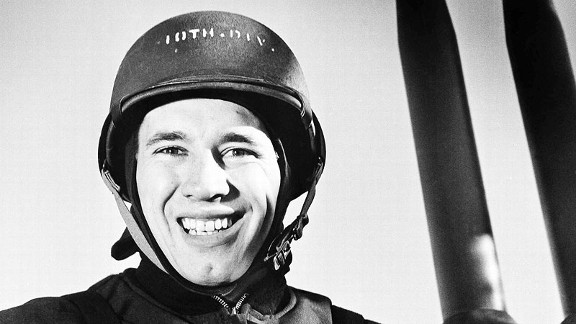 AP Photo
Cleveland Indians Hall of Fame pitcher
Bob Feller
enlisted in the Navy Reserve three days after Pearl Harbor was attacked in 1941 and missed four seasons while in the Navy, spending most of his time serving aboard the U.S.S. Alabama.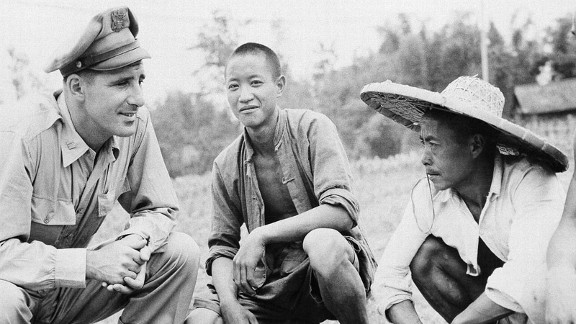 AP Photo
Hall of Fame first baseman
Hank Greenberg
of the Tigers was drafted and joined the Army in May 1941. He would miss three more seasons due to his military service, returning to play in 1945. In this photo, Captain Greenberg speaks with Chinese laborers at an American B-29 airfield in 1944.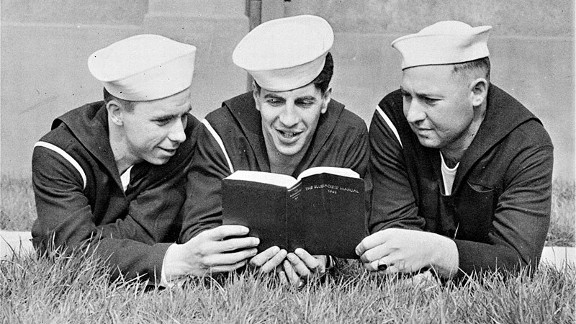 AP Photo
Shortstops
Pee Wee Reese
of the Brooklyn Dodgers and
Phil Rizzuto
of the Yankees and pitcher
Hugh Casey
of the Dodgers weren't checking box scores during their training at the Navy base in Norfolk, Va., where they were stationed in 1943.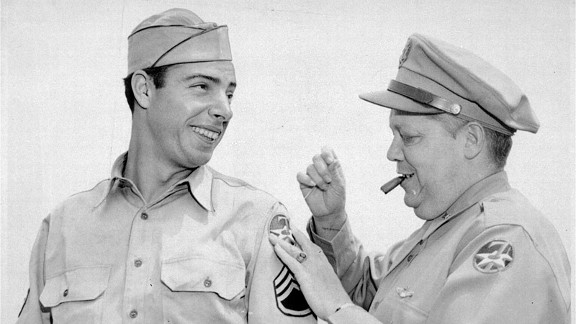 AP Photo
Joe DiMaggio
, who made the princely sum of $43,750 from the New York Yankees in 1942, got sworn into the Army in 1943. DiMaggio, who did his basic training in California, was transferred to Hawaii in June 1944 when he was a sergeant. He served with the Seventh Air Force and played for its baseball team alongside Yankees teammates Red Ruffing and Joe Gordon and the Cardinals' Johnny Beazley.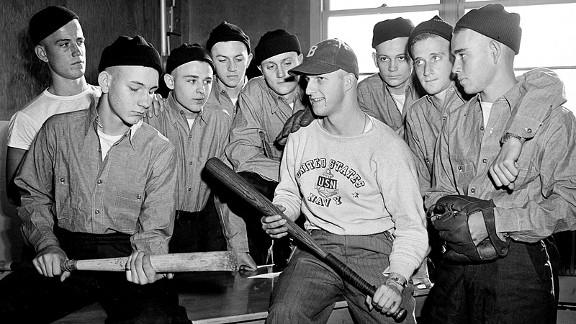 AP Photo
Stan Musial
(center) was the man when it came to offering some batting tips to these Navy recruits in Maryland after he reported for duty in January 1945. The legendary Cardinals Hall of Famer later served in Hawaii and played for the Naval League team.
If you see any trendy links from your favorite sports site or catchy tweets that might be of interest to others, pass them along to me @billsperos or bsperos1@gmail.com.