Trending: Kyle, Samantha Busch answer Q's
August, 24, 2012
8/24/12
11:30
AM ET
By
Bill Speros
| Special to ESPN.com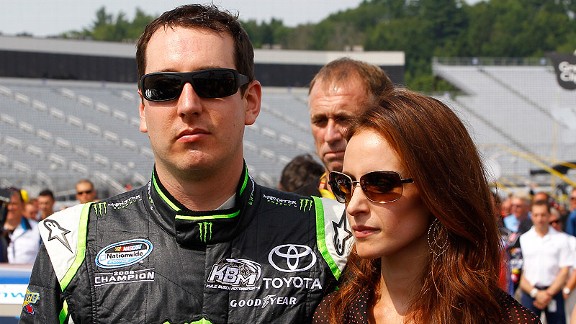 AP Photo/Russell LaBountyKyle and Samantha Busch answered questions from readers this past week.
Kyle and Samantha Busch spend lots of time on the road not racing during NASCAR season. Often, they'll drive from their home in Charlotte to the NASCAR venue of the weekend. While Busch will be racing the No. 18 Joe Gibbs Toyota at Bristol (Tenn.) Saturday night, he and his wife were headed to Bristol in their Lexus GS hybrid on Thursday afternoon. During their mini-road trip/extended commute, Samantha took over Kyle's Twitter account to answer fan queries. "Are we there yet?" was replaced by questions about Kyle's favorite TV show ("Dexter" on Showtime), his favorite place to eat ("In-N-Out Burger") and his favorite NFL team ("Broncos.")
The couple made it to the track safely, and there was no mention on Twitter of any speeding tickets.
According to a team spokesman, Busch often uses this drive time as an "opportunity to engage with his fans via Twitter." The couple held a Q-and-A on the drive back home from Darlington in May. Their road-trip tweetups are "not planned," and Samantha handles the texting from the passenger seat. On Thursday, she used the hashtag "#NoTextingNDriving.
Every subject was on the table:
RT @patford922: @kylebusch When is it time for you guys to start making babies? - practice is going well but we aren't ready yet for kids

— Kyle Busch (@KyleBusch) August 23, 2012
Oh, and they exercise together, too.
RT @romansmom717: @kylebusch Do you ever workout with your lovely wife @samanthabusch? - yes n she kicks my butt

— Kyle Busch (@KyleBusch) August 23, 2012
@SamanthaBusch often offers exercise tips on Twitter and on her personal site
(samanthabusch.com).
Probably didn't see this one coming:
RT @charlotte14n11: do your dogs go nuts over squirrels? - yes they love 2 chase them n get ticked when they climb up the trees

— Kyle Busch (@KyleBusch) August 23, 2012
Maybe Busch can race this car home:
RT @prostreetray: @kylebusch Favorite Muscle Car? - 69 camaro twitpic.com/amy2sh

— Kyle Busch (@KyleBusch) August 23, 2012
The five-time winner at Bristol knows what to expect this weekend:
RT @tmscrewfan_23: @kylebusch what the biggest challenge he faces at Bristol - getting caught up in someone else's mess

— Kyle Busch (@KyleBusch) August 23, 2012
And how difficult it can be to win there:
RT @bedgood5: 1-10 how physically n mentally demanding is Bristol? -it's a 10 for both, 4 comparison dega is a 10 mental n 2 physical

— Kyle Busch (@KyleBusch) August 23, 2012
Busch also spoke highly of Indianapolis Motor Speedway -- and has designs on winning there in more ways than one:
RT @lenbannister: @kylebusch What track would you like to have a win at? - Indy!

— Kyle Busch (@KyleBusch) August 23, 2012
RT @bsmithers81: @kylebusch will you ever race in formula 1 or the Indy 500?- i'd like to one day, who has a ride I can try?!

— Kyle Busch (@KyleBusch) August 23, 2012
Busch supported the idea of adding a road course to the Chase for the Cup (Busch is currently 14th) -- despite his bad luck at Watkins Glen, a road course, earlier this season. He was leading on the final lap before he was spun out by Brad Keselowski:
RT @thoff27: @kylebusch would you like a road course in the chase? Which one - yes, Watkins glen I'm pretty decent there usually

— Kyle Busch (@KyleBusch) August 23, 2012
And offered praise for two storied rivals:
RT @mattdeluca3: @kylebusch What current Sprint Cup driver do you respect the most and why? - @jimmiejohnson , 5-times says it all!

— Kyle Busch (@KyleBusch) August 23, 2012
RT @kbalmirolafan: @kylebusch Growing up, who was your favorite NASCAR driver? - Jeff Gordon

— Kyle Busch (@KyleBusch) August 23, 2012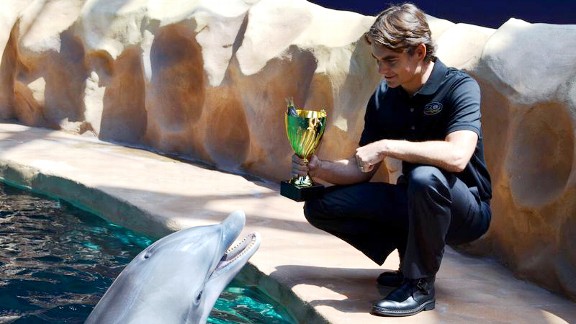 Courtesy of NASCARNASCAR driver Jeff Gordon has made a friend at the Atlanta Aquarium.
Meanwhile, Gordon spent part of his Thursday serving as the official starter in a race between "Jimmie" and "Dale" -- two Atlantic dolphins at the Georgia Aquarium in Atlanta. Gordon (seen above) presented the winner -- "Jimmie" -- with his prize cup full of seafood. He was there as part of publicity stop for next weekend's 500-mile race at Atlanta Motor Speedway.
This weekend at Bristol, Gordon's car will be sporting a new FarmVille paint scheme as part of the
"Drive to End Hunger"
campaign.
New look @bmsupdates! See @drive2endhunger @zynga @farmville #24 & learn more -> jeffgordon.com/news/news.php?…. #NASCAR #Team24 twitter.com/JeffGordonWeb/…

— Jeff Gordon (@JeffGordonWeb) August 24, 2012
If you see any offbeat links from your favorite sports site or catchy tweets that might be of interest to others, pass them along to me @billsperos or bsperos1@gmail.com.