We rank athletes on 'Dancing with the Stars'
September, 17, 2012
9/17/12
12:00
PM ET
By
Lynn Hoppes
and
Kareem White
| ESPN.com
We're one week away from the start of ABC's "Dancing with the Stars: All-Stars" with four athletes -- Apolo Ohno, Shawn Johnson, Emmitt Smith and Helio Castroneves -- vying for the mirror ball trophy. All four athletes have won a previous title, so it's really up in the air who will capture the season.
Playbook decided to look back on all the great athletes (and pseudo athletes) who have appeared on the show and we rank the 35 over the next five days.
Let's get to the countdown!
No. 35 KENNY MAYNE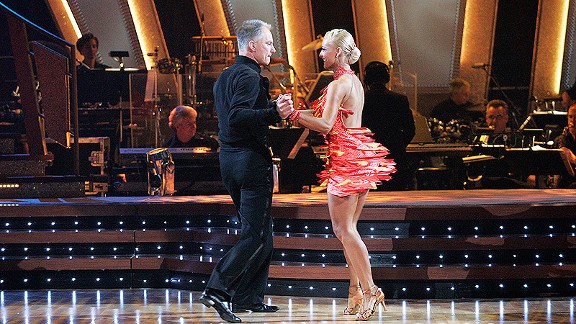 Adam Larkey/ABC/Getty ImagesKenny Mayne and professional partner Andrea Hale.
SEASON: 2
THE SKINNY: Kenny Mayne had a cup of coffee on Season 2 of "Dancing With the Stars." Mayne didn't last long as he was eliminated early. Mayne is widely regarded as the worst contestant on "Dancing With the Stars." He and his partner, Andrea Hale, were booted after a forgettable rendition of the Cha-Cha. Mayne told Playbook a few years ago, "The only time I dance is at weddings and only if it is to Stevie Wonder or 'Love Shack' by the B-52s."
No. 34 CLYDE DREXLER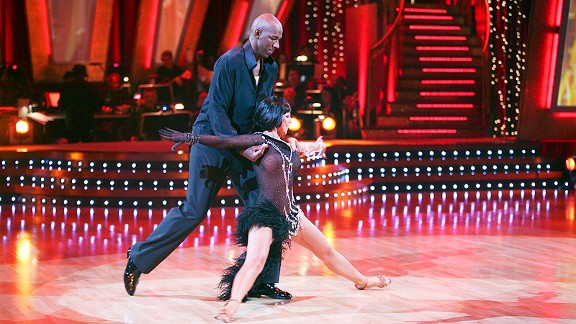 Carol Kaelson/ABC/Getty ImagesClyde Drexler and professional partner Elena Grinenko.
SEASON: 4
THE SKINNY: As graceful and fluid as Clyde "The Glide" Drexler was on the basketball court, he was the exact opposite on the dance floor. Before he was eliminated, Carrie Ann Inaba told Drexler he "was the worst dancer in this competition." Ouch. The judges were especially critical of his version of the rumba. Drexler and his partner, Elena Grinenko, earned some of the lowest scores in Season 4. "I am extremely elated! I feel like I won the lotto! I don't think I've been this happy since I won the championship [in 1995]," Drexler told People magazine. "I was ready to go."
No. 33 METTA WORLD PEACE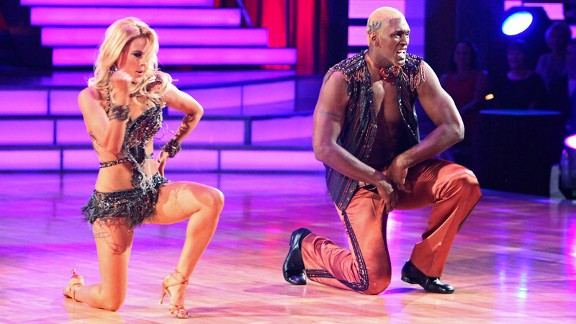 Adam Taylor/ABC/Getty ImagesRon "Metta World Peace" Artest and professional dance partner Peta Murgatroyd.
SEASON: 13
THE SKINNY: It was over before it started for Metta World Peace on "Dancing With the Stars" as he was the first person eliminated with a score of 14 (out of 30). To add insult to injury, Len Goodman told World Peace his footwork was atrocious. World Peace is known for over-the-top antics, but even that couldn't help him advance.
No. 32 MARTINA NAVRATILOVA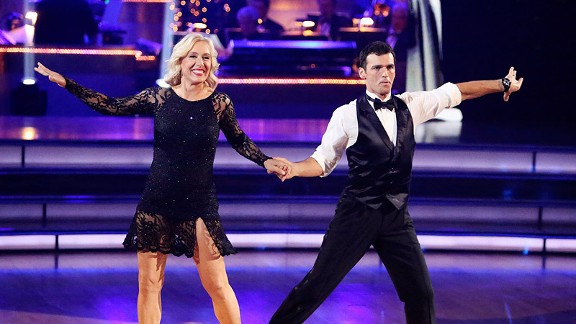 Adam Taylor/Getty imagesMartina Navratilova and professional partner Tony Dovolani.
SEASON: 14
THE SKINNY: Martina gave it the ole college try but didn't perform well on "Dancing with the Stars." The tennis legend put in the work, and was disappointed to learn she would be the first celebrity headed home. "I had a wonderful time and I hope the people can see that you can do anything if you set your mind to it," she told Playbook. "I want people to get out of their rut."
No. 31 LAWRENCE TAYLOR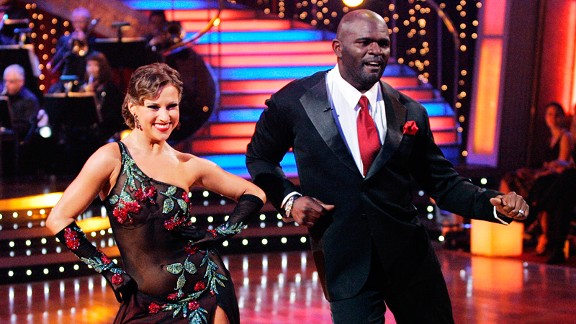 Kelsey McNeal/ABCLawrence Taylor and professional partner Edyta Sliwinska.
SEASON: 8
THE SKINNY: LT staved off elimination for a few weeks before finally getting sacked by the judges and voters. Taylor lasted longer than most would have expected, but was routinely near the bottom of the weekly scores. "I did learn how to dance," Taylor said on "Jimmy Kimmel Live." "I don't know where the hell I'm going to use it at."
No. 30 CHUCK LIDDELL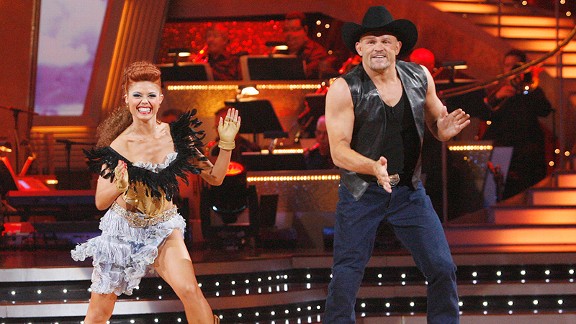 Adam Larkey/ABC/Getty ImagesChuck Liddell and professional partner Anna Trebunskaya.
SEASON: 9
THE SKINNY: Chuck Liddell had to overcome the obstacles of being "dance challenged" and lacking the proper footwork to compete. His own partner, Anna Trebunskaya, said, "He wasn't a very good dancer to start with. [Liddell] had to work a lot [on] his dancing footwork and dancing ability. Totally different from fighting."
No. 29 MONICA SELES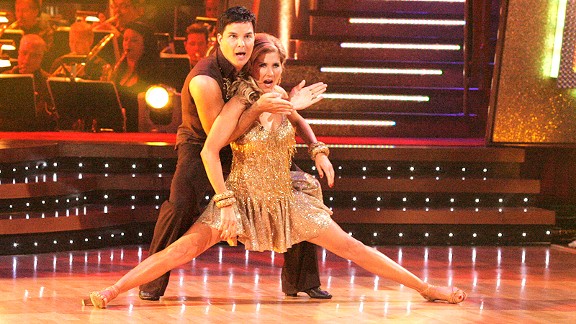 ABC/Kelsey McNealMonica Seles and professional partner Jonathan Roberts.
SEASON: 6
THE SKINNY: The tennis great struggled on her brief stint on "Dancing with the Stars." Scoring a pair of 15s won't get you a win in tennis or on the dance floor as she and Penn Gillette were the first to be eliminated from Season 6. "I think it's so early in the show, I was definitely at a disadvantage because I have no acting experience and this show is about being a dancer and an actress," Seles said on "Jimmy Kimmel Live."
NEXT: Coming Tuesday (22-28), Wednesday (15-21), Thursday (8-14) and Friday (1-7).