We rank athletes on 'Dancing': Nos. 21-15
September, 19, 2012
9/19/12
2:00
PM ET
By
Lynn Hoppes
| ESPN.com
We're less than a week away from the start of ABC's "Dancing with the Stars: All-Stars" with four athletes -- Apolo Ohno, Shawn Johnson, Emmitt Smith and Helio Castroneves -- vying for the mirror ball trophy. All four athletes have won a previous title, so it's really up in the air who will capture the season.
Playbook looks back at all the great athletes (and pseudo athletes) who have appeared on the show, and we rank the 35 over the next five days. On Monday, we ranked 35-29. Tuesday was 28 to 22. Today is 21-15.
No. 21 MISTY MAY-TREANOR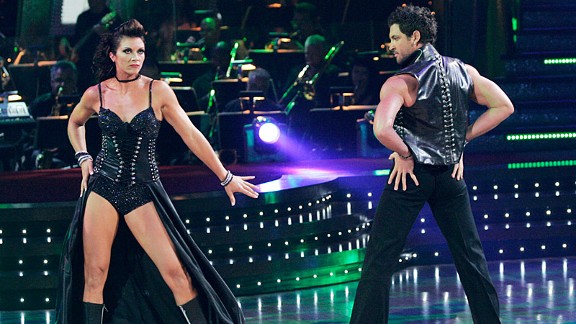 Kelsey McNeal/ABCMisty May-Treanor and professional partner Maks Chmerkovskiy.
SEASON: 7
THE SKINNY: Misty May-Treanor competed for only two weeks on the show before rupturing her Achilles while rehearsing, forcing her to withdraw. May-Treanor wasn't on the show long, but she was one of the most passionate about being there. After her injury, the Olympic gold medalist petitioned on her Facebook page to get back on the show. "I am glad I had the opportunity when I did," May-Treanor told Playbook, "and I hope the opportunity comes around again to let me finish."
No. 20 HOPE SOLO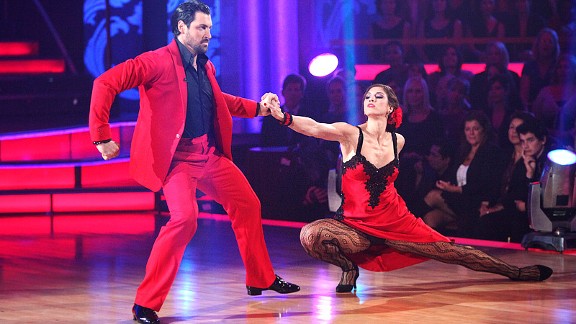 Maksim Chmerkovskiy/Getty ImagesHope Solo and professional partner Maks Chmerkovskiy.
SEASON: 13
THE SKINNY: Hope Solo and her partner Maksim Chmerkovskiy danced well but didn't have the best attitudes about being critiqued by the judges. Solo and her partner made it all the way to the semifinals of Season 13, but their beef with judges overshadowed their performances. "This competition is one of the toughest competitions I've ever been a part of," Solo told Playbook.
No. 19 MAURICE GREENE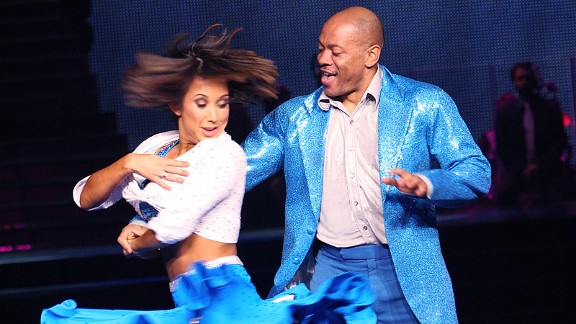 David Livingston/Getty ImagesMaurice Greene and professional partner Cheryl Burke.
SEASON: 7
THE SKINNY: Mo Greene was very entertaining in his time on the show. One of his most interesting moments was during his Paso Doble and his use of the cape during the dance. After the show, Greene said, "I had a lot of fun. I made a lot of new friends out here. I learned how to dance out here in front of millions of people every night. I had a great time."
No. 18 NATALIE COUGHLIN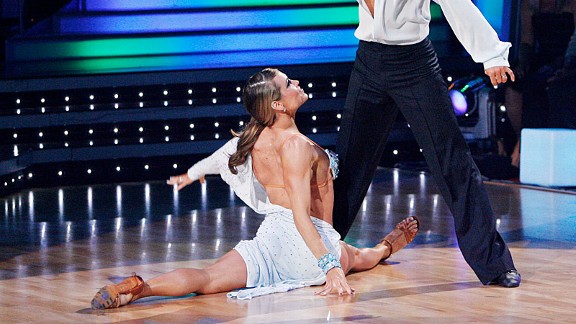 Adam Larkey/ABCNatalie Coughlin and professional partner Alec Mazo.
SEASON: 9
THE SKINNY: Coughlin and her partner Alec Mazo performed well, but the fan voting did them in. Coughlin was solid (as most of the Olympic athletes are on DWTS), but she and Mazo were the sixth couple voted off. "I guess I didn't show it, how much I loved it," Coughlin told the Associated Press. "But I really did, and I'm sorry."
No. 17 EVANDER HOLYFIELD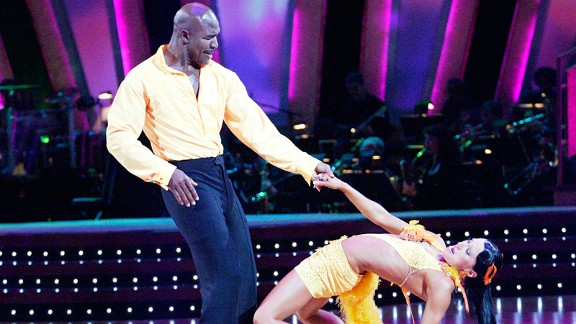 Adam Larkey/ABC via Getty ImagesEvander Holyfield and professional partner Edyta Sliwinska.
SEASON: 1
THE SKINNY: The former heavyweight champ was one of the most enthusiastic competitors in the show's history. His dancing skills needed some serious work, but he gets the benefit of the doubt because he was on the first season. Bruno Tonioli had some harsh words for Holyfield's version of the quick-step. The judge said Holyfield's quick-step "was a bit like watching 'Terminator' keeping up with Tinker Bell."
No. 16 CHRIS JERICHO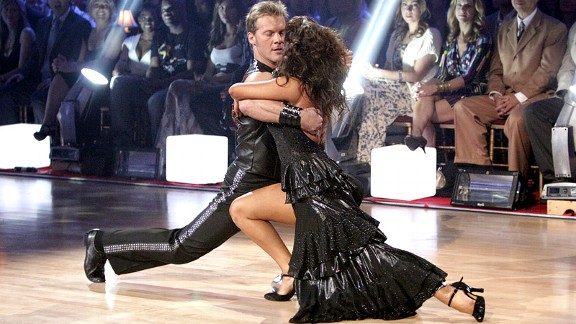 Adam Taylor/ABC via Getty ImagesChris Jericho and professional partner Cheryl Burke.
SEASON: 12
THE SKINNY: Jericho's elimination was a blessing in disguise as he was slated to attend the royal wedding. He was upbeat the entire competition and a crowd favorite. Jericho and Cheryl Burke actually received a standing ovation
after
being voted off. "Let's be honest, it wasn't my best dance, and at this point in the competition you have to be at your best every week or this is what happens," Jericho told Playbook. "But I'd like to say I'm proud of all the dances we did, and I'm proud to show that a WWE guy and a rock 'n' roll singer can go this far and do this."
No. 15 JASON TAYLOR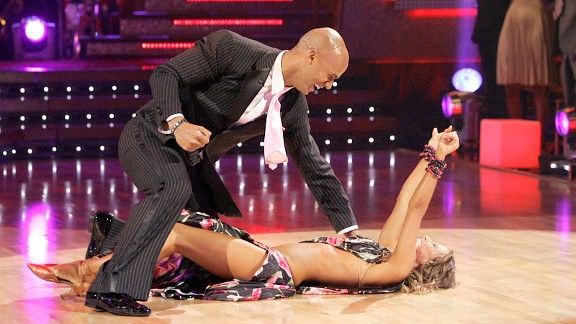 Kelsey McNeal/ABC via Getty ImagesJason Taylor and professional partner Edyta Sliwinska.
SEASON: 6
THE SKINNY: Jason Taylor, now an NFL commentator for ESPN, was just as athletic on the dance floor as he was on the field. He scored a 27 out of 30 on his mambo and impressed the judges. Taylor finished in second place to eventual champion Kristi Yamaguchi.
NEXT: Coming Thursday (8-14) and Friday (1-7).