Social media: Bobby V first, Guillen next?
October, 5, 2012
10/05/12
11:00
AM ET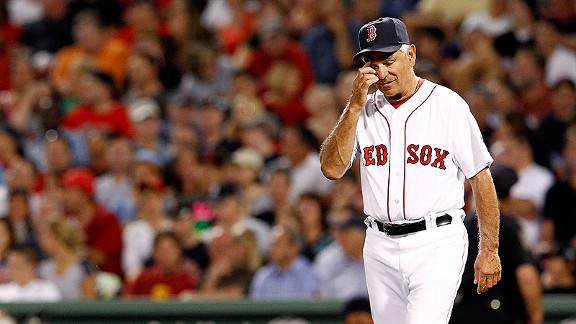 Mark L. Baer/US PresswireDid you see any Boston Red Sox players on social media supporting Bobby Valentine?
Major League Baseball had the social media world abuzz on Thursday, but little of the conversation centered on the upcoming postseason. It was the
firing of one high-profile manager
-- Bobby Valentine of the Boston Red Sox -- and the
rumored impending firing of another
-- Miami Marlins manager Ozzie Guillen -- that had the Web, well, a-Twitter.
The announcement of Valetine's split with Boston provided a nearly textbook example of how a team-coach breakup plays out in the social media era. Confirming weeks (make that months) of social media speculation that the Red Sox and their manager would soon part, the team posted the breaking news via Twitter on Thursday afternoon.
BREAKING: Bobby Valentine will not return as #RedSox Manager in 2013. EVP/GM Ben Cherington to lead managerial search.

— Boston Red Sox (@RedSox) October 4, 2012
Within minutes, the web was filled
feigned surprise
, suggestions as to
who could fill the void
and a whole bunch of
jokes
.
Today the Red Sox fired Bobby Valentine but quickly replaced him with a guy who looks like Bobby Valentine but has glasses and a mustache.

— Guy Endore-Kaiser (@GuyEndoreKaiser) October 4, 2012
While fans and media flooded social media with their reactions, one demographic was noticeably silent: Red Sox players.
The amount of players who spoke support of Bobby V. speaks volumes about the past year. The amount you ask? ZERO. #RedSox

— Patrick Finley (@pjfinley) October 5, 2012
In an age where social media has come to largely define fan engagement,
Boston players have accounts
, but use social media less than some of their MLB counterparts -- even before Thursday's news broke.
Meanwhile, in Miami, speculation that another manager could be on his way out after just a single season is snowballing. Guillen,
one of the few managers on social media
, hasn't given any hint that he sees himself on the way out,
posting as recently as Wednesday
that "we will turn this [team] around."
However, if social media is any indicator, which has proven time and again to be the case, Guillen may have posted his last tweets as Marlin manager.
College Football on Facebook
Alabama is No. 1 in the
AP college football rankings
, but No. 5 Georgia comes out atop the Facebook standings. The data, compiled using Facebook's Talk Meter, measures the amount of discussion each team generates on the social media site.
No. 11 Texas holds down the second spot in the social media ranking, while the Crimson Tide round out the top three.
As for other noteworthy observations, after
an unexpected win
over Stanford, Washington catapulted itself to the No. 7 spot on the social media standings. The Huskies previously were not even on the list.
Elsewhere in the social mediasphere
ESPN.com and the TrueHoop Network ranked NBA players from
1 to 500
. Sports Networker took a look at
those players on social media
. Fun fact: Kobe Bryant is the only one among the 500
without a Twitter account
.
Just how social are sports? According to rankings from
Social Guide Intelligence
, sporting events accounted for 26 of the top 50 most social television programs in September. NFL games held down five of the top 10 spots (generating the most tweets during live broadcasts). While a controversial finish propelled the Green Bay Packers-Seattle Seahawks game into the top five, the season opener between the New York Giants and the Dallas Cowboys generated the most reaction on the Web.
Got a story we should feature? Have a site we should check out? Who's on your must-follow list? Tweet me at @BurnsOrtiz. If your idea gets mentioned in this column, so will you. Follow Playbook on Twitter at @ESPNPlaybook.