'Brooklyn Castle' doc calls chess a sport
October, 18, 2012
10/18/12
10:00
AM ET
By
Matt McCue
| ESPN The Magazine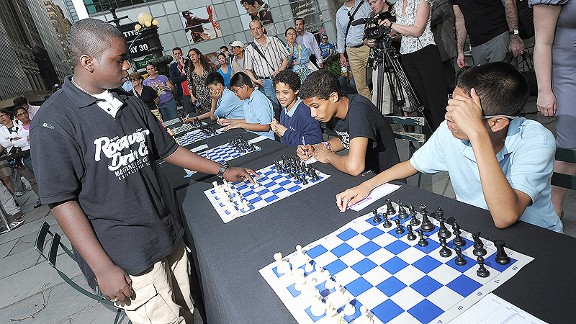 Michael Loccisano/Getty Images/HBOJustus Williams (left), nicknamed the "LeBron James of chess," is one of the stars of "Brooklyn Castle."
The documentary "Brooklyn Castle," which opens in select U.S. cities Friday, follows the chess team at I.S. 318 in Brooklyn, N.Y. Despite the public middle school having 70 percent of its students living below the federal poverty line, the chess team is at the top of the nation. It is 85 members strong and has won 28 national championships, the most in the country.
We chatted with the director of the film, Katie Dellamaggiore, about her journey in filming the "Yankees of chess," and why you might be seeing her documentary turned into a fictionalized remake.
You were born and raised in Brooklyn, but you're not a chess player. What led you to this story?
I was reading a piece in the New York Times about Murrow High School having the best high school chess team in the nation. I grew up in that neighborhood and had no idea. There was a book, "The Kings of New York," by Michael Weinreb, written about the team. In the book there was one chapter about I.S. 318, the junior high school for the students who eventually went to Murrow. On a whim, I emailed Michael and asked him to meet for coffee and to talk about how to maybe make this into a film. He told me had he wished he had spent more time at 318. So I called I.S. 318 to come by and meet them, and I saw there was something special there.
[+] Enlarge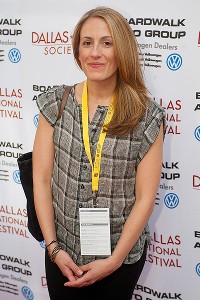 Cooper Neill/Getty ImagesDellamaggiore's doc was inspired by a New York Times article.
One of the students in the film, sixth-grader Justus Williams, has been called the LeBron James of chess. Tell us about him.
Justus' story is one of those once-in-a-lifetime opportunities. His mother suggested playing chess at 8 years old and it clicked for him. I'm not an expert on how and why it happened, but Justus already had the mental tools needed to leap from beginner to avid player to expert in a couple of years. As he got older, Justus talked about wanting to play football. But chess was the thing that made him the happiest. Justus is at chess matches all day Saturday and Sunday. At 10 years old, he's playing against 50-year-old men at the Marshall [a Manhattan chess club] as opposed to playing outside somewhere.
On your Twitter account, you posed the question: "Is chess a sport?" Is it?
Yes. You can argue how it lacks a physical element, but you exert yourself mentally, and a lot of the players are exhausted after they play for three hours. There is competition, sportsmanship, the kids are disciplined and there's coaching. You could substitute the pep talk that coach John Galvin gives before a match and if you didn't know it was for chess players, you might think he was talking to a baseball team.
You framed the story like a sports contest, so someone who doesn't play chess can easily follow the film. Was that intentional?
Yes. I have my husband, Nelson, and my brother Brian to thank for that. Brian works at Major League Baseball Productions as a cinematographer, and Nelson has edited quite a bit of sports programming. I wanted to tell these coming-of-age stories from five kids, and Nelson and Brian helped me bring the sports eye. When you see the kids focusing hard, or when you see their faces after a win or a loss, that was an image that you are used to seeing in other sports already.
[+] Enlarge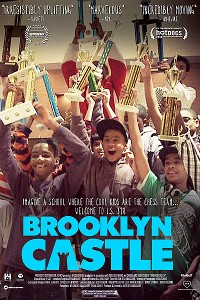 Courtesy of Producers Distribution Agency The film's limited release begins Oct. 19.
Actor Adrian Grenier challenged Pobo Efekoro, a student in the film, to a chess match. How did that come about?
Someone on the team knew somebody who knew somebody who knew Adrian and sent him the film. He watched it and told us he was a chess player and asked what he could do to help. We said, "Why don't you play one of the kids in chess?" He said, "Absolutely," and issued his challenge to Pobo over Twitter and told Pobo to meet him at Washington Square Park. They played, and Pobo beat him three times. We're hoping that will inspire some closeted chess nerds and celebrities to come out of the closet.
Have any other chess fans or Hollywood stars contacted you?
The day before we were to leave for SXSW [South by Southwest], I was running errands in Union Square. I got a call from our publicist. He said a gentleman who worked for Scott Rudin wanted to talk to me immediately about optioning the remake rights for the film. I was like, "What!?" I called the gentleman who works for Scott. He said they saw our trailer and that they love chess. Scott Rudin made "Searching for Bobby Fischer" and he also made "School of Rock." He said they want to blend the movies. It was this wild 24 hours of finalizing a deal with Scott Rudin. At that point, I didn't even know if Scott Rudin had seen the film. It blew my mind that a successful producer in Hollywood saw this story and said, "I want that."
See the "
Brooklyn Castle"
trailer below
: