In pictures: The Lakers' turbulent season
February, 15, 2013
2/15/13
1:07
PM ET
By
The Agony of Defeat
| Special to ESPN.com
Of the 14 NBA teams outside playoff position entering the All-Star break, four reached the postseason last year. But only one of those four held anything better than a 7-seed. Only one added two superstars, one in his prime and one still excelling. And only one entered the season with most observers predicting success -- division title at the least, NBA title at the best.
Yes, that would be the Los Angeles Lakers.
And yes, it's safe to say things have gone awry.
Not that it's over for the Lake Show -- sitting in 10th in the Western Conference, 3½ games out of the playoffs with 28 to go. They also still feature Kobe Bryant, Dwight Howard, Pau Gasol and Steve Nash -- even if each player's skills might be a tad (or quite) diminished.
No matter what happens, though, it's been a tumultuous season for the NBA's signature West Coast franchise.
Here's a photographic look, with help from the blog
The Agony of Defeat
: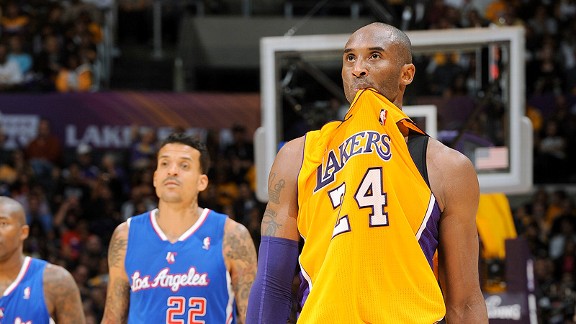 Andrew D. Bernstein/Getty ImagesNov. 2: Clippers 105, Lakers 95 -- In-town rival drops Lakers to 0-3.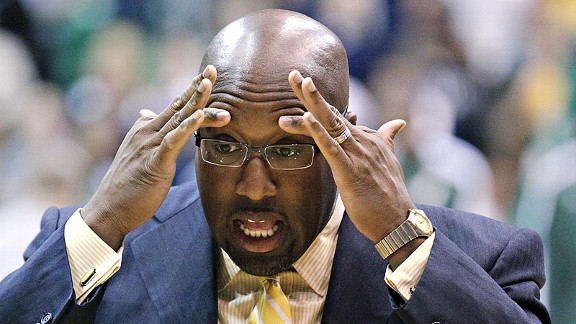 AP Photo/Rick BowmerNov. 7: Jazz 95, Lakers 86 -- L.A. now 1-4. Coach Mike Brown fired days later.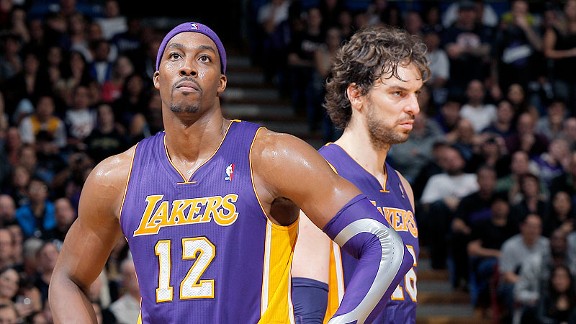 Rocky Widner/NBAE/Getty ImagesNov. 21: Kings 113, Lakers 97 -- 6-5 Lakers fall to .500, haven't topped that mark since.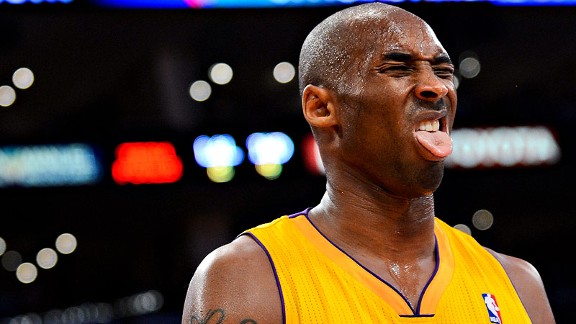 Noah Graham/Getty ImagesNov. 27: Pacers 79, Lakers 77 -- Kobe Bryant scores 40, Lakers fall to 1-5 when he scores 30-plus.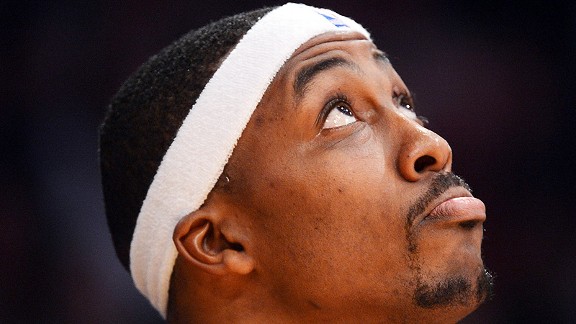 Harry How/Getty ImagesDec. 2: Magic 113, Lakers 103 -- Dwight Howard can't conquer old team -- even at home.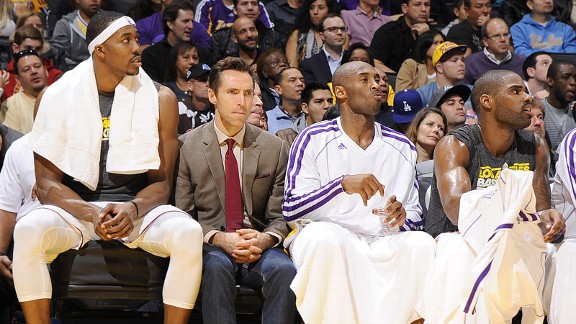 Getty ImagesDec. 9: Jazz 117, Lakers 110 -- Steve Nash misses yet another game; he'll sit out 24 in a row.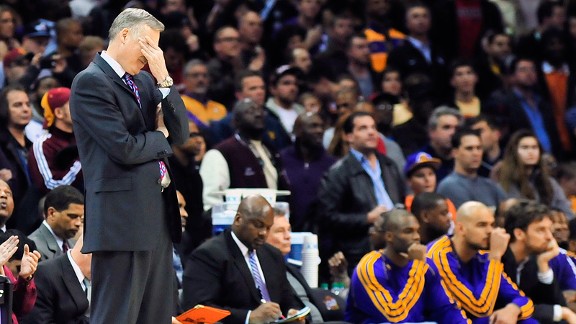 David Dermer/Getty ImagesDec. 11: Cavs 100, Lakers 94 -- New coach (Mike D'Antoni), similar up-and-down (often ugly) results.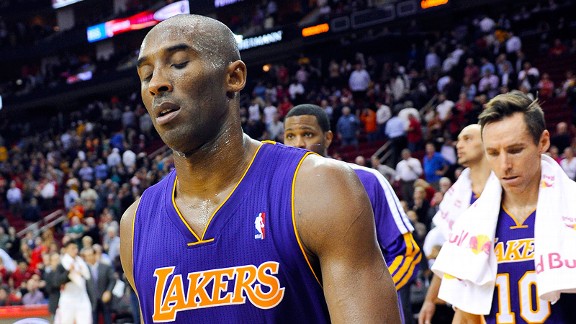 AP Photo/Pat SullivanJan. 8: Rockets 125, Lakers 112 -- Fourth of six straight losses (including five West playoff teams).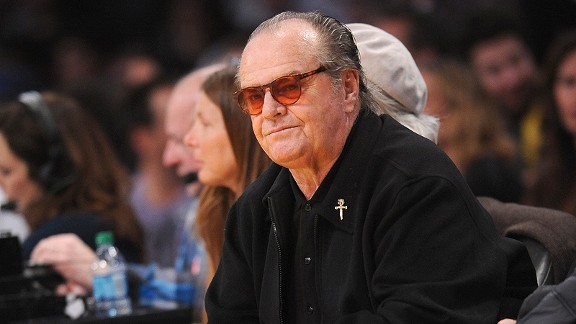 Noah Graham/NBAE/Getty ImagesJan. 17: Heat 99, Lakers 90 -- Jack Nicholson's team can't top champs; first of four straight L's.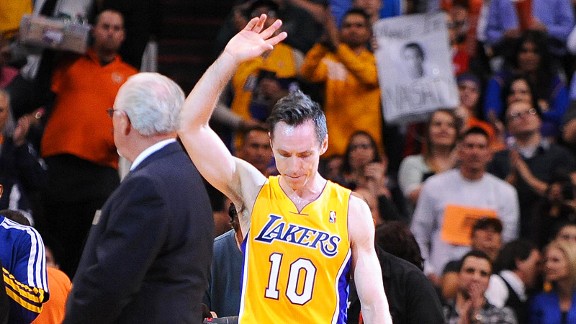 Evan Gole/NBAE/Getty ImagesJan. 30: Suns 92, Lakers 86 -- Shock loss after three straight wins (outscored 29-13 in fourth).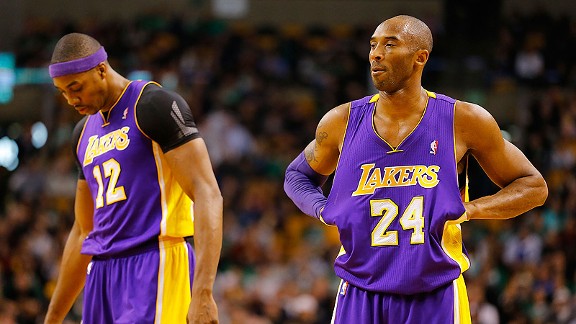 Jared Wickerham/Getty ImagesFeb. 7: Celtics 116, Lakers 95 -- Six wins in seven interrupted by thumping loss; Lakers at 23-27.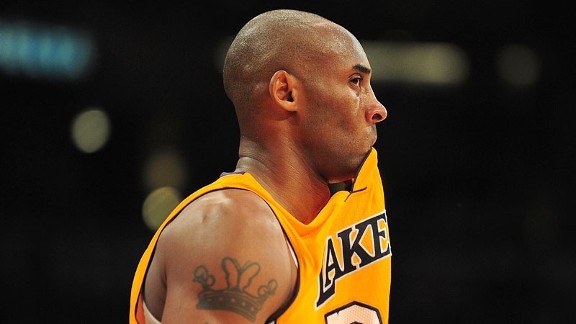 Frederic J. Brown/Getty ImagesFeb. 14: Clippers 125, Lakers 101 -- L.A. season series lost. Team now 25-29, 3 1/2 out of playoffs.
To see more photos like this, visit The Agony of Defeat on Tumblr.