Why was Shawn Kemp doing Shakespeare?
May, 10, 2012
5/10/12
3:42
PM ET
That's right.
Like Eddie George
before him, Shawn Kemp can be seen in that video, taking part in a small reinterpretation of William Shakespeare's "The Taming of the Shrew."
It started with the other actor in that clip: Seattle Times sports columnist Steve Kelley. Kelley knows Shakespeare; he frequently attends the Seattle Shakespeare Company's shows with his wife. Kelley also knows Kemp; the former Seattle SuperSonics star often works with the writer
on a podcast
. So when Company business manager John Bradshaw asked Kelley to perform in a skit for their Bill's Bash fundraiser, then asked him to find a sports personality to co-star, the connection was made.
Of course, when Kemp agreed, they preferred not to perform a straight-up reading of the Bard. After picking a comedic scene that fit the "actors'" statures, director George Mount gave it an "Odd Couple" spin (because Kelley is a sports writer, like one "Odd Couple" character), then made a few script tweaks, and Kelley ad-libbed lines about Karl Malone and Dennis Rodman. ("The Bard, apparently, wasn't a big hoop fan," Kelley said via email.)
They rehearsed a bit day-of. Then it was showtime. And ...
"When Shawn came out in the apron," in Kelley's words, "the place went nuts."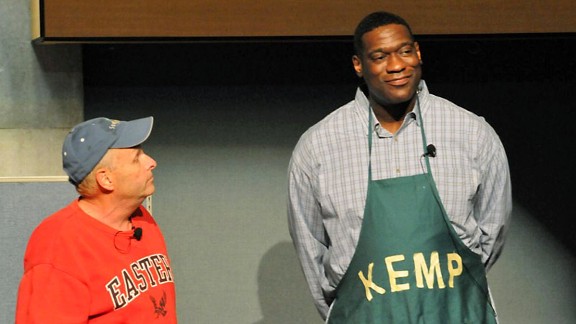 Curt Nakon/Courtesy of Seattle Shakespeare Company Former Seattle Sonic Shawn Kemp, with sports writer Steve Kelley, cooking up a Shakespeare scene.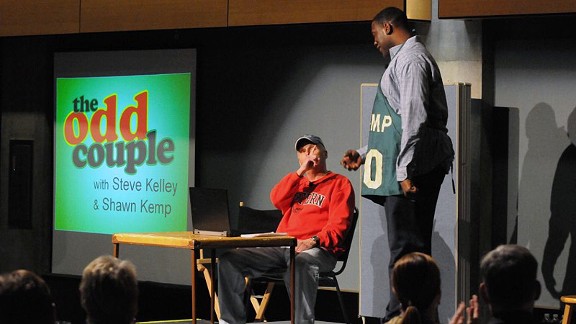 Curt Nakon/Courtesy of Seattle Shakespeare CompanyThe theme of the night was "Odd Couple" -- and yeah, these two certainly look the parts.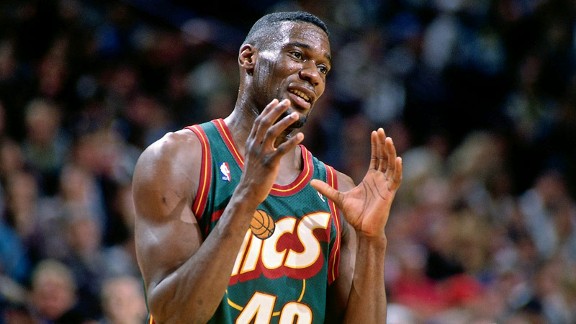 Nathaniel S. Butler/NBAE/Getty ImagesHere's Shawn Kemp in his Seattle Sonics days, showing the audience he can convey emotion.