Twitter pics: 2012 NBA playoffs haircuts
May, 12, 2012
5/12/12
12:37
PM ET
San Antonio barber Roberto Ferrel, aka Rob the Solution, grabbed some attention this week for his amazing Tony Parker MVP haircut (check out the video
here
).
But the Parker is just one of many cuts to be seen on fans' heads during the 2012 NBA playoffs. Here are some of the best, from Twitter:
Ferrel's Parker:
@tp9network TONY PARKER MVP HAIRCUT!!!#MVP #Spurs twitter.com/THAPUNISHER210…

— SALVADOR YBARRA (@THAPUNISHER210) May 10, 2012
Another San Antonio Spurs cut from Ferrel, Tim Duncan:
@DeJuan45 How's this haircut I did of Tim? twitter.com/robtheoriginal…

— ROB THE ORIGINAL (@robtheoriginal) May 5, 2012
Manu Ginobili:
Apparently my new haircut is creating quite the stir in the newsroom. #spurs twitter.com/StreetsCorner/…

— Street's Corner (@StreetsCorner) May 8, 2012
New York Knicks:
Winner for best #Knicks Playoff Cut? #RiseUpNYK twitter.com/nyknicks/statu…

— NBA New York Knicks (@nyknicks) May 9, 2012
The Oklahoma City Thunder:
S/O to my friend Jared for getting his hair shaved into the OKC Thunder logo! #TrueFan twitter.com/D_LIG_20/statu…

— Daniel Ligon (@D_LIG_20) May 9, 2012
The Chicago Bulls:
@KyleKorver can my boy Jimmy Harris get a RT for showing his bulls pride In his hair twitter.com/tctemp321/stat…

— Thomas Colletti (@tctemp321) May 11, 2012
One for the Los Angeles Lakers:
My nephews hair cut<3 all about lakers baby((: twitter.com/yomiies/status…

— yoMayRa (@yomiies) May 2, 2012
One for Lakers star Kobe Bryant:
@Lakers KOBE FRESH HAIR CUTT TRIBUTE twitter.com/MARCUSPH333/st…

— MARCUS P HATCH (@MARCUSPH333) May 2, 2012
Another Kobe:
@Lakers KOBE HAIR CUTT twitter.com/MARCUSPH333/st…

— MARCUS P HATCH (@MARCUSPH333) May 2, 2012
Of course, that's not the first Lakers cut we've seen. As a bonus, here are some older shots of a certain 2012 NBA playoff participant --
starting Saturday night, at least
-- who has given his own teams some creative hair tributes over the years: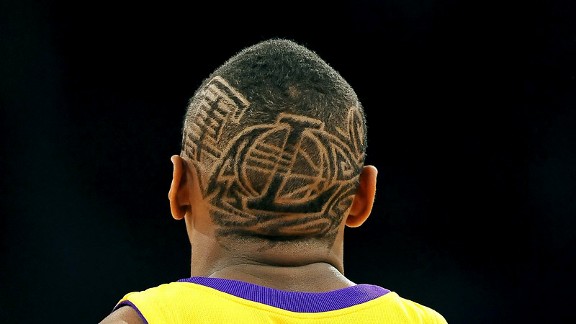 Lisa Blumenfeld/Getty ImagesMetta World Peace, then Ron Artest, in a 2009 preseason game with the Lakers.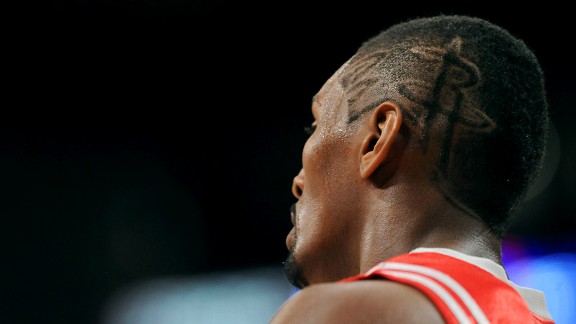 Noah Graham/NBAE/Getty ImagesHere's Artest in early 2009, paying tribute to the Rockets while playing against the Lakers.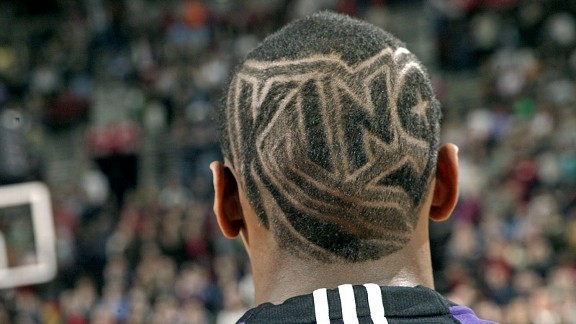 Sam Forencich/NBAE/Getty Images...and finally, Artest in 2007, as a member of the Sacramento Kings.