Celebs love the New York Rangers (photos)
May, 17, 2012
5/17/12
12:20
PM ET
Jack Nichol-who? Los Angeles La-what?
OK, the Lakers still draw quite the crowd to their playoff games. But they've got some company in terms of bringing in high-profile celebs -- and it comes from the hockey world, but not Hollywood. Sure, the Kings bring in a strong group --
St. Louis Blues fan Jon Hamm, even
-- but this year it's the New York Rangers, three wins away from reaching the Stanley Cup finals for the first time since 1994, who are commanding quite the star-studded support.
But why tell you? Let's just show you.
LIAM NEESON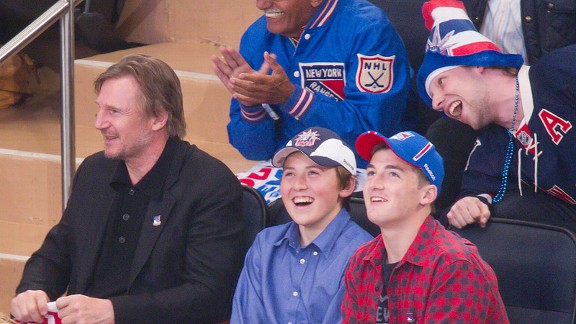 Rebecca Taylor/NHLI/Getty ImagesRumor: The Oscar nominated actor chose hockey over the Yankees' proposed 'Liam Neeson Day.'
JOHN LEGEND AND CHRISSY TEIGEN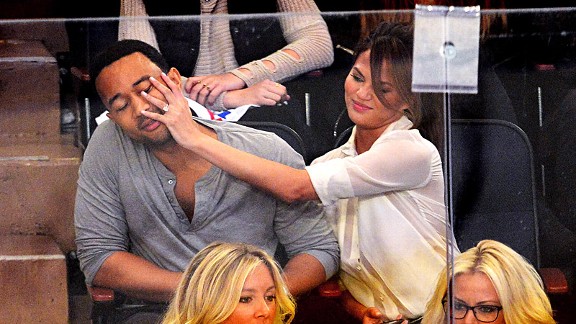 James Devaney/WireImage/Getty ImagesLegend the singer and Teigen the model (they're engaged), showing the ills of fighting in hockey.
TAYLOR KITSCH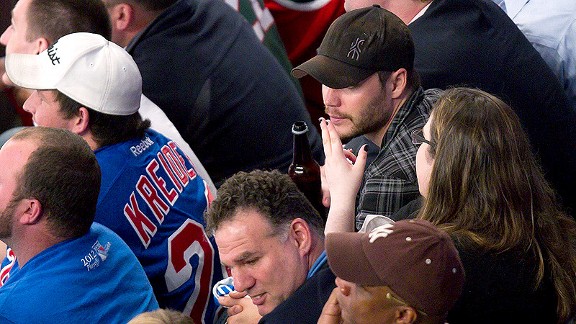 Rebecca Taylor/NHLI/Getty ImagesIs 'Battleship' actor Taylor Kitsch studying for an upcoming role in 'Friday Night Lights in Canada'?
KATE UPTON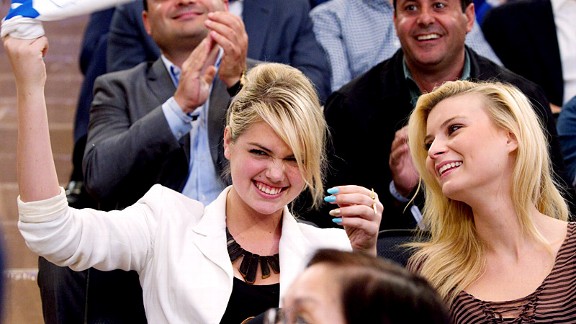 Rebecca Taylor/NHLI/Getty ImagesUpton has also pledged support to the Oklahoma City Thunder; hope she has DVR!
LOUIS CK, WILL ARNETT & CHLOE SEVIGNY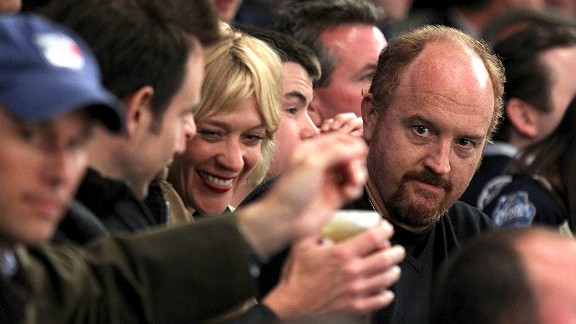 Bruce Bennet/Getty ImagesComic actor Arnett is next to Sevigny here; presumably he arrived via Segway a la GOB.
FABOLOUS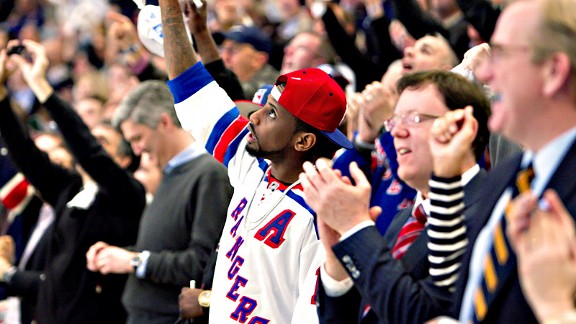 Rebecca Taylor/NHLI/Getty ImagesThe rapper, having a ... good time at the game. What, you thought we were going to go pun there?
MATTHEW PERRY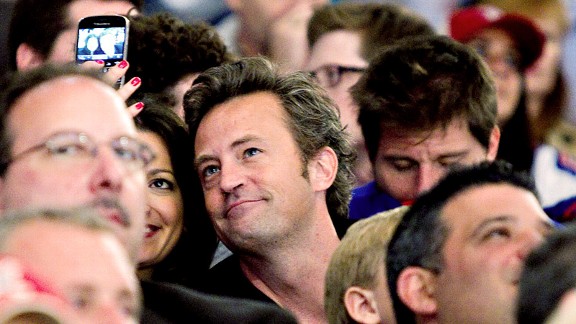 Rebecca Taylor/NHLI/Getty ImagesWait a minute! The former 'Friends' star also was seen at Kings games this postseason!
JUDE LAW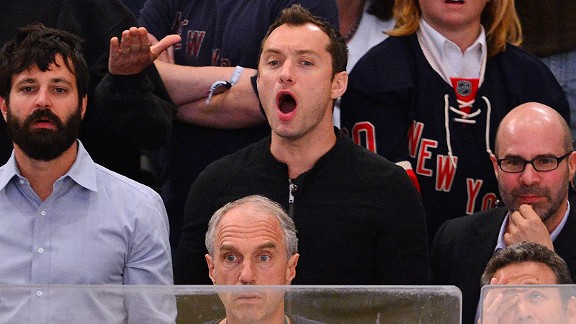 James Devaney/WireImageTwo men from the British Isles at Rangers games? Hockey is spreading, folks...
MICHAEL STRAHAN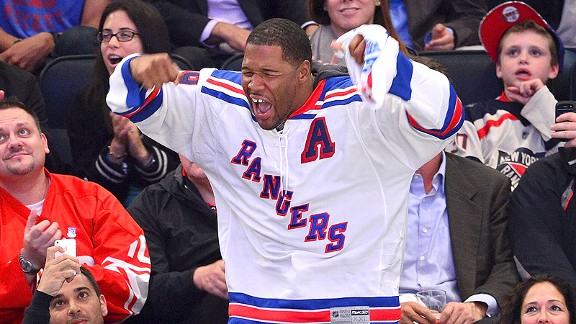 James Devaney/WireImageHmmm ... Strahan ... where have we seen him in a blue, red and white New York outfit before?
VINCE VAUGHN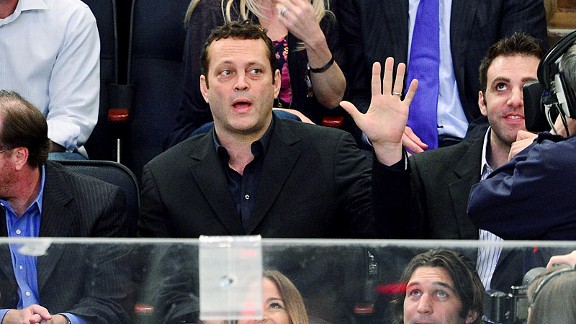 James Devaney/Getty Images"Who's the big winner tonight? Mikey (Del Zotto) is the big winner tonight!"
GERARD BUTLER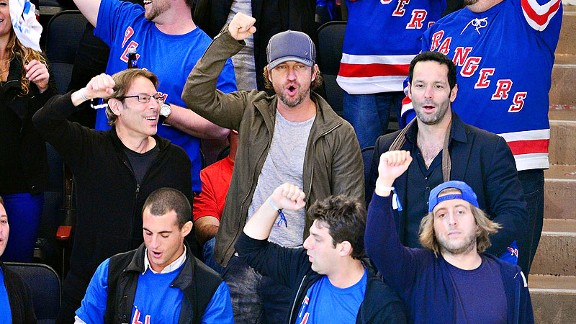 James Devaney/Getty Images*Three* guys from the British Isles! Time to make a Zamboni with the steering wheel on the right.
DENNIS MILLER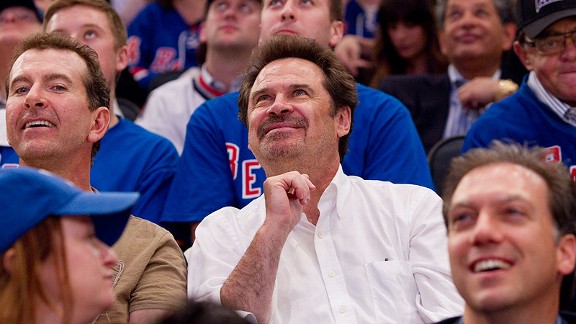 Rebecca Taylor/NHLI/Getty Images"I don't want to get off on a rant here, but to have my pupils glimpse Gotham's jugadores as they continually capitulate second contests, it makes me feel like General Lee when he watched from afar as the Confederates bungled the Battle of Stones River."
MEHMET OZ, A.K.A. DR. OZ, AND JARED JEFFRIES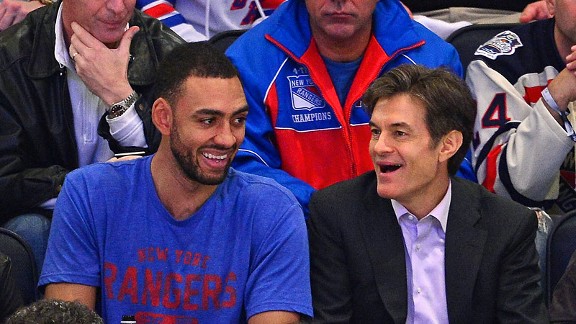 James Devaney/WireImageWhat a strange, fun combination -- the celebrity doctor and the New York Knicks role player.