Recalling the work of an iconic sports artist
June, 21, 2012
6/21/12
8:12
AM ET
By
Associated Press
| ESPN.com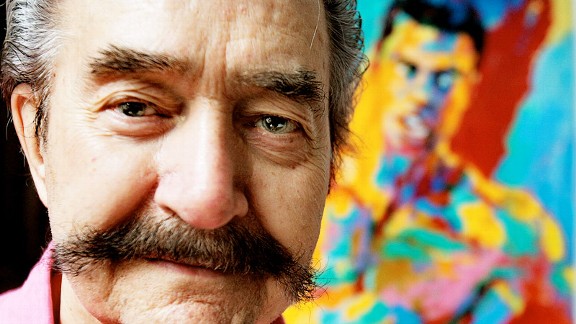 AP Photo/Bebeto MatthewsLeRoy Neiman, a American artist who captured some of sports' biggest names, is no longer with us.
NEW YORK -- Painter and sketch artist LeRoy Neiman, best known for evoking the kinetic energy of the world's biggest sporting and leisure events with bright quick strokes, died Wednesday at age 91.
Neiman was the official painter of five Olympiads and was a contributing artist at Playboy magazine for many years. His longtime publicist, Gail Parenteau, confirmed his death at a Manhattan hospital on Wednesday but didn't disclose the cause.
Neiman was a media-savvy artist who knew how to enthrall audiences with his instant renditions of what he observed. In 1972, he sketched the world chess tournament between Boris Spassky and Bobby Fischer in Reykjavik, Iceland, for a live television audience. He also produced live drawings of the Olympics for TV and was the official computer artist of the Super Bowl for CBS.
Neiman's paintings, many executed in household enamel paints that allowed him his fast-moving strokes, are an explosion in reds, blues, pinks, greens and yellows of pure kinetic energy.
Neiman was fascinated with large game animals and said he twice traveled to Kenya to paint lions and elephants "in the bush" in his trademark vibrant palette. But it was the essence of a basketball or football game, swim meet or cycling event that captured his imagination most.
"For an artist, watching a (Joe) Namath throw a football or a Willie Mays hit a baseball is an experience far more overpowering than painting a beautiful woman or leading political figure," Neiman said in 1972.
• Read more about the life and work of LeRoy Neiman here.
Below are some of Neiman's sports pieces, some with the athletes who inspired them.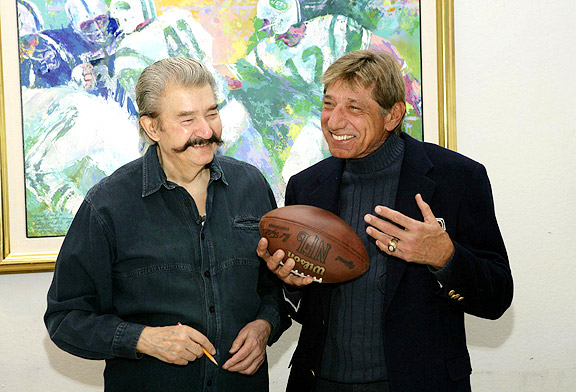 Matthew Peyton/Getty ImagesNeiman and Joe Namath, at the unveiling of a Super Bowl III-themed piece in 2007.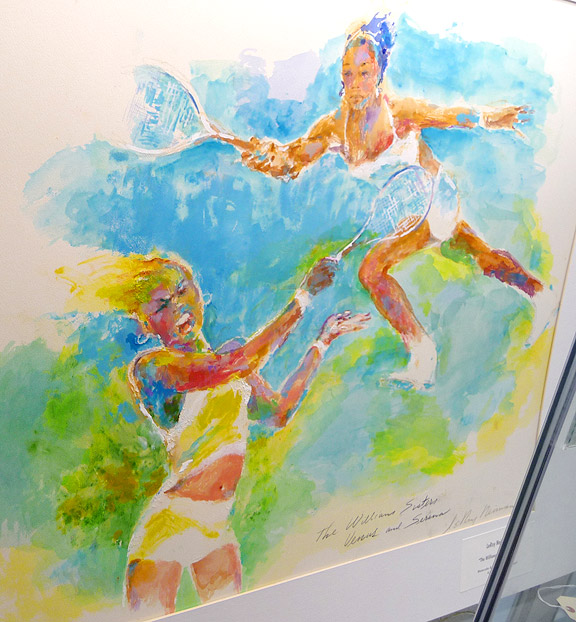 Philip Boroff/Getty ImagesA 2002 Neiman picture of Venus and Serena Williams at the U.S. Open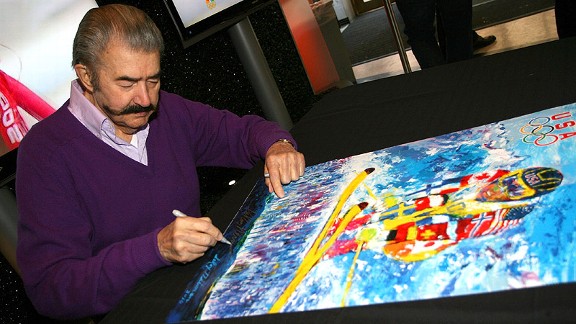 Chris Trotman/Getty ImagesNeiman's Olympics paintings include this one in 2009, celebrating Vancouver 2010.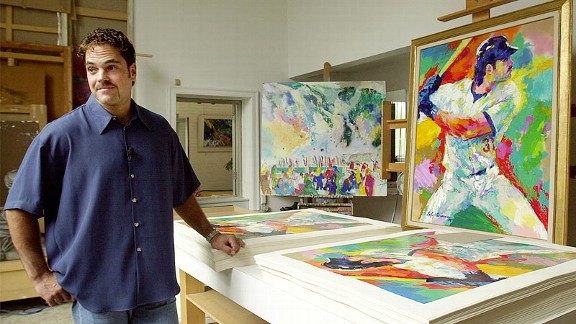 AP Photo/Kathy WillensMike Piazza, in 2000, posing near his portrait painted by the admiring Neiman.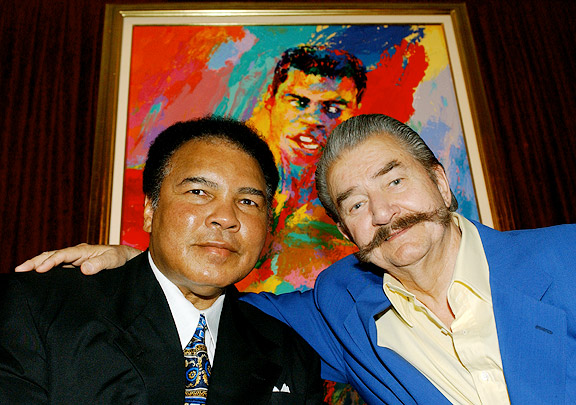 Denise Truscello/WireImageNeiman and The Champ himself, Muhammad Ali, near one of the former's many Ali-themed works.