Flashback: 5 great photos of Kobe & Jordan
July, 13, 2012
7/13/12
2:06
PM ET
The Kobe Bryant vs. Michael Jordan thing sparked up again this week, but this time it was
more about their squads
-- today's Team USA vs. the 1992 Dream Team -- than a head-to-head comparison between the NBA legends.
But a decade and more ago, Kobe vs. Jordan existed not in theory, but on the court. The two even pitted some of their own "dream teams" against each other (OK, they were All-Star teams, but close enough).
Through it all, the duo created some great images. Here are five of them: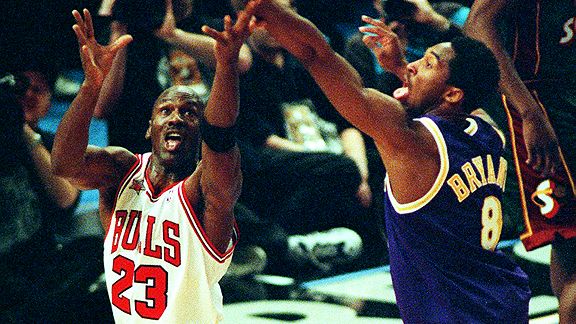 Henny Ray Abrams/AFP/Getty Images
One of the duo's first formal meetings came at the 1998 All-Star Game, where the second-year Bryant (a first-time All-Star) scored a Western Conference-high 18 points ... only to be upstaged by MVP Jordan's 23 and the East's 135-114 win.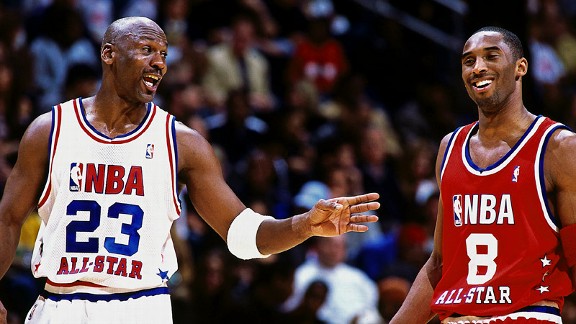 Andrew D. Bernstein/NBAE/Getty Images
Bryant got Jordan back, though, when the latter returned from his second retirement. In the 2002 All-Star Game: 31 points, an MVP award and a 135-120 win for the West (Jordan scored just eight on 4-of-13 shooting). In 2003 (pictured), 22 points (MVP Kevin Garnett scored 37) and a 155-145 double-overtime win. Jordan, in his final All-Star game, did
hit a late go-ahead jumper
... only to be negated by Bryant's game-tying free-throws.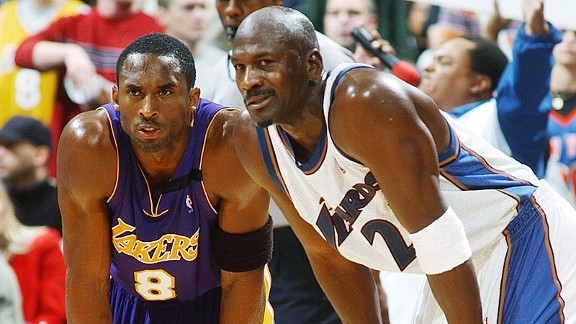 Mitchell Layton/NBAE/Getty Images
OK, enough about All-Star Games. The two met when it counted, too, here in Nov. 2002. Bryant scored 27 points ... but the Lakers lost by one.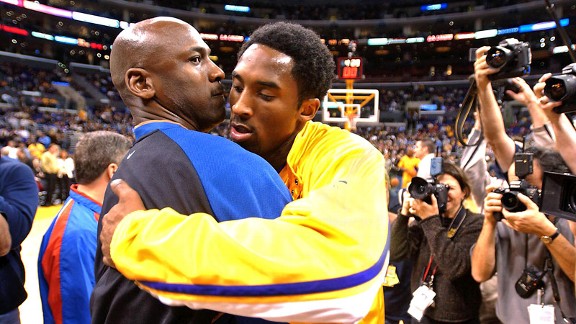 Vince Bucci/AFP/Getty Images
Yeah, this was an awkward hug before a Feb. 2002 game. You'd think they don't love each other or something.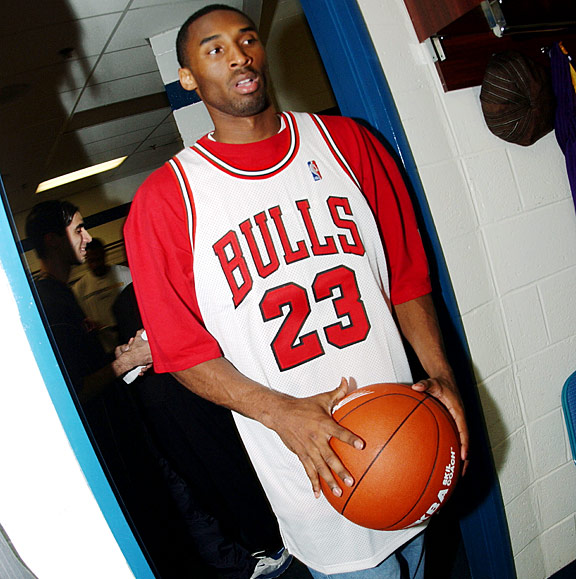 Andrew D. Bernstein/NBAE/Getty Images
Then again, before Game 4 of the 2002 NBA Finals -- which the Lakers won, to sweep the New Jersey Nets -- this happened.