Visuals - ESPN Playbook:

john calipari
January, 18, 2013
Jan 18
12:56
PM ET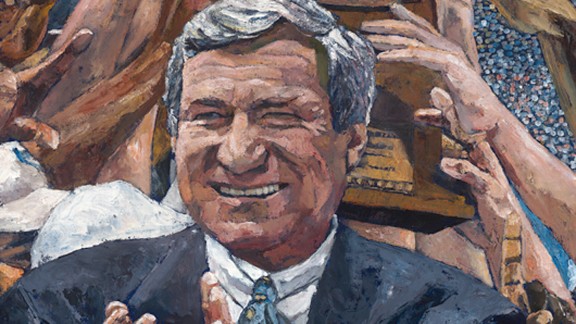 Courtesy of Opie Otterstad/NCAA/NABCDean Smith and UNC circa 1993 were among the many teams captured by artist Opie Otterstad.
Every February, sports artist Opie Otterstad hunkers down in a hotel room. Sometimes in it's Florida, others Arizona -- it all depends on where the reigning World Series champion trains. There Otterstad grinds for two to three weeks, 16 to 18 hours a day, aiming to get a detailed commemorative painting ready for the title-winning team by March.
"By the end of it," Otterstad says, "I feel like I've run a marathon."
But that's nothing compared to this, his current quest, as commissioned by the NCAA and the National Association of Basketball Coaches: Paint, by the end of the Final Four, all 75 champions in tournament history ... while also visiting many of the 35 tourney-winning schools to unveil said paintings.
Take this week. On Wednesday night, he unveiled his 2002 Maryland Terrapins piece. The following morning, he met with ex-coach Gary Williams to talk life and hoops. On Thursday night, Otterstad finished up his 1962 Cincinnati Bearcats painting. On Friday morning, he spoke with Playbook while heading to the Baltimore airport, ready to visit Chapel Hill for an unveiling of his work for the North Carolina Tar Heels (as seen above) at the UNC-Maryland game.
Which means ...
"It's work -- it's a lot of work -- but it's also ridiculously fun."
Said Ernie Kent, the former Oregon Ducks coach and 2011-12 NABC president: "It was a massive project to do." But: "It's been a wonderful project."
And it's not over just yet.
November, 14, 2012
11/14/12
12:20
PM ET
By
Playbook Visuals
| ESPN.com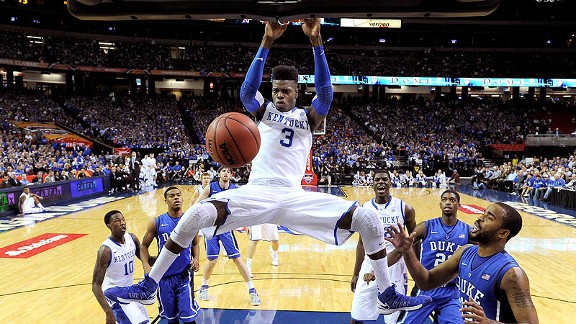 Paul Abell/US Presswire
Nerlens Noel and the young Kentucky Wildcats might not have beaten the Duke Blue Devils in their marquee game Tuesday night. But they did provide some pretty sweet shots, photographically speaking, as did the rest of the sports world.
Check them out:
Playbook's Daily Gallery: Wednesday, Nov. 14

May, 6, 2012
5/06/12
2:47
PM ET
Twitter brought us some pretty great sports photos -- real and, perhaps, doctored -- over the past seven days. Take a look at our picks, which feature Justin Bieber, Bryce Harper, the faces of the Kentucky Derby and more.
Have a TwitPic you want us to feature? Send it to @dorseypatrick.


Mary J. Blige sings the National Anthem at Churchill Downs. #kentuckyderby twitter.com/OleBayCrab/sta…

— Maryland Blue Crab (@OleBayCrab) May 5, 2012
May, 3, 2012
5/03/12
11:18
AM ET
By
Playbook Visuals
| ESPN.com
In the latest edition of "SportsNation's" Weird Web Stories, former pitcher John Smoltz drives a go-kart and ... you'll just have to see. Also, John Calipari and the University of Kentucky get a championship-trophy cake from a regular Kentucky Cake Boss (Cake Boss!). And finally, jungle gym parkour.