DJ Steve Porter takes on Red Sox music
May, 4, 2012
5/04/12
3:00
PM ET
By
Louise K. Cornetta
| ESPN The Magazine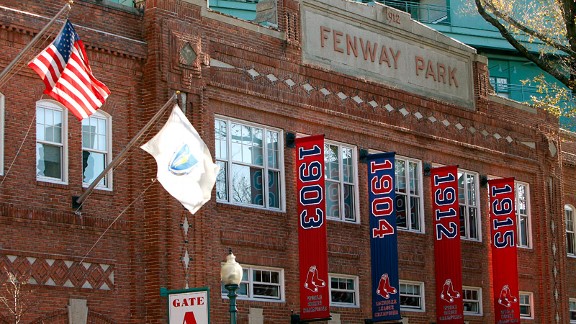 Greg M. Cooper/US PresswireDJ Steve Porter offered some alternates to the at-bat music choices of the Red Sox lineup.
Of all the problems that plagued the Red Sox out of the gate, their walk-up music hardly ranks high on the list. Still, under Bobby Valentine's notion that every little thing counts, we asked each hitter why he selected his music, then asked sports fan DJ Steve Porter, who is from Massachusetts, to run through the starting lineup and replace their tunes with songs that might put some more swing in their swings. Maestro ...
JARROD SALTALAMACCHIA, C
His pick
"
Don't Stop Believin'
" by Journey: "I just like classic rock."
Porter's pick
"
Push It
" by Salt-N-Pepa: "It's time for Salty to push it and become the leader behind the plate that the Sox need with Tek gone."
ADRIAN GONZALEZ, 1B
His picks
"
Get Up/Levantate
" and "
Bon, Bon
" by Pitbull: "My two songs are Spanish and English, so they touch where I come from."
Porter's pick
"
Step It Up
" by Stereo MCs: "His play has been subpar. In order to regain his true form, he's gonna have to — you guessed it — step it up."
DUSTIN PEDROIA, 2B
His pick
"
Blinded by the Light
" by Manfred Mann's Earth Band: "One of my buddies picked it for me."
Porter's pick
"
Power
" by Kanye West: "The Laser Show is below his average but tied for third in team home runs. If he ends the season with the lead, we'll switch this to 'The Power' by Snap!"
KEVIN YOUKILIS, 3B
His pick
To be determined: "I'm still working on it."
Porter's pick
"
I Still Haven't Found What I'm Looking For
" by U2: "Can Youk find his former Yoooouuuk?"
MIKE AVILES, SS
His pick
"
Rocketeer
" by Far East Movement: "This song gets me relaxed in the box. When I first used it, I started hitting well, so I couldn't change it."
Porter's pick
"
The Bomb!
" by the Bucketheads: "Mike has been great at short, a position that was one of the biggest questions going into the season."
DARNELL McDONALD, LF
His pick
"
Public Service Announcement
" by Jay-Z: "Listen to the whole song and you'll understand why I picked it."
Porter's pick
"
Funk Dat
" by Sagat: "Darnell should take one look at his stats and say to himself, 'Funk Dat!'"
CODY ROSS, CF
His pick
"
Livin' on a Prayer
" by Bon Jovi: "I like the way it starts. I've used it before, and I decided to bring it back this year."
Porter's pick
"
Strike It Up
" by Black Box: "Cody needs a song to remind him that he's leading the team in whiffs."
RYAN SWEENEY, RF
His pick
"
I Gotta Feeling
" by the Black Eyed Peas: "When I was in Oakland, I walked out to rap music. At Fenway Park, there are a lot more fans when you come up to the plate, so I needed something a little different."
Porter's pick
"
Hip Hop Hooray
" by Naughty by Nature: "There's definitely reason to cheer for Ryan's solid early numbers."
DAVID ORTIZ, DH
His pick
"
King of Diamonds
" by Rick Ross: "When you go to hit, you want to look mean. This song gets you going."
Porter's pick
"
Big Pimpin
'" by Jay-Z & UGK: "Big Papi is pimping a serious average and leading the team. He needs to have some more fun on that walk to the plate."